Thank You very much guys!!
The girls had a little party for me down at the local bar Friday night with some Friends and Family.
I turned the big 5-OH!! this year!! Fifty - Half a Century!!
It's been so busy at work the last several weeks. We have a new machine the owner wants to start selling right away.
Which means a new manual for it - My Job!!
I worked on it two Fridays in a row - 10hrs OT each day!! But not this Friday, Thank Goodness!!
And I think my brain has about had it!!!
Normally we work 4 ten hour days and have fri, sat, sun off every weekend...
But, I'm just about done with it. I have 5 more drawings left to do.
Then I'll go back to the beginning - look each one over - and send it to the
print room where they'll turn it into a printed manual.
It's pretty satisfying to complete something like this!!
To know people all over the country will be using it, probably cussing me for the one thing I forgot!!
But finally - it's almost done!!
The owner of the company has asked when it'll be done...
It's tough enough to make a new manual plus have to do it in a hurry!!
With him asking me about it makes me try that much harder - because I don't want to disappoint the man...
So - It's a HUGE relief to almost have this completed!!
And then have the kids have this wonderful birthday party for me!! Good timing!!
The kids put this in the paper: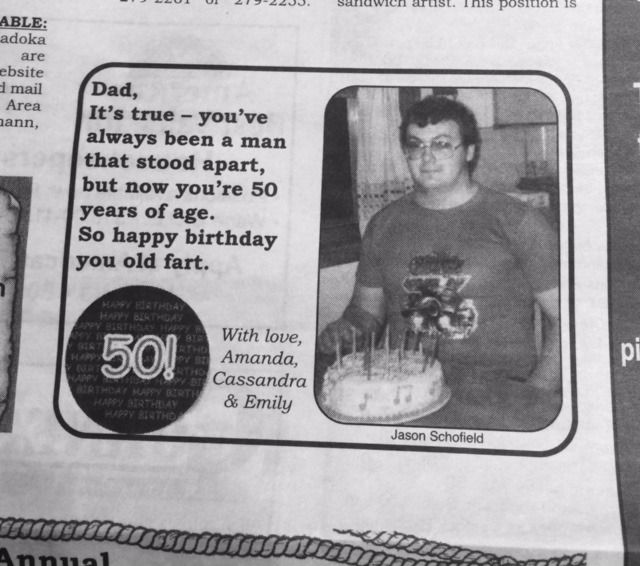 I was 13 or 14 years old there - And much thinner and stronger back then!!
My older brother showed up with a cane that had a cow bell and a rear view mirror on it...
A bell so they can find me when I get lost - or to warn folks I'm around!!
And the mirror... not sure what it was for, lane changes??
but it looks good!!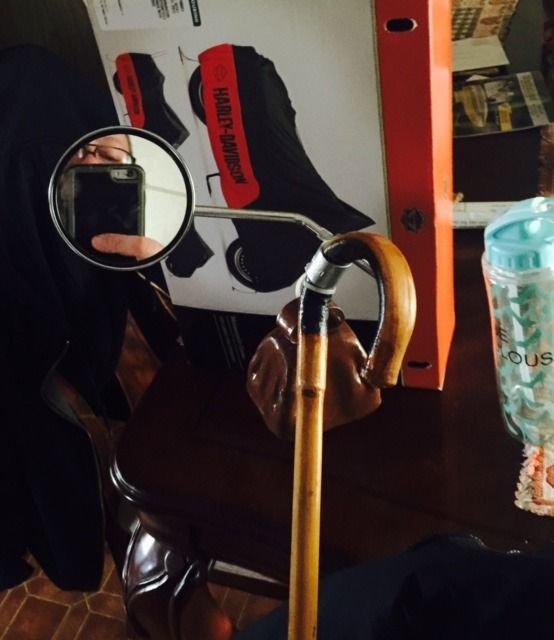 You can see in the background what my wife's two sisters bought me - a cover for the new Harley!!
We all ate a giant ribeye steak with potatoes and Texas toast.
Had a few drinks and had a pretty good visit with everyone!!
I guess I have 60 to look forward to next...
Anyway, on a happier note...
I had a few "presents" show up too!!
Not too exciting - but stuff we talked about in another post...
That "Ultra Jag Kit" showed up!!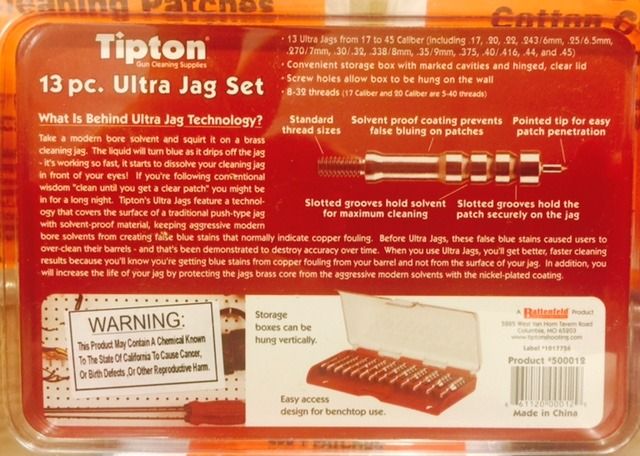 Don't know if it's readable here - But, It says a brass jag will leave blue shit on your patch with modern solvents.
On the back of the package it says a person think his barrel isn't clean and then possibly can "over-clean" the barrel.
Supposedly - That's not a problem with these - plated or coated with something spiffy...
And I got this!!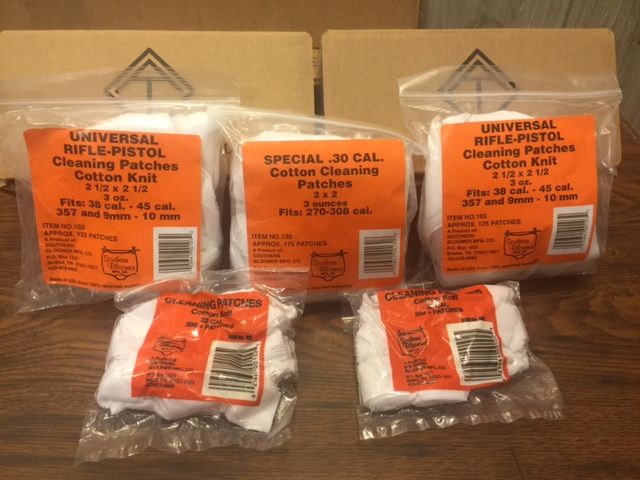 Enough Southern Bloomer cleaning patches to last me a long time!!
For my AR and and my JA-25, My .308 and my Beloved JHP!!!
I'll be trying this stuff out before very long!!
I am wanting to see if a Jag really cleans better like Ex says!!
Seems like he's been right with most stuff so far...
And one other thing happened right before my Birthday in 2013...
I bought a New 45 cal. Hi-Point JHP pistol at Cabelas in Mitchell SD.
Paid the full and whole MSRP of $199+ tax for it too...
And then found this site a few days later!!
So, it's been 3 great years already!!
And Thank You All Again for the Happy Birthday!!
The wife is taking me to the movie tonight too!!
It's a movie she likes though...
It'll still be fun!!