pricejunix wrote:
Im glad to hear this rules, i really want to join this sniper challenge but i have to travel a long cause im from USA.
OK....?
I thought I was a good shot with my .22, trns out it wasn't worth the frustration although I did shoot a penny clean, it was only at 50 yards with a scope after about 50 rounds trying. Really was more luck of than skill. I tried a few times after this but gave up and decided my eyesight wasn't good enough anymore.
Good Luck! It ain't as easy as one might think.
Bigger hole top center on cardboard over target is where penny was-
I stuck it back in hole for this picture-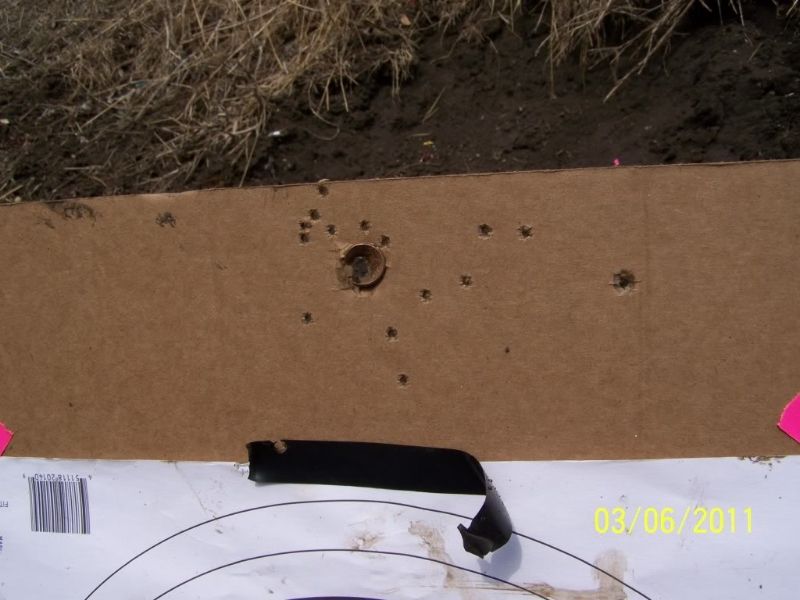 _________________
http://smalltowngunshops.blogspot.com/

"It is foolish and wrong to mourn the men who died. Rather we should thank God that such men lived." — General George S. Patton

May we always realize the cost of our freedom. We can never repay them, but the very least we can do is uphold the ideals that they died protecting and honor them in the choices we make each day.



"If Tyranny and Oppression come to this land, it will be in the guise of fighting a foreign enemy."

-James Madison
It's gettin close boys. The time is near.

The greatest

RE

-productive force is human selfishness (Say NO! to population growth!).

--No good deed goes unpunished--

When we do good, nobody remembers, when we do bad, nobody forgets. --unknown

Just because you are unnatural, bizarre, bring problems on yourself, and don't fit in does not mean I dislike you...well, yeah it does

"Life should not be a journey to the grave with the intention of arriving safely in a pretty and well preserved body, but rather to skid in broadside in a cloud of smoke, thoroughly used up, totally worn out, and loudly proclaiming "Wow! What a Ride!" ― Hunter S. Thompson