OK truck800 I'll bet this is the deal!!
I forgot about this - It's something I do without thinking about it anymore...
Well actually, I don't do this anymore and I'll explain why.
When I got my 45, I figured out after I load the mag - I had to whack it against my hand a couple times before putting it in the gun.
When I am at the range, I usually set my stuff on the hood of my suburban.
I'll shoot, and reload the mags using the hood for a bench.
Anyway - you can lightly whack em' against something a little more solid - like the fender on my suburban.
What's the mag whacking do to make them work right??
Well, the rounds can get so they aren't stacked right - out of alignment and maybe gaps between the rounds.
A couple of whacks takes all the slack out of everything and the spring tightly aligns the rounds in the mag - and it'll work every time!!
I've never tried loading my mags and then let them sit.
I always used them new - straight from the package - but with a good whacking after they're fully loaded.
Now - the reason I DON"T do this anymore...
I bought a speed loader: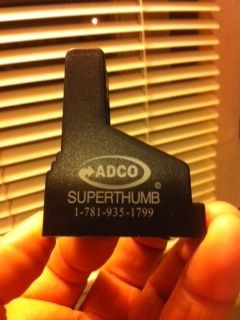 I was all excited when I got it because loading 6 mags at a time was tough on the thumb!!
I stuck it on a mag - and it went on about this far... )-: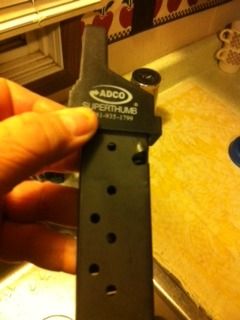 You can see why on the right side of the mag - there's a "bump" there which I believe is the Mag Catch.
Now when I bought it, it didn't say it would fit on a 45 ACP Hi-Point mag - but I knew it would be close!!
It was that small "bump" on the mag that was stopping it from working,
So, I took it out to the garage and got my die-grinder out and did this:
I "clearanced" the speed-loader where the "bump" was hitting it.
It fits perfectly now - And it's worked great ever since!!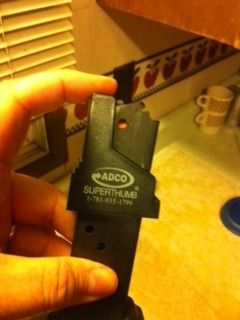 It was the best $8.99 I ever spent!!
Now - even with the speed loader, I have to do this...
When I get all 9 rounds in the mag...
I rapidly push the 9 rounds down with the speed loader a couple times and let them "spring" back up.
I just "bump" the top of that speed-loader.
I can tell when they are sitting right in the mag from the speed-loader.
If you don't do this, it will do all kinds of weird and inconsistent things...
And before everyone starts with the "Hi-Point Hating" (wait - this is HPT!! Theres no haters here!!)
This isn't the only mag that works better with the "Mag Whacking" technique.
So - when you get that mag loaded - whack it.
Or, if you are using a speed-loader - bump-it!!
And enjoy the hell out of your 4995. (-:
Or - if you still hate it - PM me and let me know - I'll make an offer on it....