Went out Sunday morning to the range with the changes I made on my "spinny target contraption", to see how it'll hold up.
The changes I made were:
Welded another 3x6x1/4" thick plate to the four 1/4" plate spinners that were bending in the middle.
Welded a little "support" or "brace" across the back of the 6 channel iron spinners I have. 1 across the top and 1 across bottom. They legs of the channel were "spreading apart"...
Used 5 thicknesses of that "strap-iron" I had on each end of the frame as a clamp, to hold the spinners in place.
Got the Target set up and the spinners
all painted "Pumpkin Orange":
Got my beloved JHP and ammo out and brass catcher set up too:
317 shots later, everything seemed to hold up very well!!
Got a lot of the paint removed: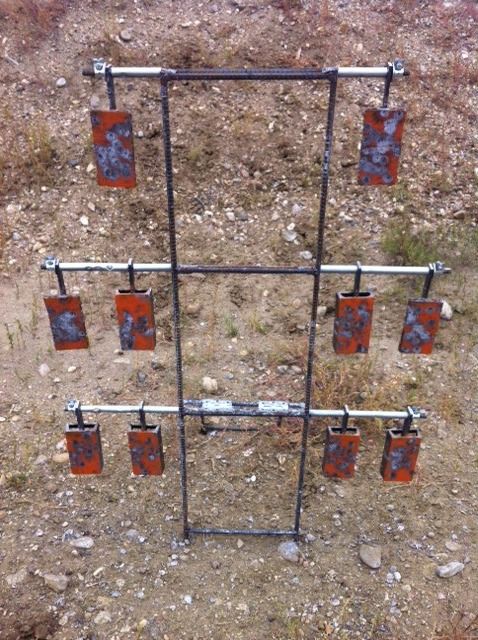 Easy to tell which spinners are a flat plate and which are the channel iron in the above picture.
a couple more - a 1/4" plate spinner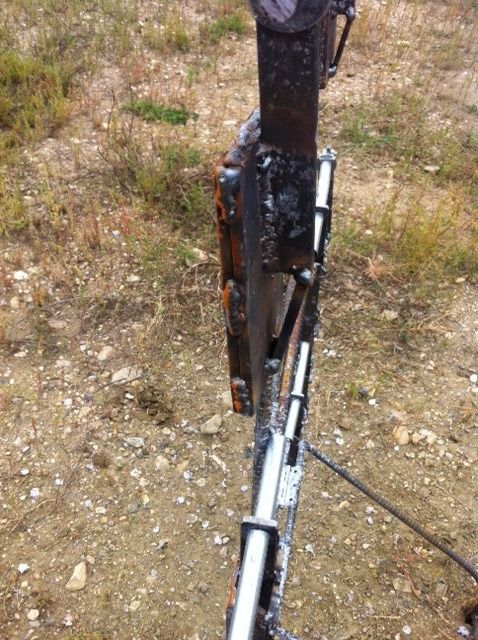 A shot of the backside ot it.
And the spinners had no deformation that I could tell and clamps stayed tight!! Yea!!
Shot up all the ammo I brought: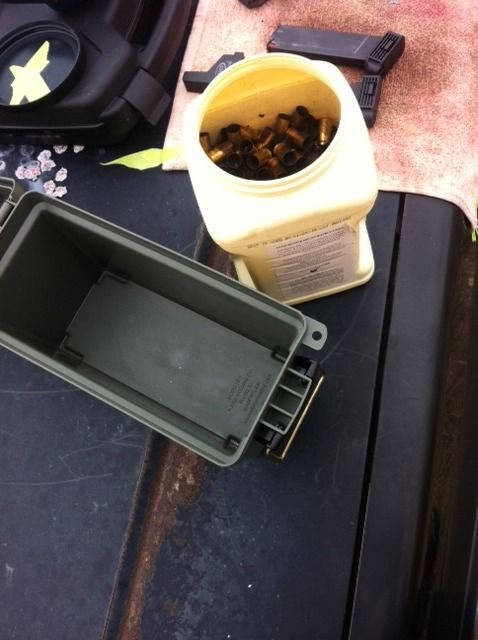 And generally had a hell of a good time!!
This is a picture of the underside of the barrel end of by beloved JHP:
My pistol looked like this the last time I went shooting too. Last time, I shot 600+ rounds and I had to clean
the yellow mark off the front sight after about 400 rounds, because it covered it up - I couldn't even see it anymore!!
The increased powder charge really makes the outside of the gun dirty around the barrel end.
It cleans up really easy - just thought I show you guys to see if you have the same kind of thing happen.
I think I may have possibly achieved my goal here!!
The spinny target contraption suffered no damage this shooting session.
It is sitting in the back of my suburban, ready-to-go for the next trip to the range!!
That's what I was hoping to achieve!!
Several spinning targets on a frame, that was portable, easy to set up, rugged, and cheap!!
As usual, I had a ton of fun!! I feel a lot better and am ready to take on another week at work.
Shooting is just good therapy for me!!
Hope you guys don't mind my sharing with you - always fun to tell somebody what I've been up to!!