Well, boys and girls, 3 months later, I FINALLY took my spinning target contraption back out to the range today!!
I loaded everything up, including my new can of Krylon Pumkin colored paint and headed out!!
Got the target set up and spray painted the spinners.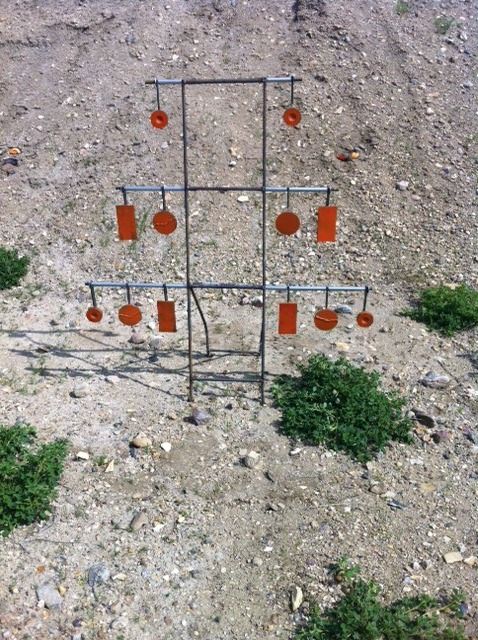 If you recall, 3 of the 4 big round spinners broke, the 1st time I tried it out. Welded them back on and going to find out today, if they are going to hold up or not...
Got the gun and ammo out:
Hope I brought enough ammo...
I commenced to spend the next 3 hours, shooting the hell out of that spinning target contraption!! I had a great time!!
I went through 430 rounds of ammo and I still have a big grin on my face!! Damn, was that a lot of fun!!
That blue coffee container was empty when I started.
In the next picture, you can see I hit the spinners a few times - not much paint left on them is there??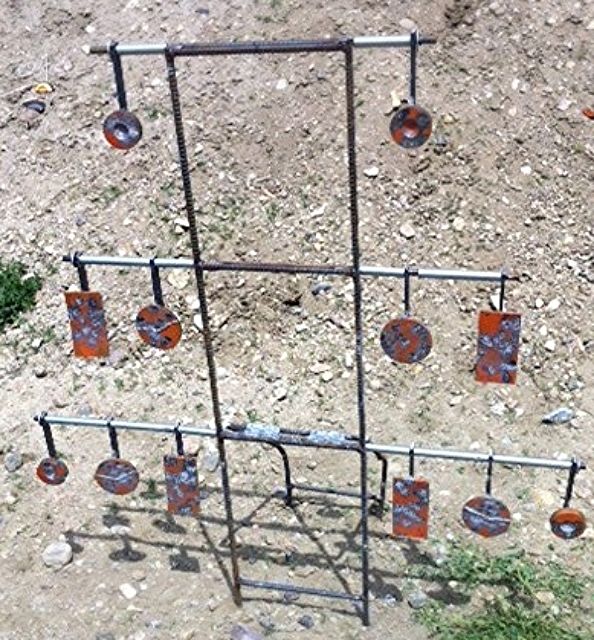 Also, if you look close at the center row, on the right side, the conduit spacers between spinners are a little farther apart than they should be. I put a flat washer on the end of each row of spinners and used a piece of mechanics wire to keep it there. Well, that mechanics broke and let the washer fall off. I brought a couple extra lengths of wire along, just in case something like this happened.
I saved a bunch of bullet remnants for no good reason I can think of...
Fairly go "Splat", when they hit!!

This is one side: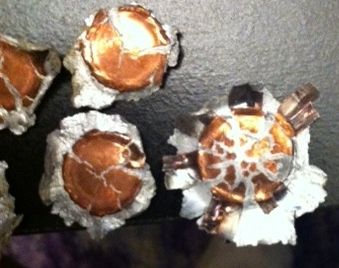 and the other:
Kinda neat how you can see the copper on both sides of the bullet on the right. These are plated bullets. I'm guessing it hits really square for it to do that.
The next picture is of a couple more "intact" bullets of mine I found. The rifling marks sort of look a little less than good to me. I thought maybe one of you smart fellers might have a look and see what you think.
I'm wondering if these plated bullets are contacting the rifling correctly or not...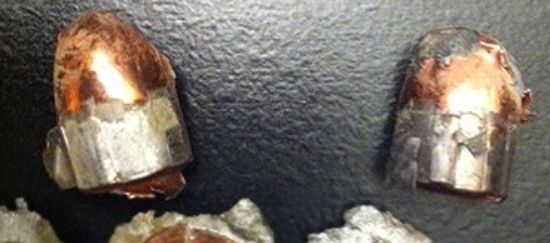 I haven't cleaned my JHP for a long time. Probably have a 1,000+ plated bullets shot through it now.
Will clean it now, for sure!!
I also found out today that I CAN get 430 pieces of brass in my Cabala's brass polisher!! Left them in there for 1-1/2 hours and they polished up fine.
My reload pile of brass pile here: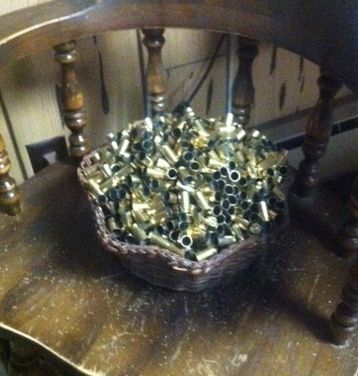 Getting to have quite a brass pile!! I have a few 230 plated bullets to use up, and I have 500 of those 185gr hollow based, plated bullets I should load up too. Then, all I'll have left is the 5,000 200gr plated bullets, after that.
Well, I'm happy my spinning target contraption held together this time!!
And I had one hell of a good time today!! Nothing better than some "Range Therapy" to keep a guy normal.
Thanks for reading!!