Well boys and girls, I finally made it out to the range today. It's been probably 6 months since I've shot my beloved JHP and I made up for some lost time!! I took a bunch of pictures too and had myself a hell of good time!! I got to try out several new things today: I have a bunch of ammo I reloaded on my Load-Master that I finally got to try out. I bought a brass trap and made a stand for it that I used today. And my steel target that I built - I shot the hell out of it today!! I shot from a distance of 30 feet.
My steel target project worked fairly well:
It worked just like I thought as far as planting it in the ground and it stayed in place.
Here is some picture of the targets, just for the hell of it: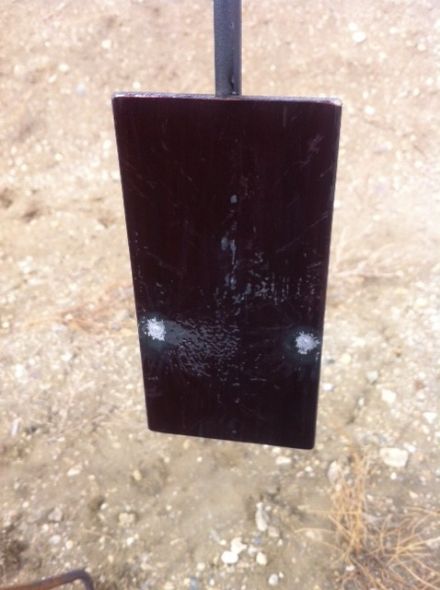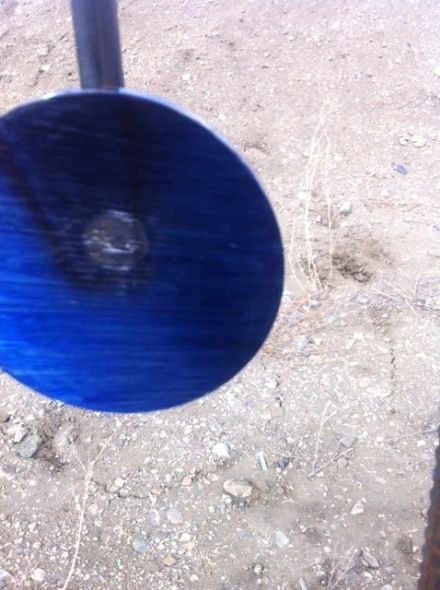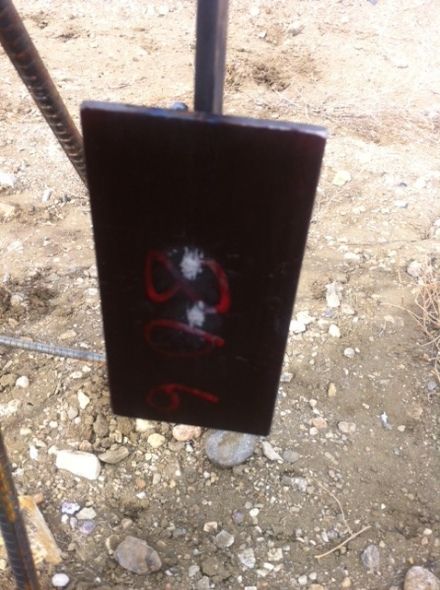 You can see they have a blue or red color to them. Since they were all shiny and new, I colored them with a red and a blue marker which made them look like they were anodized.
We did have a little trouble with my target though. The hose clamps I have on the end to hold everything together came loose several times and a couple got their brains rattled out and wouldn't tighten up anymore. I'll fix that by drilling a hole and use a piece of mechanics wire to hold the targets and spacers together.
The other small problem I had was with the 4" round targets. I have several pictures to show on that: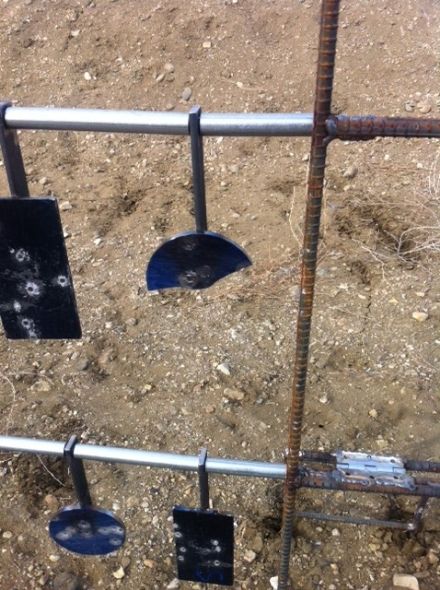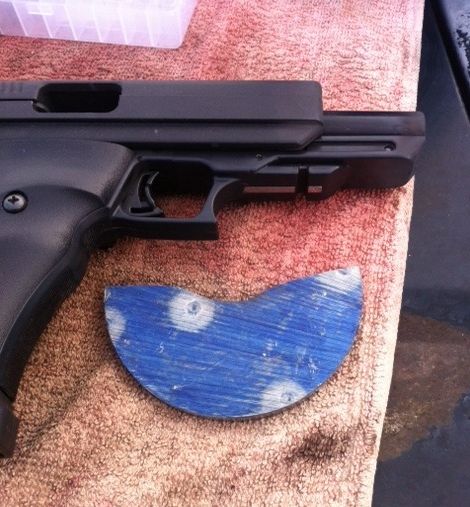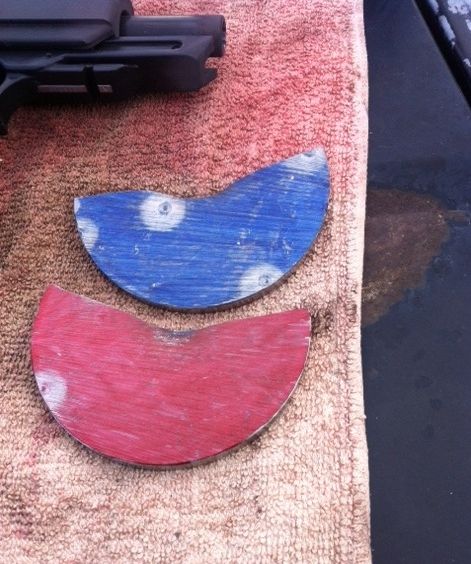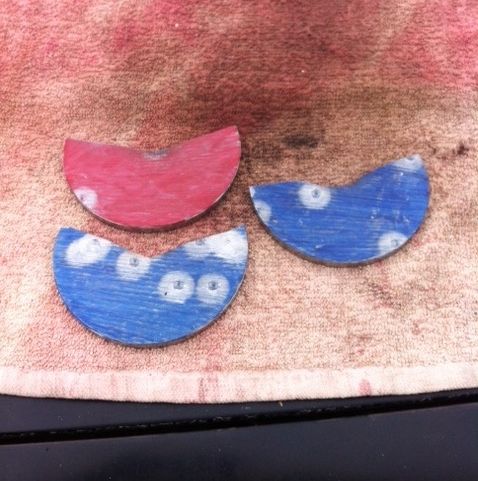 Yep, 3 out of 4 of the 4" round targets broke!! I think the lesson is that you shouldn't weld on tool steel. It makes it brittle! Then when you shoot it, it'll break! I did shoot the crap out of the 4th round steel target, but it wouldn't break. I am going to weld those 3 that broke back together and try them again. It'll be fun to see if they hold.
The 3x6 targets are only 1/4" thick and they held up really well. Those small round targets were hard to hit, But I hit all 4 several times! And if you got a good hit, all the targets would really spin.
The brass trap worked good. It didn't work as good as I hoped. Out of 10 shots (9+1) usually at least 1 piece of brass would bounce back out of the brass trap and end up on the ground. Sometimes it was 5 or 6 pieces of brass. But the nice thing about it was the brass that ended up on the ground stayed in one area and was easy to find. I will try tipping the brass trap back some and see if that helps.
Here are a couple pictures:
I'd just stand to the left of it and let the brass fly!!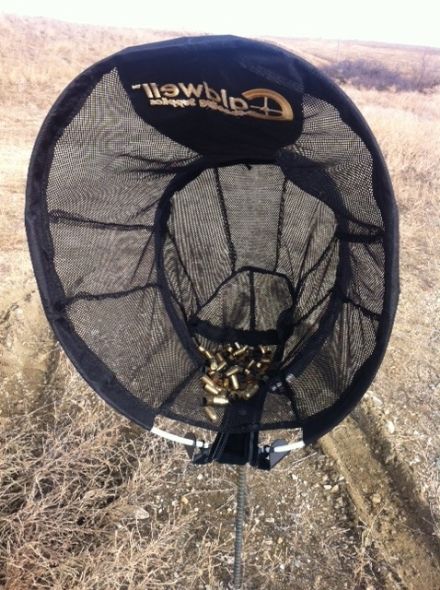 You can see the brass in the back. When it got pretty heavy with brass, I'd just remove the wing nuts off the bottom and unzip the zipper in the back a couple inches and "pour" the brass into an empty coffee can: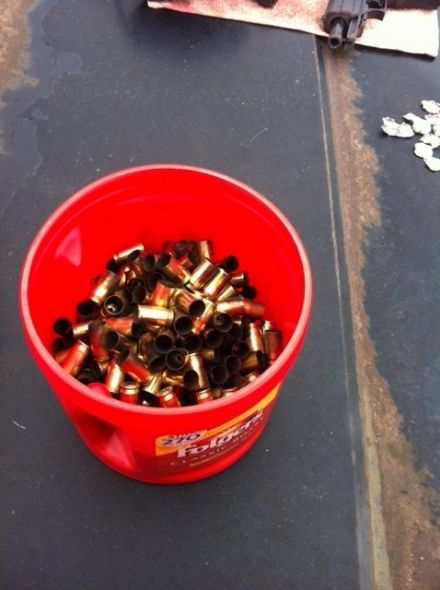 Ended up going thru about 400
rounds today!!
And the bullets looked like this: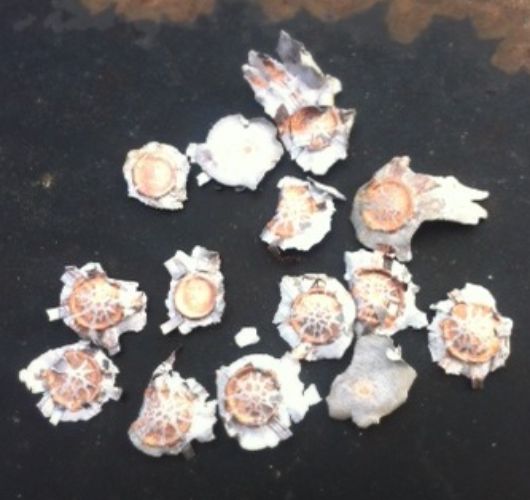 Flattened them down to a nice "splatter" look!!
This is how I usually set things up on the hood of my suburban. I'm glad I brought my 1/4 nut driver. I had to adjust the brass trap a little higher and I used it to tighten the hose clamps on the target several times.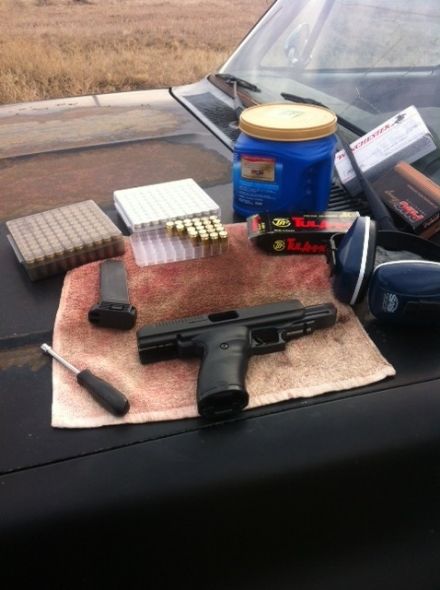 The other thing I was fairly sad about is I believe my JHP came with 2 mags, and I could only find one. I can't figure out what happened to the other one.
I think I'll be ordering a couple more soon. Maybe the lost one will show up somewhere... My JHP worked great today!! Had 2 that didn't fire. Primer not fully seated, I believe because they showed a light primer hit and worked fine the 2nd time thru. And I did have 2 jams too. But other than that, she went bang every time!! I did notice a difference between my hand-whacker reloads and my Load-Master reloads. The Load-Master reloads seemed a little "snappier". Possibly from a better, more consistent crimp? or better Neck Tension?? Anyway, I'm glad a clip-load of ammo represents 9 pulls of the Load-Master lever instead of 45 minutes of hand priming and powder weighing and plastic hammer-whacking, carpal tunnel inducing labor.
Well, I can't even say how much fun I had today!! I have a JHP that needs a good cleaning and some improvements to make on my steel targets. I can see how this steel target contraption I made will be fun with 2 shooters. One shooter takes the left side and the other the right, and see who can hit or spin all the targets 1st.
I also did a little research on how to improve my accuracy. Several places said concentrate on the front sight. I was NOT doing that and I really tried to today. And I'll have to say, that pistol shooting champion guy is right!! It really works!! It's all about that front sight - I was really surprised at how much better I could shoot today. I do know I'll be practicing that a lot more from now on.
And on another minor note - our range can be kind of a bitch to use sometimes. I has a couple cement shooting benches and 100, 200, & 300 yard targets. Usually, us pistol shooters drive up to the 100 yard target and do our shooting there. But, many times, someone else will show up and sit there in their vehicle and wait until you're done - which SUCKS. So I went out there today and found a nice spot a ways off to the side, that had a nice backstop. You can see in my pictures. And while I was there today, sure enough, another guy showed up. The Game Warden no less!! He was very nice and drove over and asked if it was ok if he shot over by the 100 yard target. And I said sure, no problem, that's why I was where I was at. So, I'm happy as hell that I have a place, off to the side and out of the way from the main targets, that I can use and be there as long as I want. But, I bet it won't be long before others figure out my spot and start using it too!!
Well, that's about it!! Probably the worlds longest HPT Range Report!! Hope it wasn't too boring - It was a lot of much needed fun & some good therapy for me!!