Well, I went out Sunday morning and went through 415 rounds!!
Boy, did I ever need to go shooting after the somewhat crappy weekend I had. They waxed the floor in our office at work,
and we had to move everything out at the end of last week!! 6 guys in here all with desks and computers and printers and file cabinets, etc.
It was a hell of a lot of work!! Especially our 6ft x 6ft blue-print cabinets - we have 4 of them, each about 3ft tall...
And them move it all back in this Monday...
Then I had to help my niece with my sisters estate sale last weekend. More moving stuff - loading and unloading a trailer and a couple of
pick-ups several times. And we had a little family ceremony where we buried both my sister and her oldest daughter. Her oldest
daughter was a terrible alcoholic and her liver gave out. She died at the age of 43, a year or so before my sister. My sister didn't
have much luck with raising kids. She was divorced, & had 3 daughters - The oldest I told about above, the middle turned out really good, but she
moved out when she was 16, and the youngest is a 450 pound lying, lard-assed convicted felon that never left my sisters house,
except for when she was in jail...
My Dad passed in 1985 and my mom passed about 3 years ago at the age or 84. It was a nightmare when my mom passed. Problems with
my dearly departed sister owing mom money and that lard-assed daughter of hers stealing things. So my family basically imploded after that.
Me and a brother and a sister on one "side" and my 5 other siblings on the other "side" - My wife and kids & I were the only ones that
helped my niece with the estate sale... So most of us aren't talking to each other anymore. Which I've found to be a good thing
for the most part - A whole lot less drama!!
But it is sad to know things will never be the same. It was a tough weekend...
So, I really enjoy doing a few things - things that are great as a stress reliever!! One is going to the range and shooting!! I go out on
Sunday mornings when no one else is there. I can take my time spend 2 or 3 hours shooting the hell out out of my spinning targets.
I love the quiet time with just me and and my JHP...
And of course reloading is another great activity as well...
And so is writing
way too long
posts here
with way
TMI...
Anyway, Went to the range Sunday morning (a beautiful cool sunny morning!!) and set up my spinning target contraption and got out
my "pumpkin orange" spray paint and painted the spinners:
Then I set up my brass catcher. You can see I found a couple chunks of concrete to set on the feet of it to keep it upright.
The wind can tip it over pretty easy otherwise. Especially if it has a bunch of brass in it.
You can also see I painted a rock or 3 on the ground. That way I know where 30 feet from the target is - from one week to the next!!
Then I got my beloved JHP out, the 3 mags I have and the ammo:
And after 415 rounds of fun in the sun, those new soft spinners took quite a beating!!
They sure had a different "shape" when I was done!! A couple pictures: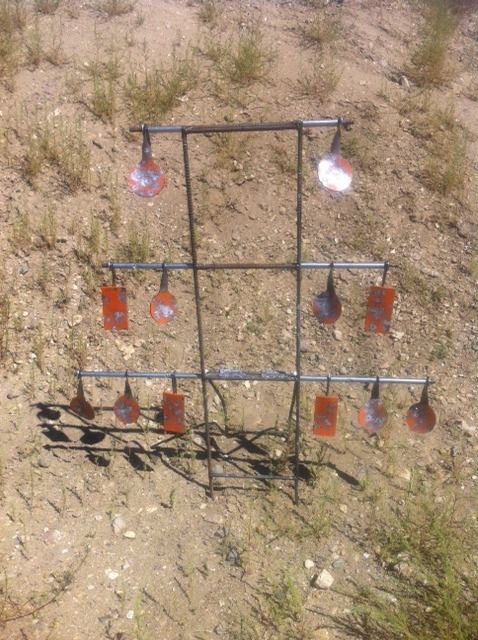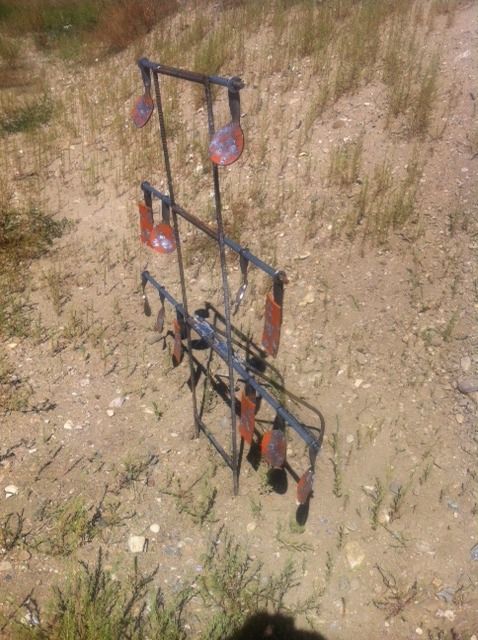 Fairly nice on it!!
I took one more picture when I got it home: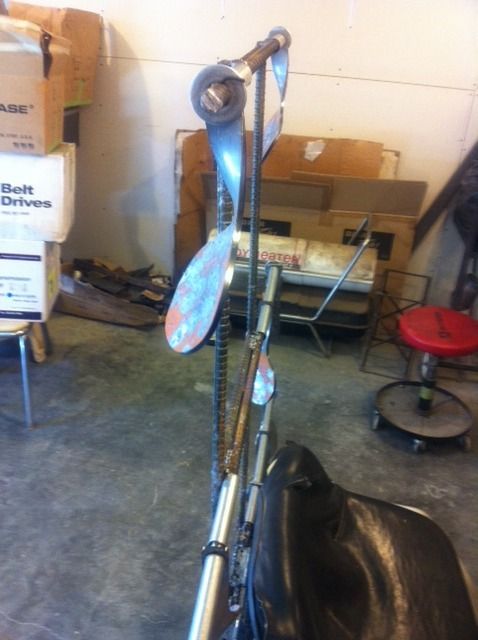 Looks like an ice cream scoop!!
You can see if I hit them a little high, it really bends the hell out of them!! Makes them "U" shaped even...
And they twist off to one side or the other pretty easy too. None of them broke, that's for sure!! That's why
I tried to get away with tool steel with the first spinners. I was sure they wouldn't bend, but they were too
brittle (or too hard) and broke.
I'll have to decide what to try next. I have 8 more spinners just like these - Should I pound these flat and just
weld 2 together and see if they hold up? That would make them .358 thick (almost 3/8") or should I laser out some
3/8" or 1/2" thick spinners? Those 3" x 6" rectangle spinners are holding up well. They are 1/4" thick and welded to
1/4" x 1" wide flat. those have no twist in them either, which is probably better, but not having to weld anything is
nice too. I'll figure something out - It's kind of fun just seeing what will work!! I'd like to keep things as thin as possible
to keep the weight down.
I had 2 more "bullet stuck in the barrel" squibs and one round where I didn't get a primer in it. I was prepared this time!
I brought along a small rod and the plastic hammer I used to use with me Lee Handloader and tapped the bullets out.
Like before, these were some of my 1st loads with my Load-Master, before I realized I needed to keep a LOT closer
eye on the powder charge. I am fairly confident a squibs like these will likely not happen again...
A picture:
And I'm all out of loaded 45 ammo now - went through the first 2300 rounds I loaded with my Load-Master!!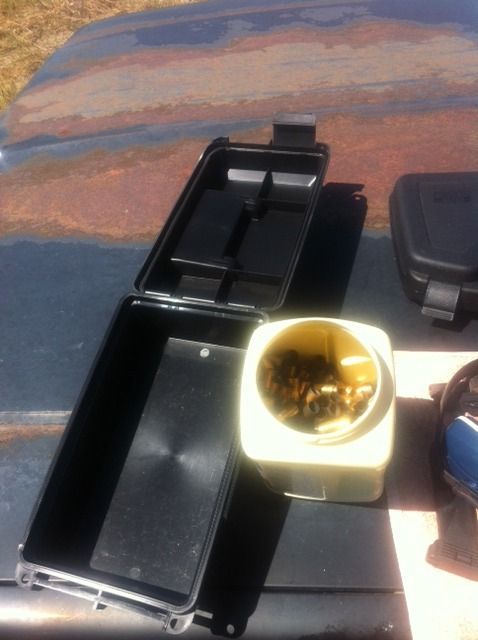 I'm hoping I can get some more loaded this week sometime. I have all the brass all polished up and ready to go. I used
some load data I found on the internet when I reloaded these and I've since found some data from an actual reloading
manual (Hodgdon) that shows I'm a little light on powder - I'm below the minimum by .5 grains or so...
And the way I am, I'll try to get every piece of brass I have reloaded before I go shooting again!!
Well, I had a hell of a good time and can't wait to do it again!!
And, Thank You all for reading!!