Well, I might be getting closer to getting those "death threats" from the 1911 guys!!
I went back to the range today with my "spinning metal target contraption" and let another 484 rounds fly in it's general direction!!
Well, it wasn't actually 484 rounds... These were some of the very 1st rounds I reloaded on my Load-Master... Before I totally realized how crappy that 700X powder was as far as going through a powder measure. So I'll show that first.
This was my very 1st, honest to God, bullet in the barrel squib I've ever had: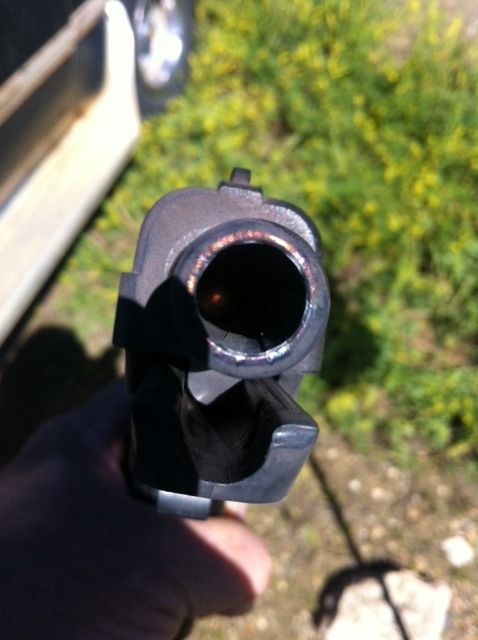 Hmmm... contingency plan... I had none!! How do we get that ef-ing bullet out of the barrel?? Damn it, is this then end of my shooting today?? Ef-ing squib... Lets see, I need a short stick or short metal rod and a hammer of some kind...
AH-HA!! I got it!!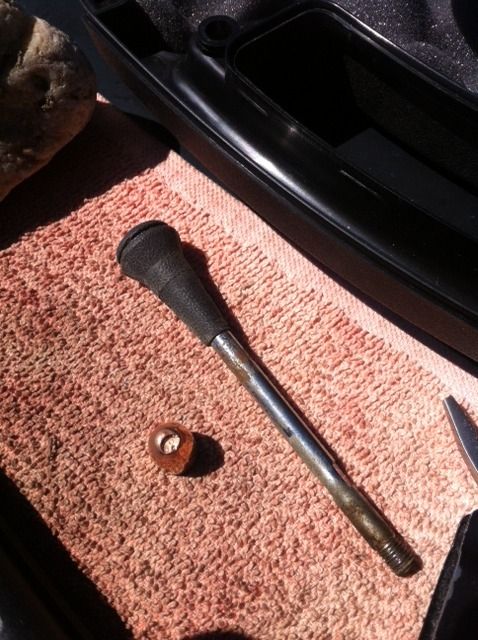 That's the lever off the tilt steering in my suburban!! Steel rod, just the right length!! Found a nice rock for a hammer and beat that bitch out of there!! I'm back in business!! I'm blasting away and... Damn it!! Another squib!! Man, those things feel weird!!!
So, again:
A shiny plated bullet, giving me the high-finger, stuck in the bore.
So we had this now: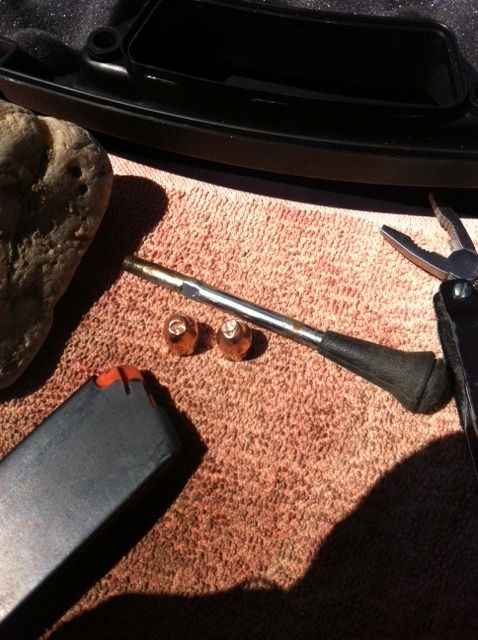 Doing pretty good keeping the tilt lever centered on the bullet, and the rubber cover on the end keeps the metal from scuffing the muzzle of the barrel.
So, we reload and by the end of the 484 rounds I had this: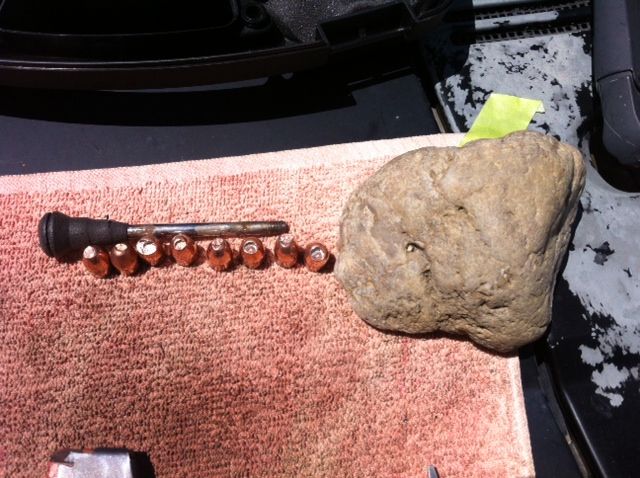 Eight, count 'em, yes, eight squibs!! What a PIA!! And I scuffed the back end of my beloved JHP knocking all those bullets out. I set my pistol on the plastic lid off the can I was putting the spent brass in, but it still scuffed it. I didn't take a picture of it, but when I went to put everything away, I noticed I did this to my poor suburban: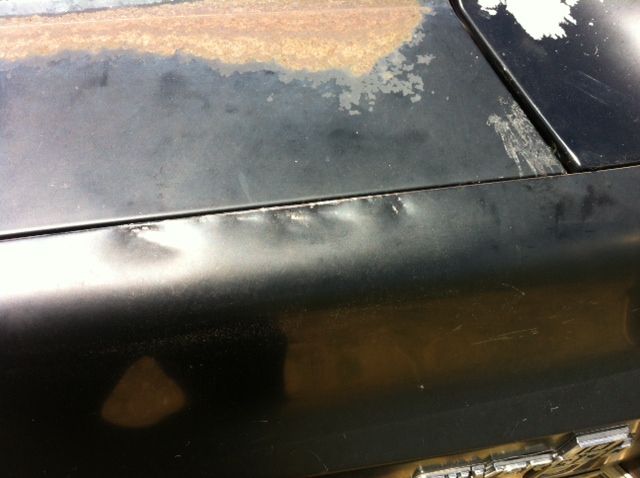 Fairly nice on it!! I got a huge bullet dent on the other fender from a ricochet, and now I beat the hell out of the top of the other fender!! Who knew the shooting sports could be so tough on sheet-metal!!
OK, on with the rest of the report!! You guys might remember that out of the four 4 inch round spinner targets I had, 3 of them broke, and I welded them back together. Well, we are 4 for 4 for now!!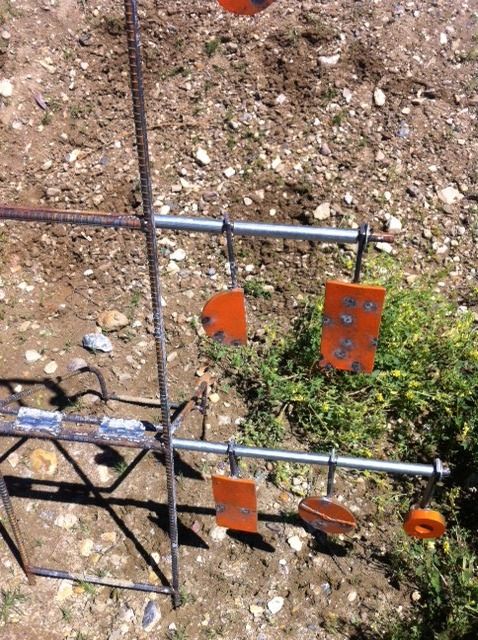 This one broke vertically, instead of horizontally, like the other 3. Guess I'll be getting the welder out again...
But, despite all the sheet-metal damage and scuffing going on, I had one hell of a good time!! Remember how I said my beloved
JHP holds 9 rounds and I have 8 of the larger spinning targets... Well, I got the ol' Mahan sight tuned in pretty good!!
Three times, I hit all eight targets consecutively!! It wasn't clink, clink, clink, clink, clink, clink, like you see on TV - it was more like, " clink, one thousand, clink, one thousand... if you know what I mean. Several more times, I hit all 8 with the 9 shots my mag holds. So, I think that's the secret... thousands of rounds of practice!! Well that and good sights...
Mr. Mahan - I will be eternally grateful to you for that rear sight.
You don't realize what a huge POS the original rear sight is until you get a Mahan sight!! If you have a Hi-Point pistol, order one!! It's the best money you'll ever spend on a Hi-Point - I guarantee it. I was skeptical - I waited, and wasted a lot of ammo!!
I thought I'd try to make it better by out-lining the "U" shape with some of the wife's bright fingernail polish, but ended up scraping that sh*t off - It's perfect the way it is.
And I don't know if I'm really "hot-stuff" here or not - half of the eight targets are 4 inch round, the other half are 3x6 rectangles. And I'm shooting at a distance of 30 feet. Is that good shootin' to hit all 8 of those targets at 30 feet? I like to think so!! It's a hell of a lot harder than you'd think to consecutively hit all 8 of those little bastards!!
All right, one last picture of the target: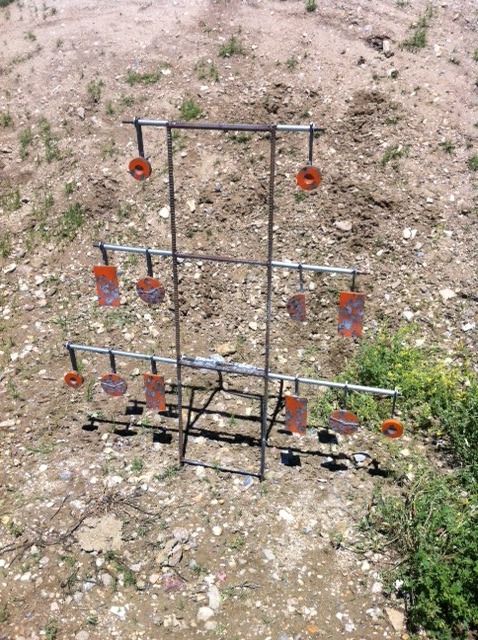 Knocked quite a bit of the paint off. That round one broke on about the third shot, so it was a little harder to hit!!
OK, and a couple more pictures: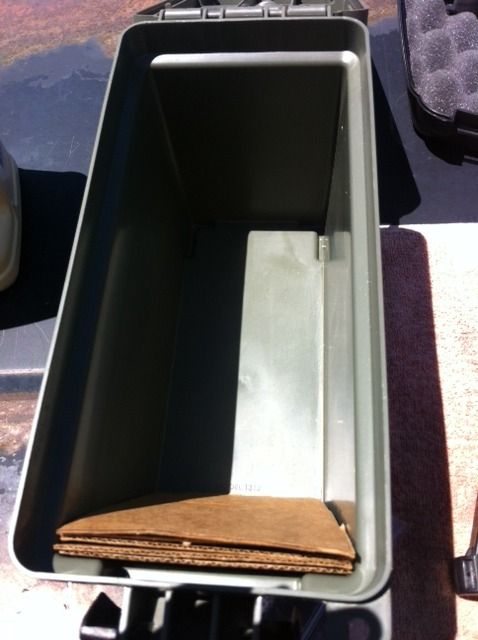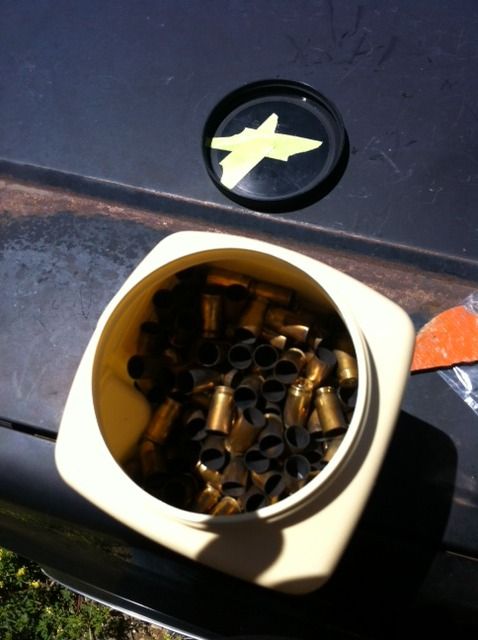 An empty ammo box and a can full of empties!! That's happiness at the shooting range!!
I wonder if Mahan will give me a cut of his sight sales when I make it on the Wide World of Shooting Sports on TV??
And, I was happy when my tilt lever screwed back into the steering column!!