Just thought I'd post a few pictures of the 4595 stuff I got from Ken.
I put that scope on my 4595 and I took the front sight off it:
And it just kinda "looks funny" with out it.
And, one of the things I got from Ken was a Hi-Point Compensator, so I put it on:
I think that looks a lot better!!
I also got some mags from Ken too!! 6 Hi-Point mags that looked like new and a 14 round ProMag that also looked new.
Ken put up a post and said that the ProMag was giving him some trouble when he used it in his 4595.
I'll be interested to see if it gives me any trouble or if it works OK.
I always wanted to try a ProMag with my JHP... I'll get to try it now!!
I had 5 Hi-Point mags + 2 new ones (that were still in the package) making it 7 total that I had.
And I thought I had a few more than that... But I guess I was wrong...
Anyway - 13 factory Hi-Point 9 round mags!!
And 13 x 9 = 117 rounds!!
Those mags take up a little less room like this..
And the ProMag still sits in my rifle rest when inserted in my 4595.
The ProMag looks and fits really good too IMHO.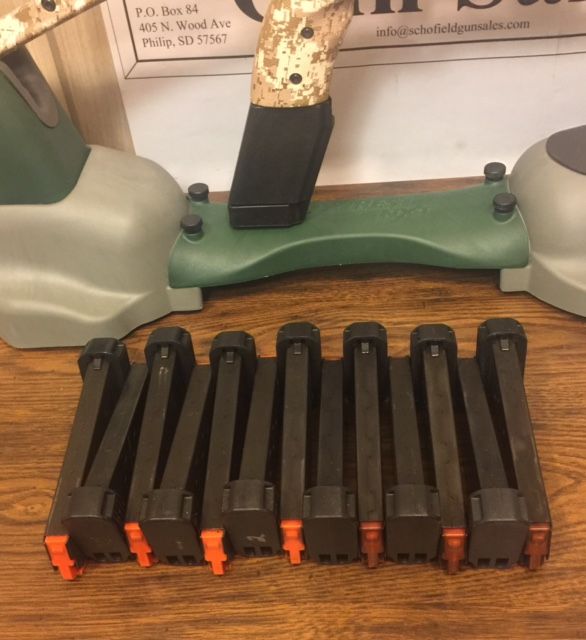 And here it all is with my speed-loader too...
I'll need that speed loader!! Every time I load all those mags it's 131 rounds!!
I'm sure it'll take a little while to "unload" all those mags at the range.
This is gonna be fun!!
Range Report Coming Soon!!