George Taylor wrote:
Take a pair of those expensive calipers and measure the diameter of your reloads and compare it to more expensive factory ammo. If the reloads are a couple thousandths smaller, that could be the problem. .
George Taylor wrote:
I checked Accurate mold. They have a million molds for casting every conceivable bullet...But no boat tail 45 ACP. I imagine it would look like a little football. I thought it would be easier to cast em instead of trying to chuck a 45 to chamfer the backside. I still think variants in bullet diameter might be messing with accuracy.
George Taylor wrote:
So I took out my calipers and started measuring bullet diameters on 9mm because I have several brands on the bench. Wolf polyformance came in the smallest at .351. Silver Bear and Remington UMC both came in at .352. Some old Pakistani NATO measured at almost .353 (.3525 by eye). Keep in mind that I'm not removing the bullets from the case, so the numbers are only representative of unseated portion. Is a standard of deviation of .0015 enough to change long distance trajectory? Shot out of a handgun at 5 yards we might not notice. Launched from a carbine barrel at 50 yards? I'm no expert but that NATO round is bound to punch tighter groups than the Wolf Poly. Don't get me wrong, the Wolf is great for what I paid. It's perfect for making noise and chasing soup cans.
I've wanted to get back to this since... Well February??
George asked if my reloads were up-to-snuff, and I thought that was a good question!!
I put aside my hurt feelings and damaged ego - I mean - Any one that would even
think
to ask me that in the 1st place...
Either that - or he's getting to know me here at HPT!!
And I should have done this 1st - And will do this with all my reloads from now on:
Measure The Reloaded Cartridge!!
What I did with my 45 acp dies was follow the instructions:
Full Length Sizer:
"Screw the die in until it touches the shell holder, then back out one full turn."
Crimp Die:
"Screw the Lee Carbide Factory Crimp Die in, until it just touches the shell holder and back out the adjusting screw. With the loaded round in the die, turn the adjusting screw in until you can feel it just touch the case mouth. Then move the cartridge out of the die slightly and screw the adjusting screw in a half-turn for a light crimp and one full turn for a heavy crimp."
So that's basically what I did.
I measured some of my reloads and found what George asked about very well could be the problem.
I don't have any 45 acp rounds to measure - But the specifications for this cartridge are in my reloading manual.
My reloads were not the right size - especially at the mouth of the case!!
I was using those expensive copper plated soft lead Rainier bullets.
And when I put the crimp on them - Well - it was easy to squeeze them to a smaller diameter.
And this would explain another thing that's kinda bugged me about my reloads...
Anyway - the plated bullets were small on the OD top-to-bottom!!!
By 2 or 3 thousands - and some even more... )-:
These soft bullets suck.
- - BUT - -
I ordered some FMJ 230 bullets and had not reloaded any yet - and decided to reload some.
I loaded a bunch rounds making adjustments to my dies until I got it as close as I could.
Then I reloaded a couple hundred+ and put them in a plastic coffee can.
I kept them separate from the bunch I reloaded to get the dies adjusted...
I only want to use the "good ones" when I test them at the range!!
This was in mid-march and when a nice day and some free time worked out - I decided to go to the range!!
The 1st thing I do is load my mags before I head out - So I grabbed my box of mags...
This isn't good... where TF is my speed loader?? It's always in this box - or in the case with my JHP - It's not.
And I ain't loading all these mags with my thumb - no way!!
I look everywhere I think it could be - reloading area - My Gun Office - Tear my suburban apart and no speed loader...
Damn it!! How could I lose that thing?? I can't go shooting without it and always kept track of it.
Kinda pisses me off... I had to grind a groove in it and plus it worked freakin' great!!
Fine Mr. Alzhiemer's - I lost it somewhere - I'll just order another one.
I decide to get two - they're cheap - and it's a "pre-alzheimer" defensive purchase... In case I lose another one...
What I got was this - 2 different brands:
ADCO Superthumb is the one I had before - And I got a Pro-Mag one too.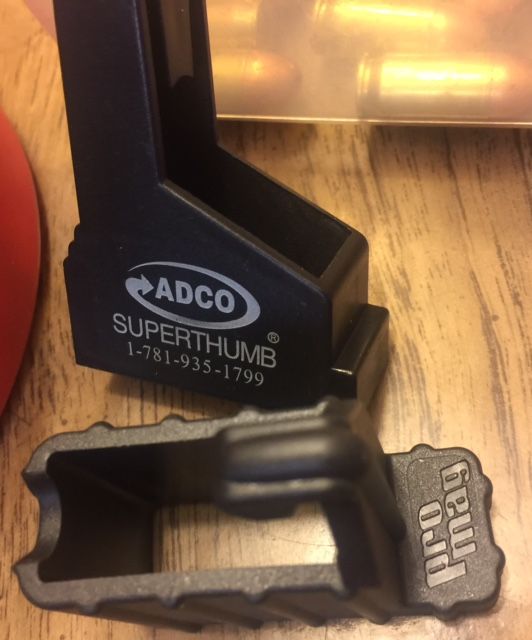 I ordered them from MidwayUSA and when they showed up, I loaded my mags with the Pro-Mag loader...
I need to grind a groove, from top to bottom, on the back of the ADCO loader before it will work.
I did it with my die-grinder last time.
The Pro-Mag loader works - but I can't say for sure how well it works...
We have another problem. )-:
These newest reloads do not fit or work well in the mags - My old reloads work fine in these same mags.
The cartridges stick and aren't happy in these mags...
I hope I didn't screw something up...
I measured some rounds and they all seemed just fine.
Well Screw it!! I loaded 5 or 6 mags and decided to see how they would work.
I put my loaded mags in my box and slip the 4595 into my AR case.
I always bring along the little tool that came with my 4595 - And Guess What??
I can't find it...
OK - I'll go without it this time...
I check for the brass catcher I use on my AR as it works perfect for the 4595 too!!
It wraps around the gun and is held on with velcro and Caldwell is the brand of it.
And Guess What?? - - I can't find it either!!
I look everywhere - I can''t find it - Still haven't found it... Haven't found anything I lost.
Well - I ain't going to the range if I have to spend most of my time there picking uo brass... )-:
I start to unload the mags by pushing them out one-at-a-time.
The 1st mag ejaculates a couple and then the rest of the cartridges stay down in the mag. Nice...
ALL of the mags have troubles ejaculating cartridges.
Some would have a round stick lower down in the stack of cartridges
and the ones above would just fall out of the top of the mag...
So that's another mystery I need to solve.
I checked the length of several reloads and it's right-on according to the specs in the reloading manual.
Anyway - - IF I find my brass catcher (or buy another one - or two)
And I don't lose any other vital stuff - Like my 4595 or my suburban or my weenie or my mind...
At some point - I'll test these FMJ reloads in my 4595 and come back here with the range report.
AND - If my 4595 shoots accurately...
I'll have to think of some kinda prize to give George for his advice!!