Ttrm007 wrote:
I just got one from hipoint. Will take a close look to see what it looks like.
Sent from my iPad using Tapatalk
I would say that would be a good idea!! (-:
mogunner wrote:
When I said a couple thousandths, I was referencing a good quality compensator or brake....
I know that Mo - This Hi-Point compensator is mostly for looks...
I'm sure it compensates some and disperses the muzzle blast.
And I'm not exactly sure what the point of having a compensator on this is anyway.
It's only a 45 ACP and the compensator just makes louder for the shooter.
Makes a few more bucks for Hi-Point I suppose!!! (-:
Anyway, here we have it chucked up in the hand-lathe, or non-CNC lathe...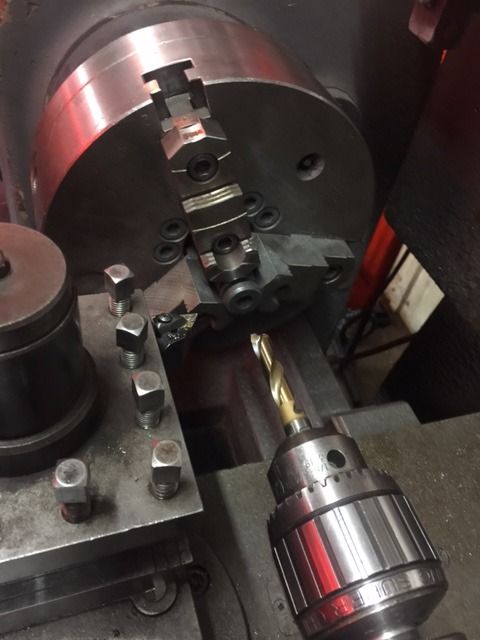 No tiny boring bars were to be found, so I put a 1/2" drill bit in it and - - "Chirp, Chirp, Chirp"
The hole isn't centered and the drill bit only hits one side of the hole.
So I put in a 5/8" drill bit and that cleaned the hole up.
So now we have a .650 diameter hole for a .452 diameter bullet to go through.
The bullet shouldn't hit anything on the way through now!!
I decided to face off the compensator and this should tell us something...
Now theres a precision, quality made part!!
No wonder the bullet was touching it...
I finished facing it off and I put a nice chamfer on it and shined it up on the belt sander:
And the hole in the end is a lot bigger!!
Looking through the other end:
I really don't care what size hole is in the end of this thing as long as the damn bullet can pass through!! (-:
Just for the hell of it, I put my angle finder on it and it's right on at 90°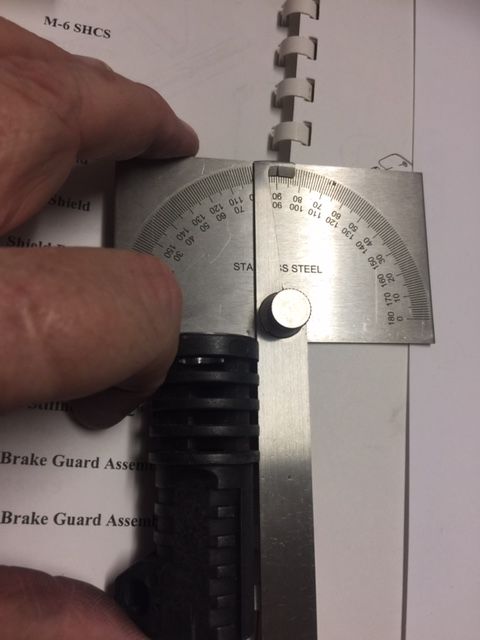 That was just to make me feel better - to prove I didn't have it crooked in the chuck.
Now we have this bright shiny finish on a part that's supposed to be blued, or at least have some kind of finish on it.
And I have just the thing!!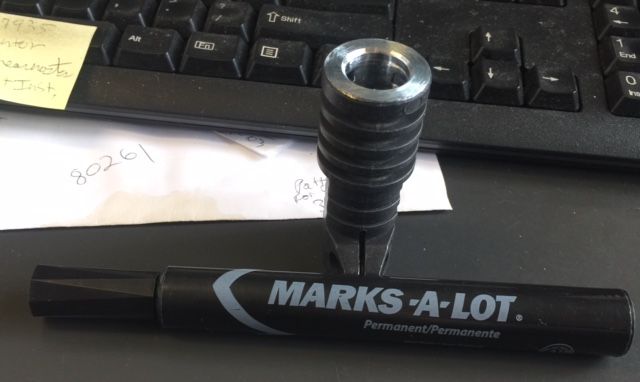 The Black Permanent Marker!!!
And here is the finished product after a couple coats of "blackening"...
I'm sure the black will come off - but soon, it'll get coated with muzzle-blast residue over time or get a nice coat of rust on it.
Now, I am anxious to try it out!!
I WAS going to try it after work today - but I ended up going to visit my brother and sister in-law as it was her birthday today.
So I will give it a try as soon as I can!!
Do you think I should put the scope back on 1st?
or try it with the open sites on it??