Ex - as usual - the northern folks here at HPT wish you would just SHUT THE HELL UP about your AZ weather... Thank You.
Anyway - I put the scope back on the 4595 and went to the range Sunday morning.
There was a nice 5-10 mph breeze and it was a balmy 8° or 9° and I froze my ass off.. shut-up Ex!!
I did set up some targets at 50 yards and a 100 yards and the results were... well you'll see!!
Lets start at the beginning...
I almost didn't want to remove the open sights as it seemed like they were working pretty good.
But, I did put the 4-12x40 scope back on.
I left the front sight on it this time - just in case the scope has to come back off.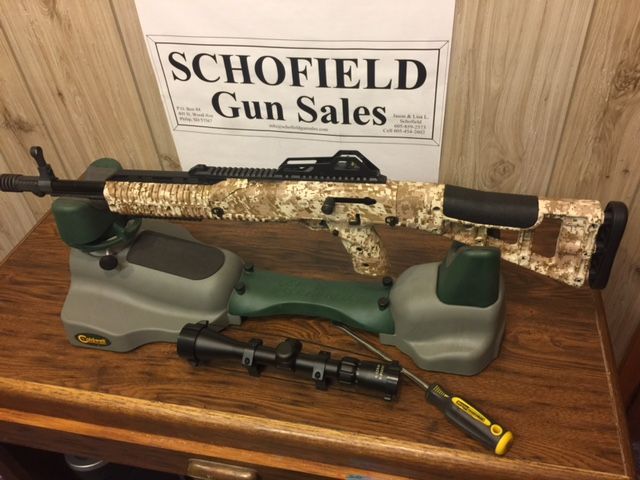 And - Since it's so cold (shut up Ex!!) I load all the mags I have before I go to the range.
And this is my last bunch of 45 ACP ammo -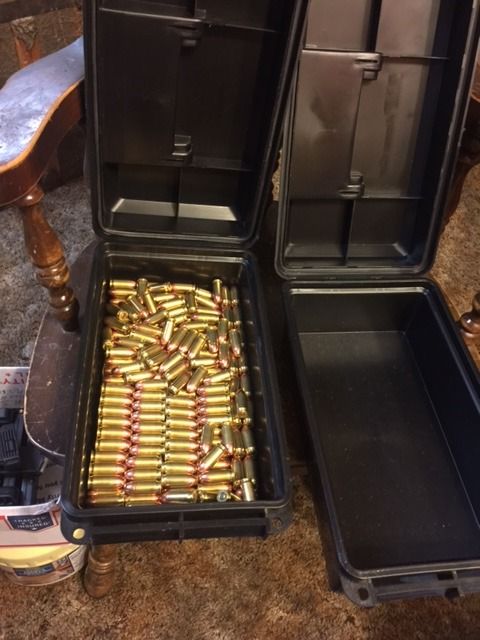 That's about another 2 or 3 trips to the range... Then it'll be reload time!!
Also - some of those new mags don't work so smooth, so I put a little graphite on the inside of them:
And it seemed to help some of them a lot!!
This is one of the 2 targets I had at 50 yards.
It was the one I used to get the scope adjusted where I wanted it to be.
It shot way left - I over adjusted and it shot way right and when I got it centered, i adjusted it to hit about 4 to 4-1/2" high.
The 3 hits below and a little left of the orange dot is where I aimed at the bottom of the paper.
It seemed to be working OK I guess - I was a little uncertain since I just put the scope back on...
This next target is a full 9 round mag where I aimed at the bullseye and it was hitting high like I wanted it to.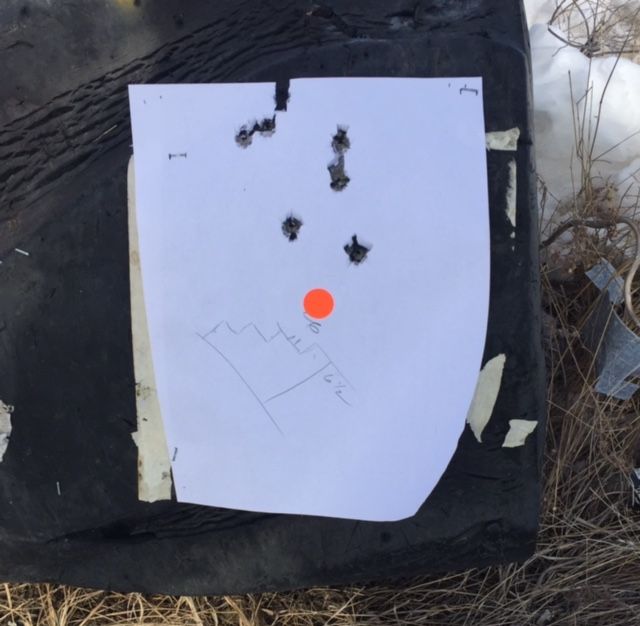 That is NOT what I would consider a good group - maybe it was from the all the shivering in the freezing cold. (shut up Ex!!)
But I did shoot at a couple of other things at 50 yards and I did notice that occasionally we had a pretty far off miss...
And I was pretty sure I had a good hold!!
So I shot at a spot on the dirt bank by the 100 yard target and it took as couple more clicks up to get it zeroed.
As I shot at this spot, I could plainly see the impact of the bullet.
And I'd have 2 or 3 hit real close to the point of aim...
Then one would be 6 feet low and 3 feet right...
or 6 feet high and 3 feet left...
Then a couple more would be close to the point of aim - and the next 3 or 4 would be wildly off target - some not even hitting the pile of dirt at all!!
So
is going on here??
Well this is what I think - and you fellers can tell me what you think too...
All this ammo is 230gr plated bullets - Rainier soft lead plated bullets.
They seem to shoot just fine in my JHP pistol.
But - I think it's the bullets.
The longer barrel of the 4595 might be either spinning them too fast or not enough - or the velocity is faster and destabilizes them.
And I think when you shoot a plated bullet - that plating gets rubbed off by the rifling and then literally flakes off.
I've seen it with bullets I've recovered from shooting my JHP.
I can find out by reloading some of the FMJ bullets I just go in last week.
If it shoot's a lot better - it's the bullet!!
If it doesn't shoot any better I'll try some factory ammo.
If it still shoots crappy, I'll have to contact mom and ask some questions.
If it ends up with me shipping my 4595 I will politely demand they use UPS or USPS and not Fed-Ex when the send it back!!
And - this happened while at the range:
Now there's your stovepipe!!!