(Edited a dozen times to add pictures and change commentary since I'm trying to remember this from five years ago)
One point that no one mentions is the tendency of the mag to be off to the side of the mag well so the bullet doesn't line up very good with the chamber.
When the mag is adjusted it can be adjusted to bring the bullet back in line with the chamber as it enters. This may not be any type of issue but the least amount of compound angles the bullet has to maneuver through the fewer chances of a FTF.
The nose of the bullet has to rise as the slide retracts upon firing.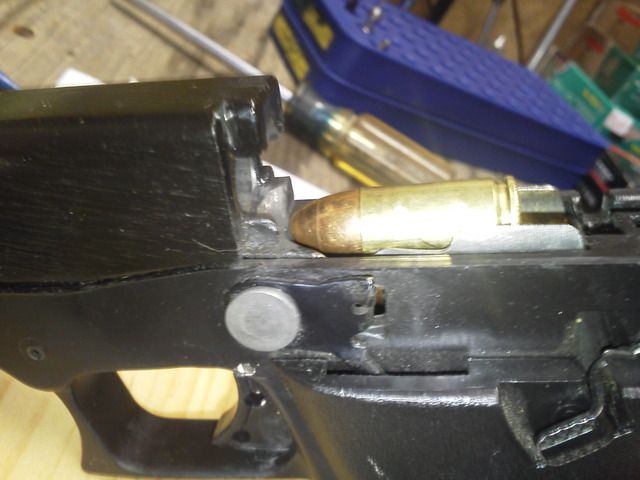 This sort of aims the bullet right at the chamber. The nose of the bullet has to contact the ramp just behind the extreme front of the bullet so it deflects the bullet into the chamber where the bullet nose will then contact the roof of the chamber deflecting it into the chamber.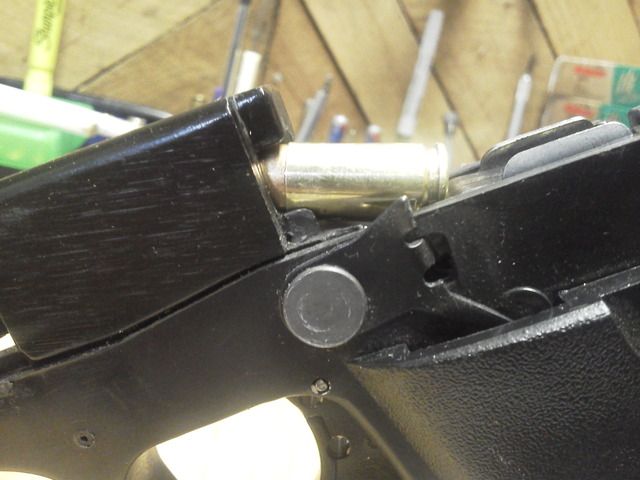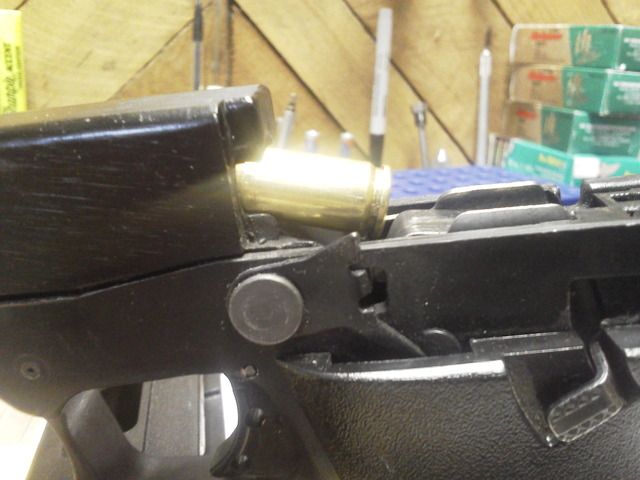 On the other hand, if the nose is too high or the rim end is too low the bullet will stovepipe because it will pivot too soon.
If the nose is too low and the rim is to high the bullet will fail to feed ass end up or wedge the slide open. The mag lips only really come into play for that micro-instant that the slide is completely rearward. The rest of the time the bullets are contained by the bottom of the slide. So, in essence, the mag lips are merely guides, except for when the slide is locked back on a full or partially full mag. However, they still need to hold the bullets from falling out too.
One other point is that the bullets need to be held as high as possible around their circumference (longitudinal center line) while, again, keeping them from falling out of the mag.
Personally I tried all the caliper tricks and measurements and ultimately just took the slide off my gun and inserted a full mag and tweeked it until everything worked right. Mine will now shoot aluminum, steel, and brass cases with no hiccups. I reload my own and so I keep the OAL as long as SAMI specs say is acceptable for the powders I use.
As for the polishing of the feed ramp...no real need to. Too much opportunity to fork the frick out of the gun if done wrong. Mine has a nice bullet smoothed finish on it and works very good. But that choice is yours. With that said, if there appears to be a heavy chipped off area that leaves a sorta ledge in the paint then yeah, time to chip the rest of the paint off with something, again polishing is not needed but a smooth ramp is-painted or not.

_________________
http://smalltowngunshops.blogspot.com/

"It is foolish and wrong to mourn the men who died. Rather we should thank God that such men lived." — General George S. Patton

May we always realize the cost of our freedom. We can never repay them, but the very least we can do is uphold the ideals that they died protecting and honor them in the choices we make each day.



"If Tyranny and Oppression come to this land, it will be in the guise of fighting a foreign enemy."

-James Madison
It's gettin close boys. The time is near.

The greatest

RE

-productive force is human selfishness (Say NO! to population growth!).

--No good deed goes unpunished--

When we do good, nobody remembers, when we do bad, nobody forgets. --unknown

Just because you are unnatural, bizarre, bring problems on yourself, and don't fit in does not mean I dislike you...well, yeah it does

"Life should not be a journey to the grave with the intention of arriving safely in a pretty and well preserved body, but rather to skid in broadside in a cloud of smoke, thoroughly used up, totally worn out, and loudly proclaiming "Wow! What a Ride!" ― Hunter S. Thompson