I like shooting the PHP but the trigger action is terrible. Long, rough and gritty feeling in DA, short and smooth as silk in SA. After studying on it for a little while I see there is no way to work the existing setup so the pull gets shorter.
But I thought maybe I could smooth it out, hopefully a lot.
Sooo....
I took the hammer, the slide block, the sear, the hammer spring transfer bar(??) and spring out. I didn't take the trigger transfer bar out because I haven't gotten that brave yet. There are two (very stout) springs around the slotted shaft that's attached to the transfer bar which is attached to the trigger. Nope, not there there yet in the 'I can do that' department.
It looks simple enough, as do most spring systems, but I've had enough bad luck with springs to know they are deceptive in the way they look.
Polished everything that came into contact with something else.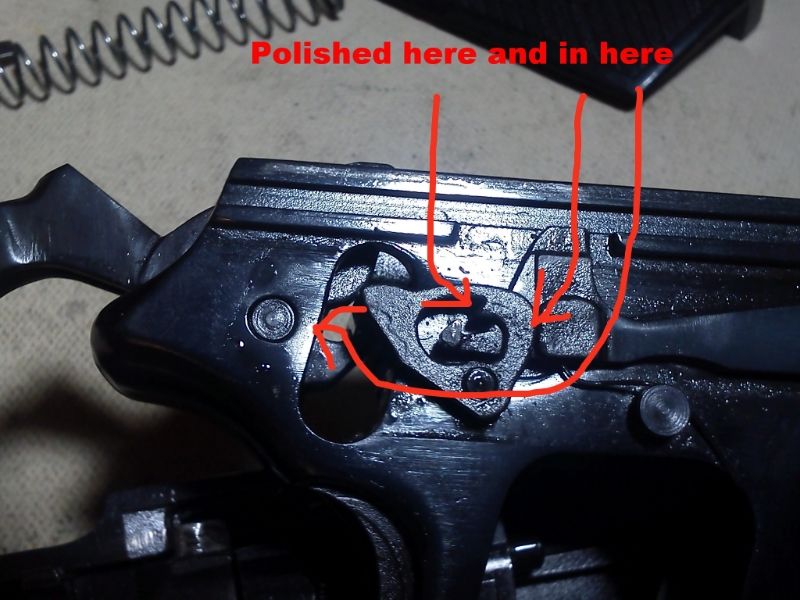 Finished up with fine polishing compound. Put it all back together and it ......feels the same.
I even polished the transfer bar the hammer spring rides on. Everything including inside the pin holes (the pins are floating pins, not an interference fit) I know it'll never be a CZ, Ruger or a Sig but ??? It's smooth until I put hammer spring on. I knew that was were the problem was in the first place. But I can't tell where on the transfer bar. It apparently doesn't touch the frame anywhere and the spring doesn't touch the grip that I could tel for any wear marks. So now I don't know where to look. Maybe a simple change to about a 70#
lighter spring will do it.
The spring in there now looks like it would hold the front of a train up.
That's not it in the pictures, that's the recoil spring.

_________________
http://smalltowngunshops.blogspot.com/

"It is foolish and wrong to mourn the men who died. Rather we should thank God that such men lived." — General George S. Patton

May we always realize the cost of our freedom. We can never repay them, but the very least we can do is uphold the ideals that they died protecting and honor them in the choices we make each day.



"If Tyranny and Oppression come to this land, it will be in the guise of fighting a foreign enemy."

-James Madison
It's gettin close boys. The time is near.

The greatest

RE

-productive force is human selfishness (Say NO! to population growth!).

--No good deed goes unpunished--

When we do good, nobody remembers, when we do bad, nobody forgets. --unknown

Just because you are unnatural, bizarre, bring problems on yourself, and don't fit in does not mean I dislike you...well, yeah it does

"Life should not be a journey to the grave with the intention of arriving safely in a pretty and well preserved body, but rather to skid in broadside in a cloud of smoke, thoroughly used up, totally worn out, and loudly proclaiming "Wow! What a Ride!" ― Hunter S. Thompson