I've had this pocket holster for a couple years: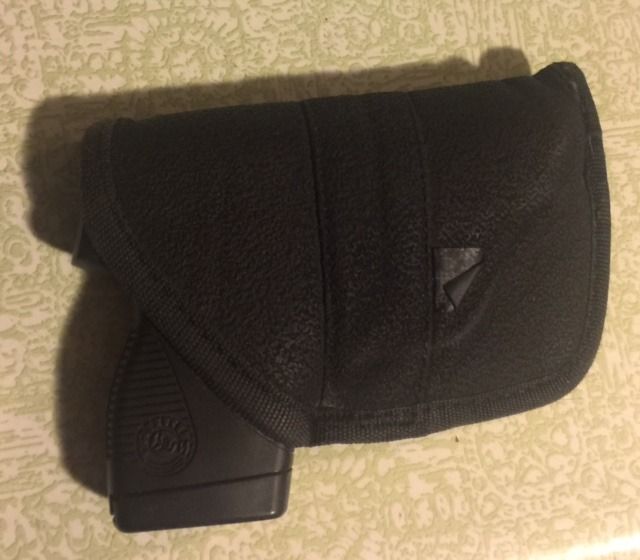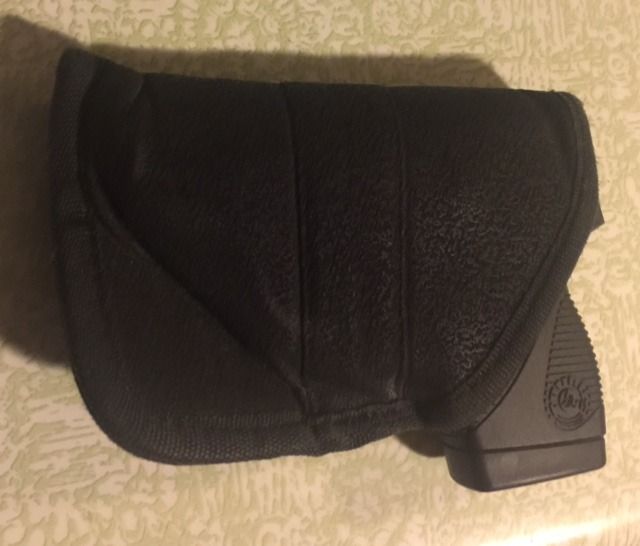 I carried my little JA-25 Jimenez in it and now my 380 cal. 738 Taurus lives in it.
It's getting pretty "squished" and has had a lot of use.
I can't even remember what brand it is - I think it's an Uncle Mikes.
Anyway - I figured it's about time I replace it.
I saw this pocket holster that had a spot for carrying and extra mag. It's a "Tuff" one...
I thought that was a pretty good idea - So I ordered one.
They were out-of-stock for awhile and finally they came in and I got one!!
I had an extra mag and loaded it up and I tried the holster out for a while.
I just didn't like it much...
The mag would really only work with the pistol one way.
And then, the pistol would fit a little deeper in the holster than the mag.
That caused the mag to rub on the pistol and be pushed off to one side or the other of the pistol.
And it wasn't very comfortable either. I know I was carrying an extra mag, but it didn't fit in my pocket very well.
The thing that REALLY ticked me off about it was this:
For practice, every so often I'll grab that pistol by the grips - being very careful to keep the finger off the trigger - and see how easily and fast I can get it out of my pocket.
It ain't much good it I can't whip that baby out and use it!!
With this 738 Tarus there no racking, locking, cocking, rocking, winding, switching, twitching, snitching, bitching or rubbing needed - Just pull the trigger and it fires!!
That was the whole point of getting this pistol.
Anyway - My old holster worked pretty good for the most part. Sometimes the holster would come out with the gun was about the biggest problem.
It''s still fire if I could get my finger on the trigger!!
This new holster did something I didn't expect - It flat out wouldn't allow the pistol out of it!!
And I couldn't get the damn thing out of my pocket either!!
The harder I tried the more it'd stick!! I guess if I was strong enough and just ripped my pants out - but It'd still be in the holster!!
So - worst case scenario with this new holster is just stand there jerking off while the bad guy kills me...
That's NOT the result I was hoping for!!!
I think I know whats causing the problem of the gun staying in the holster.
When I grab it by the grips and pull, the holster cocks and grabs the pistol.
Pull harder and it grabs even tighter.
The way the spare mag fits in this holster contributes immensely to this.
It instantly makes that holster cock back as soon as you try to pull the pistol out.
This thing is like the "Chinese Finger Trap" of holsters!!
And the thing is made to be sticky inside and out...
And that might be the whole problem too - If they overdid it with that shit.
Anyway - $15 down the tubes - I ain't using that POS!! Not for a pocket holster anyway.
I might be able to use it with another pistol on my Harley or in the car maybe. We'll See!!