I'm sorry it took so long!!
It was after work when I got it - Then got busy with something else - and did my classic "fell asleep early" thing and am wide awake now in the middle of the night - at 2:00am...
Here's the box: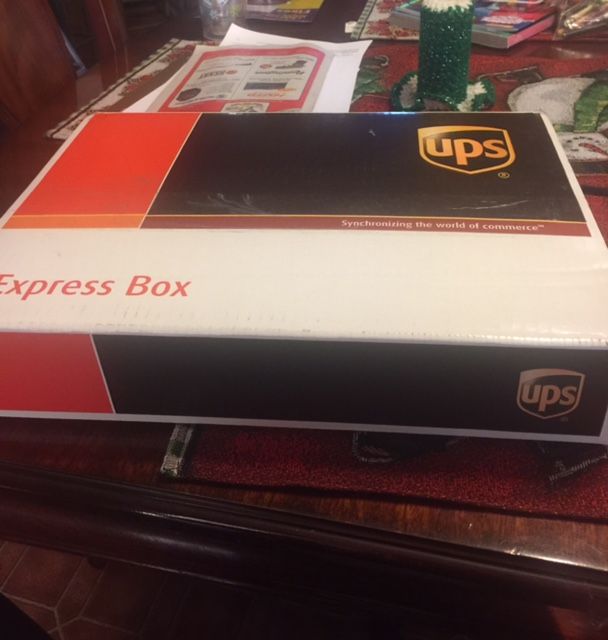 I know - the box is boring, who cares??
It's a big deal for me!! New stuff is kind of a rarity for me - especially guns!!
Here's what was in the box: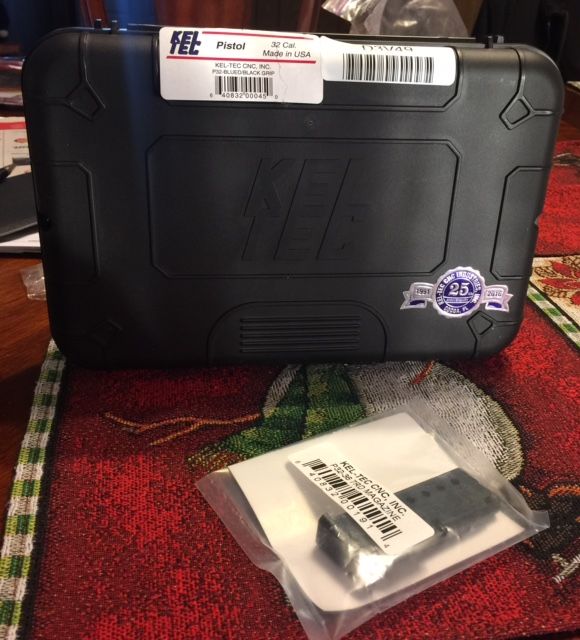 The extra mag came with it.
Here's what was in the box in the box...
Kel-Tec believes in giving out free stickers, don't they??
Free stickers = Free advertising I guess!!
And the fondling begins:
I can about palm the thing!! The grip is pretty rough on it - just exactly what you'd want so I can get
ahold of it and hang on to it if the S ever HTF.
Probably not a good grip for shooting a few hundred rounds through in one session - But perfect for what it's made for!!
I'm amazed at how small and thin they can make a barrel: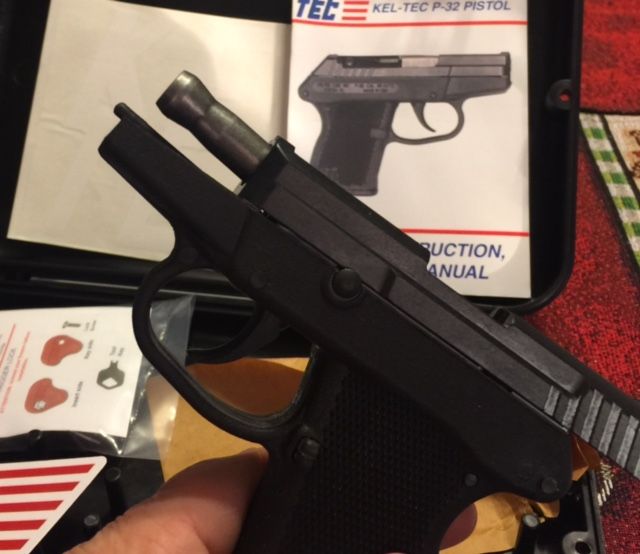 The wall thickness on the barrel looks like it's .050 of an inch!! I might measure it for the hell of it when I get near my calipers.
Both the Taurus and Beretta .380's I had before this had thin barrels too. That's part of the reason they're so light, I'm sure!!
And having a Hi-Point as a 1st pistol, I'm still a little unnerved at seeing a barrel that's loose and moves around when the slide is open.
But I guess that's how all the "good" pistols are made!!
It is pretty much just exactly what I need for my situation - Where pocket carry is about the only option
with being a huge flibbo and having a "sit-down" job too. It's unbelievably light!! My suspenders will be happy...
Any IWB thing is uncomfortable and I want to have the gun with me and "on my person" at all times.
Some guys at work have a pistol in their lunch-box or in a back-pack or book bag of some kind.
I suppose that's better than nothing! But I wanna be able to put a hand on this thing at all times.
I hope I never have to use it, and probably won't ever need to.
But all you have to do is watch TV. Bad things happen to folks, and they say, "I never thought that would happen here."
or "We've never had anything like this happen before."
But I'd rather be prepared - It'll be nice to not feel as vulnerable anymore!!
This is the same pocket-holster I had:
I'm not sure how necessary it is to carry an extra mag. It can't hurt, I suppose!
It's just nice to have an extra mag around - in case one gets lost or misplaced.
I imagine most of the time when a pistol is pulled, it's just a matter of a few rounds fired and it's over.
So I might get a different holster and just carry the pistol loaded - It does take up less room in the pocket.
This little P32 pulls right out of the holster nice and easy. The Taurus did too, but the Beretta Pico actually had some decent sights on it.
So it was a little more "snaggy" on the way out. I do believe the Kel-Tec has the smallest sights out of the three of them.
I also noticed Kel-Tec has "Made In America" plastered all over everything, but the mags are made in Italy!!
Maybe it should say, "Mostly Made In America"
So now I have to wait for the Ammo to show up - It'll be here with in the next 12 hours or so.
I have a .243 Remington 783, a 6.5 Creedemoor Ruger American Predator and a BAR in 300 Magnum (
) coming too.
I hope I get these into the hands of the new owners ASAP as my checking account took a pretty big hit paying for this stuff!!
So it might be Friday or Saturday before I get to "test fire" my new little P32.
I'll report back and let you know what it's like - as long as I don't freeze to death out at the range!!
Boy, am I ready to start carrying again!!