Hey there fellers!!
A while back, I put together a 24" Fluted Stainless Steel barreled AR for myself and had troubles with it cycling.
It wouldn't even ejaculate the brass with a light load of powder - And jammed with a "mid range" load of powder.
I thought it had something to do with the rifle length gas system on the long barrel.
So I "tipped the can" a little more and made it up to the maximum recommended load.
I took 10 rounds to the range with me and I shot 5 at a time at 2 targets to sight it in - and it cycled every time!!
So I figgered OK - problem solved!!
I was going prairie-dog hunting soon, so I fired up the Load-Master and loaded a couple hundred more rounds.
But, I backed the load off about 2 tenths of a grain.
On the hunt, it started out working fine - the 1st 10 round mag went through pretty good.
Then it started again - wouldn't quite ejaculate the brass - then would cycle fine for a couple rounds - then failure to ejaculate again...
Did backing off 2 tenths of a grain from the maximum load have something to do with it??
It shouldn't make any difference at all!!
I was starting to get a little frustrated -
- But it just HAD to be something with the gas system.
I was in denial for a while - I've put over a dozen of these things together and never had a problem.
I was was even a little arrogant about it - How could I make a mistake!
Finally, I removed the lower, took the scope off and clamped her in the vise: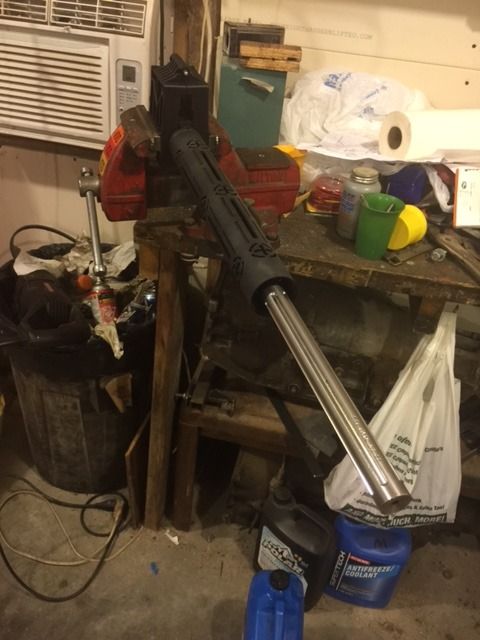 Took the hand-guard off and eye-balled that gas block: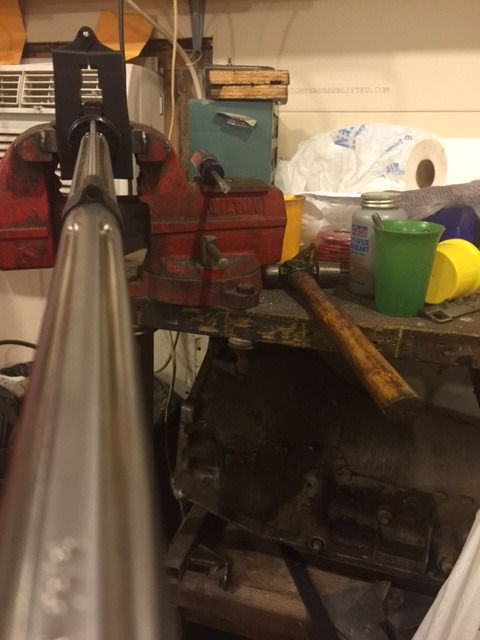 Is that sum-bitch straight?? or, facing the muzzle, is it turned just slightly off to the right??
Should be close enough to work, shouldn't it??
So, I removed the gas block, and it was off a little bit - to the right...
:
And a little bit too far forward too...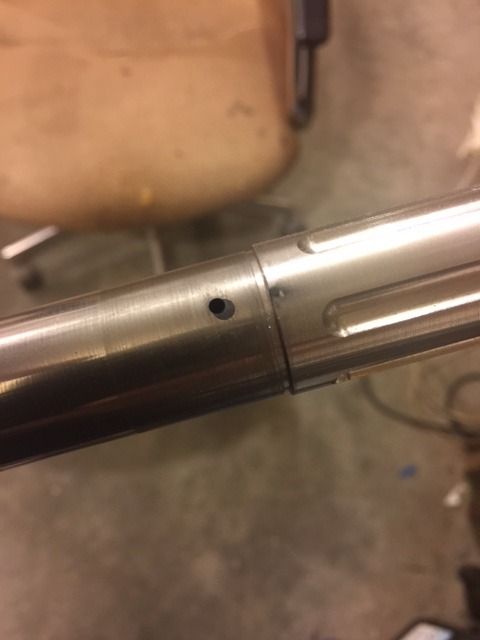 There's a little bit of a "Gas Mark" in front of the gas hole there too - where the flutes are...
Do you see it??
WTF?? Why is it doing that??!!??
The gas block was slightly off - but it has a little larger hole in it than the gas-hole in the barrel...
It should have still worked. At the worst, it may have been very slightly restricted.
And if it was because I didn't have the holes aligned correctly - It shouldn't leave that gas mark on the flutes like that.
It means it was restricted somewhere else - Further "down-stream" if you will...
I had the gas-bolck/gas-tube in hand and looked at it - and saw this: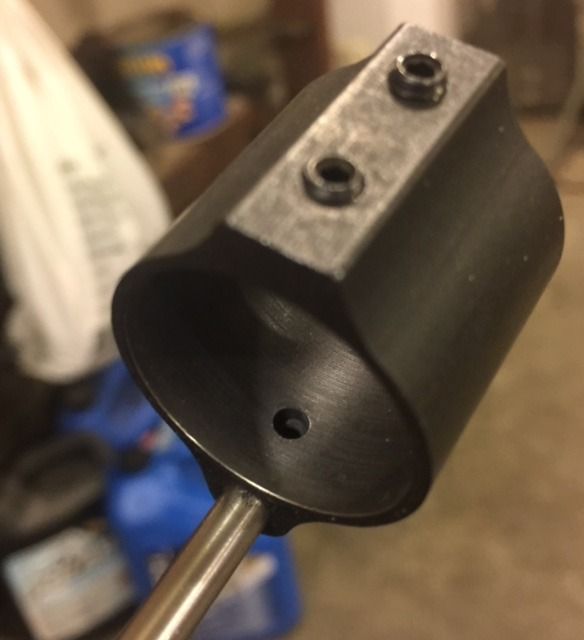 AH-F**KIN'-HA!!!
That gas tube is NOT lined up with the hole in the gas block!!
But why??
The company I bought the barrel from didn't have any .936 diameter gas blocks on hand - they were sold-out at the time.
So, I bought one from another supplier. They're all supposed to fit together, aren't they??
I guess not...
It's a steel gas-block - so I took the set-screw out the directly across from the gas-hole in the gas block,
which is how they drill that hole on the inside like that in the 1st place, and ran a drill-bit through the
threaded set-screw hole and drilled out that stupid gas-tube.
Since it was a steel gas-block, the drill-bit rubbing the threads a little in that set-screw hole didn't hurt anything.
I blew it all out with compressed air and made sure it was clean and no metal filings in the gas-tube/gas-block.
So - now - When I put this damn gas-block back on - how am I going to make absolutely positively sure the holes line up?
I usually slip a hose over the gas-tube inside the upper receiver and blow through it.
If it's lined up, air goes through easy - If it's not lined up, air is restricted.
So, I did this instead: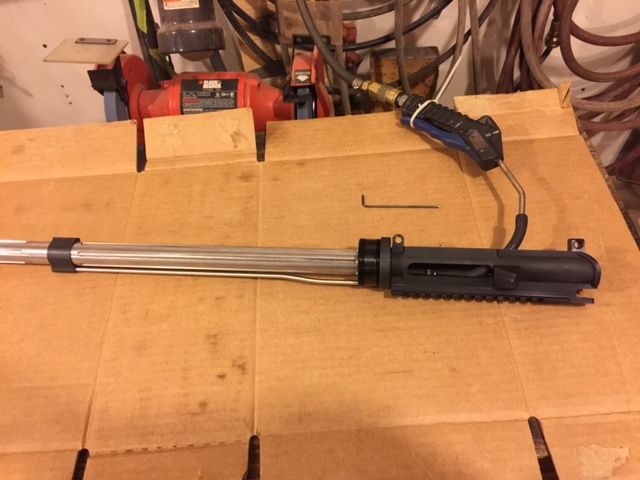 You can see I attached the hose to the gas-tube in the receiver and put the blower from my air-compressor on the other end.
I zip-tied the blower open and used the valve on the air-compressor to let just enough air through to hear it good.
I had an endless supply of air...
I moved the gas-block around slightly and when I determined the maximum amount of air was getting though - I tightened the set-screws.
It worked pretty slick!! This is how it'll be done from now on...
And it was back a little back from the all-the-way-forward "stop-ridge" in the barrel - where it's supposed to be.
Some Fairly nice machine work here by one of these companies...
Put it all back together and now my target shootin' AR cycles perfectly!!
Finally!!
After all this time!!
But, I learned my lesson here - just because parts are
supposed
to fit together or even if you
think they're supposed
to fit together, doesn't mean they will!!
The fact that I got the barrel and gas tube from one supplier, and the gas-block from another, shouldn't make any difference.
Maybe the heavy barrel and larger diameter gas-block has something to do with it - This was the 1st one for me.
The gas tubes should all be standard though - and should fit any gas-Block.
Maybe I put something together wrong...
There's a little roll-pin that goes through the gas-block and holds the gas-tube in place - did I mess that up somehow??
I don't think so - it's pretty idiot-proof. And that gas-tube was solid in the gas-block.
And none of that is as important as the guy putting it all together... He's the one who's responsible to make sure it's assembled correctly.
You can bet your sweet ass, when I put the next AR together, the gas system will be severely scrutinized.
I am really, really glad my Target Shootn' AR is working like it should!!!
Now, I need to line up another prairie-dog hunt...