I walked out into the garage with this last night: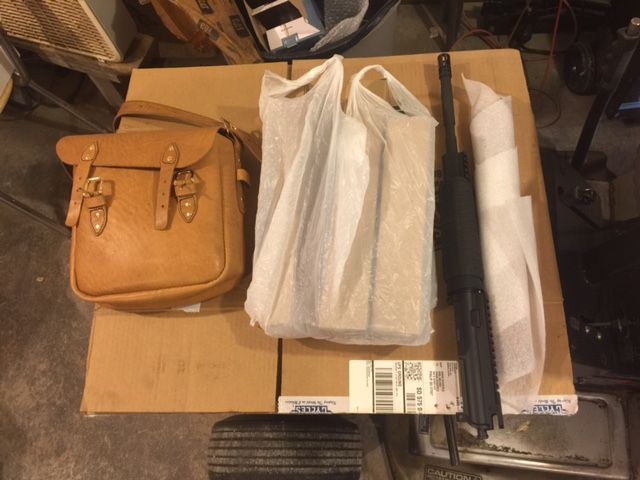 I had one complete upper I had to change the hand-guard on.
I had a plastic bag I put a bunch of stuff in.
And that leather "Man-Purse" Tolly made for me has been one of the handiest things I've owned.
I had it packed with stuff too - and can throw it over my shoulder and go.
This is the "unpacked" picture:
One complete upper, 2 barrels, 2 uppers, 2 flash-hiders, 3 aluminum key-mod hand-rails, 3 gas-blocks and gas-tubes, 3 different brands of BCG's and a some tools for assembling uppers.
I have 3 uppers to assemble - 2 with 15" rails and one with a 12" rail.
It kinda sucks that I have to take one apart to do it.
I had one complete upper on-hand, but it had the plastic hand-guard.
I had to change that one out and put an aluminum hand-rail on it.
Rock River Arms had a sale - I bought 2 assembled uppers from them and 3 BCG's
As far as how the Rock River uppers are made and look compared to my favorite manufacturer of AR parts - Anderson Mfg.
I couldn't see a damn bit of difference except for one thing: RRA uppers have the numbers printed on the picatinny rail along with "RRA" on top.
On sale - the RRA uppers were $45 more expensive each compared to Anderson.
The BCG's from RRA were only about $10 apiece more expensive.
I also bought a complete lower from RRA's ($60 more expensive than Anderson) and a couple of 6-positions stocks - which were pretty reasonable!!
Why didn't I buy from Anderson? They've been out of uppers and lowers for months... I've never seen anything like it!!
That's why I had a complete Anderson upper - that's the only way I could get an upper was to buy it complete...
Of course - I looked just now - and those SOB's have some complete lowers - still out of BCG's & black 6-position stocks though...
Enough of that - lets get on with it!!
The 1st thing I wanted to work on was that little tiny-assed roll pin that holds the gas-tube in the gas-block.
The shape of the gas-block makes it a real bitch to get that roll pin in there.
I have both sets of roll-pin punches - the "female" ones where the roll-pins fits inside the end of the punch. They are the only way to go when installing a roll pin!!
And I have the other set - the ones with a little "bump" on the end that stay centered on the toll pin. They're good for driving those roll pins in all the way.
Anyway - I decided I'd try to make something to hold that gas-block while i beat that dinky roll-pin in...
And I came up with this: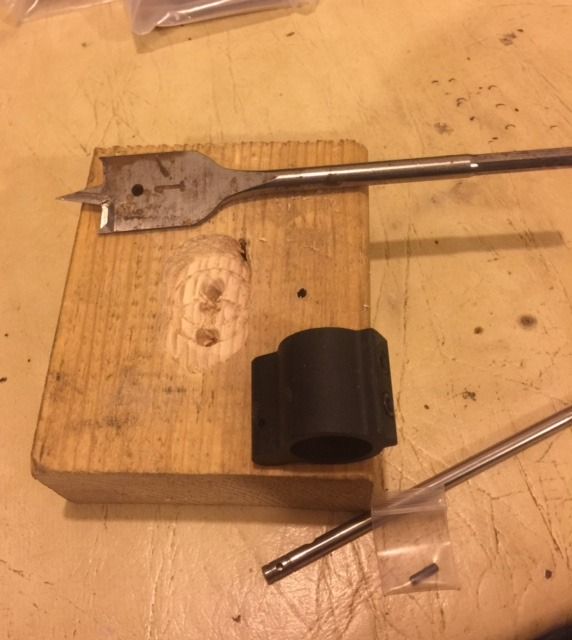 I too a 1" wood drill bit and drilled 3 overlapping holes in a piece of 2x4 - about 3/8" deep.
And the gas-block laid in the "groove" I drilled like this: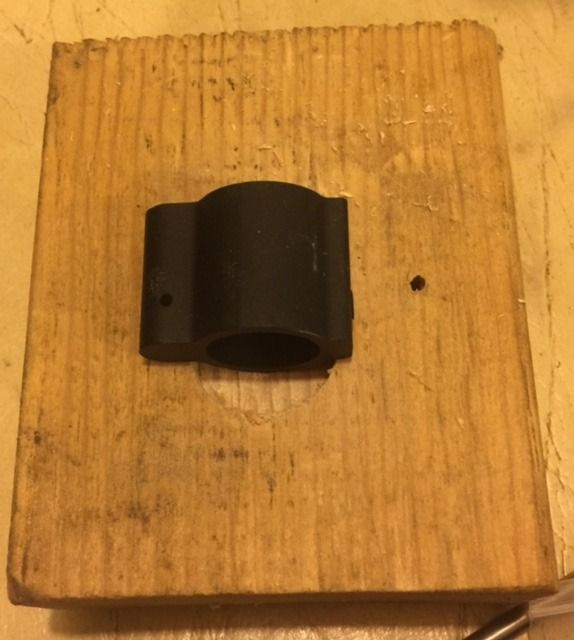 It sit's in there just about perfect!!
I put a little chamfer on one end of that roll pin and "tapped" them in the gas block.
The wood holder worked pretty good - but it did "smoosh" the wood down a bit on the one side - 2x4 is pretty soft!!
Took the new upper apart:
It has a gas block that will not work with the "slim" aluminum hand-guards I'm using. )-:
I'll save the parts off this upper (gas-block and tube, plastic hand-guard and barrel nut) and use them on another build.
Unless one of you guys want to buy this stuff from me!! This is the 2nd complete upper I've save these parts off of.
This shows the thick barrel nut wrench (right side) put on the barrel nut.
I also put some extra long roll pins through the wrench (it has the holes in it already) and all the way in the barrel nut.
Those long roll pins fit though both sides of the nut that has holes.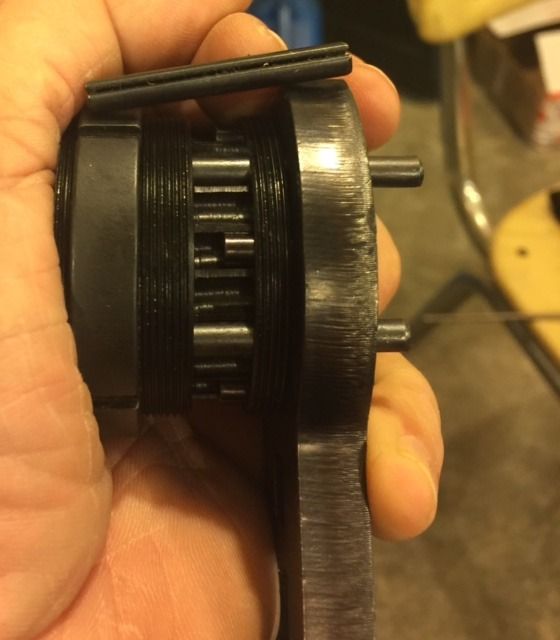 You can see the original "pins" welded on the wrench reach about 1/2 way across the "gap" in the nut.
It might be overkill with those long roll pins - but those barrel nuts are aluminum and soft and easy to ruin if you're not careful!!!
Here, I have the nut "almost there" - I have a rod I bought that has to fit thought the nut and into the upper - to make sure they're aligned so the gas tube fits through.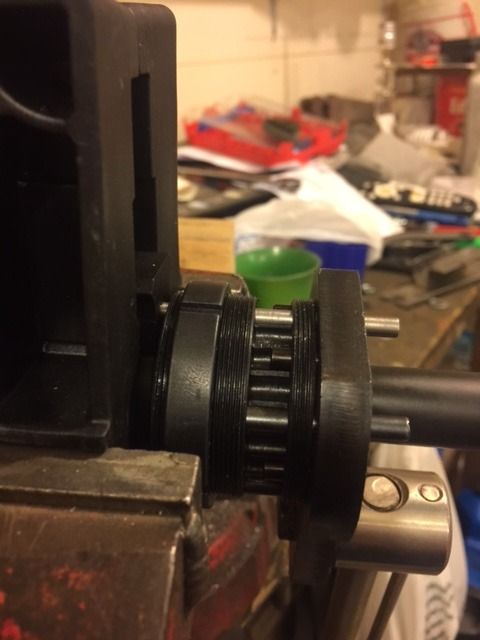 I have to go just a "little bit tighter" until that shiny rod fit through and it all aligned good.
You can see the shiny rod on top goes clear through the barrel nut and is against the upper.
I have this device too: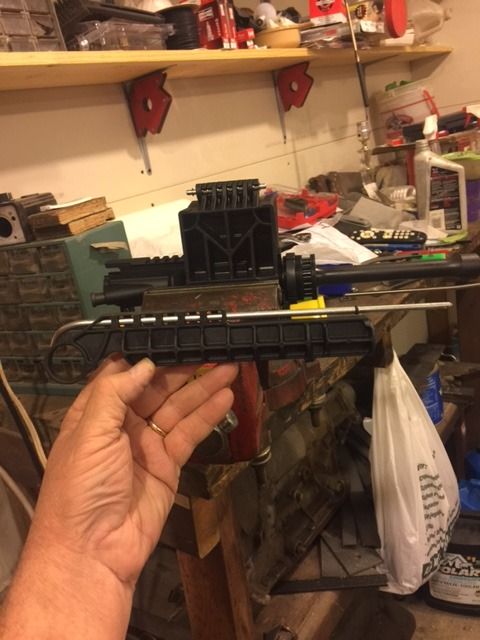 It fits inside the upper and the rod fits through the upper and then through the barrel nut.
It does the same as the other rod - it just fits through from the opposite direction.
I like the simple rod-through-the-barrel-nut better though.
Next I screwed the hand-guard on the nut and got the "monolithic top rail" aligned and tightened it all up.
The gas-block and tube can not be installed to do it this way.
I pre-install the gas-block and tube and align it - then mark it with a pencil and take it back off.
Then I put the hand-rail on and then slide the gas-block and tube up through the hand-rail.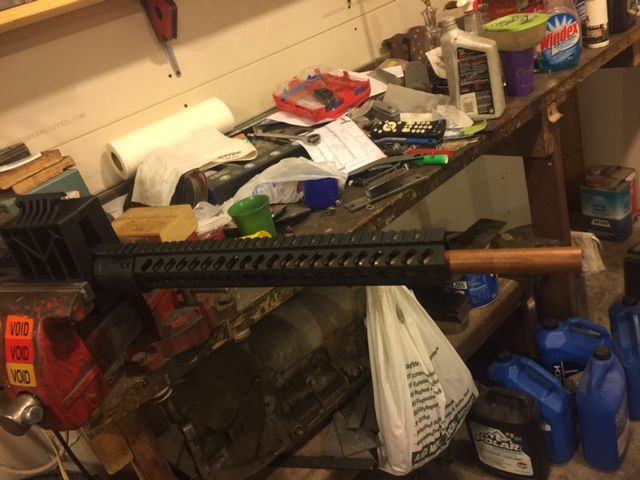 That copper tube is what I use to push the gas block onto the barrel towards the barrel nut.
The tricky part is getting the gas tube through the barrel nut and upper with the hand-rail covering everything.
Then I can tighten the gas-block through the underside of the hand-rail: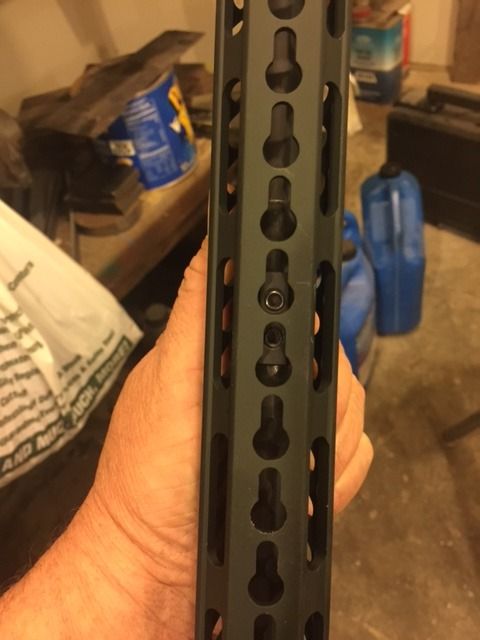 Ta-Da!!! One complete upper with a 15" aluminum key-mod hand-rail!!
There are 2 ways to do this - I thought this way might be quicker.
I got it to work - but it was kind of a bitch to get that gas tube through there
After that, I took the aluminum hand-rail apart like you're "supposed" to...
And that did work much better - I don't know why I always think I can find a "better way" to do things!!
Whew!! Several hours later - we have 3 complete uppers!! Two 15's" rails and one 12" rail.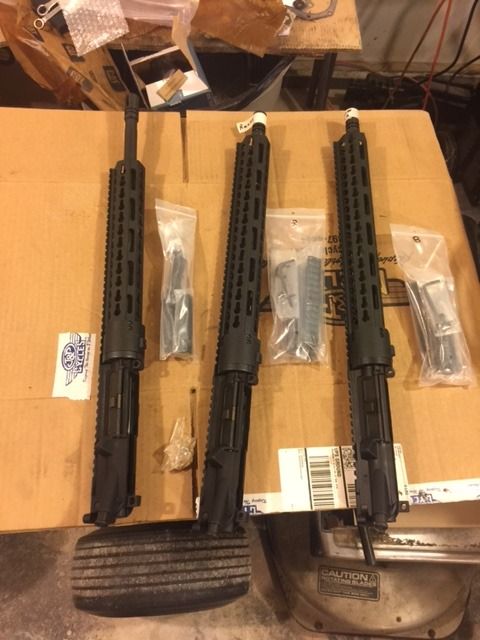 It was about 11;30 when I made it back into the house.
Well, what a long-assed post this is!!
I hope you guys like it and can understand it ok.
I'm thinking that the more people that know how an AR rifle is made the better.
It's no wonder it's the #1 rifle "platform" in America - You can do so many different things with them!!!
Thanks for reading!!