The stock is really only designed to hold a 5 or 10 round mag, who needs a 5 round mag?
That's an ERGO grip, I'm not impressed. But it does have waterproof storage for battery's and maybe some survival fishing line. I think I like the basic A2(?) grip that comes in most LPK's better. Now if there was one available that had more spine depth so my hand fit better...this one is for little girly hands...
This what they called a 15.5" hand guard
On a 16" barrel I should see the mounting threads right? Overall length of this is 17".
To be used on the next one that will be an 18" barrel. Now the reason for the blast forwarder is evident..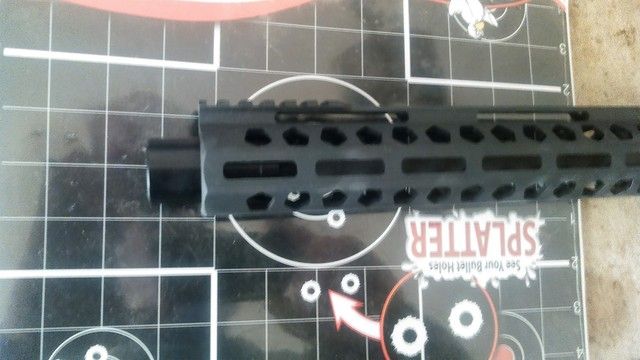 Turns out I didn't order the muzzle brake I wanted, this is the standard muzzle break (which I still need to index). The one I wanted was the compensator model (the one with upward facing holes to reduce muzzle rise in addition to the partitions). This one is simply a recoil reducer.
No anti rotation ears. I'm thinking it doesn't need them...it's also a slightly greener hue than the Anderson products. Maybe that will change after I get oil on it?
Or maybe it will be more pronounced... The color difference shows up better in the next pic->->->
Fancy HUH?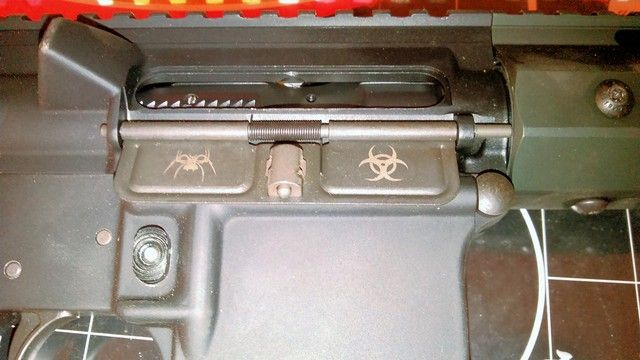 Now I just need to finish it...The dot sight will be here sometime ... maybe this week even if the USPS doesn't lose it or destroy it. It's only coming from about 150 miles away...and it has already had the shipping label created and is expected to be shipped tomorrow.

_________________
http://smalltowngunshops.blogspot.com/

"It is foolish and wrong to mourn the men who died. Rather we should thank God that such men lived." — General George S. Patton

May we always realize the cost of our freedom. We can never repay them, but the very least we can do is uphold the ideals that they died protecting and honor them in the choices we make each day.



"If Tyranny and Oppression come to this land, it will be in the guise of fighting a foreign enemy."

-James Madison
It's gettin close boys. The time is near.

The greatest

RE

-productive force is human selfishness (Say NO! to population growth!).

--No good deed goes unpunished--

When we do good, nobody remembers, when we do bad, nobody forgets. --unknown

Just because you are unnatural, bizarre, bring problems on yourself, and don't fit in does not mean I dislike you...well, yeah it does

"Life should not be a journey to the grave with the intention of arriving safely in a pretty and well preserved body, but rather to skid in broadside in a cloud of smoke, thoroughly used up, totally worn out, and loudly proclaiming "Wow! What a Ride!" ― Hunter S. Thompson