I went over to my buddies last evening and he showed me his latest acquisition, a rolling block single shot .22 (ETA- could be called a 'falling block' also). I was not being a forward thinker so I did not take pictures of it. ETA-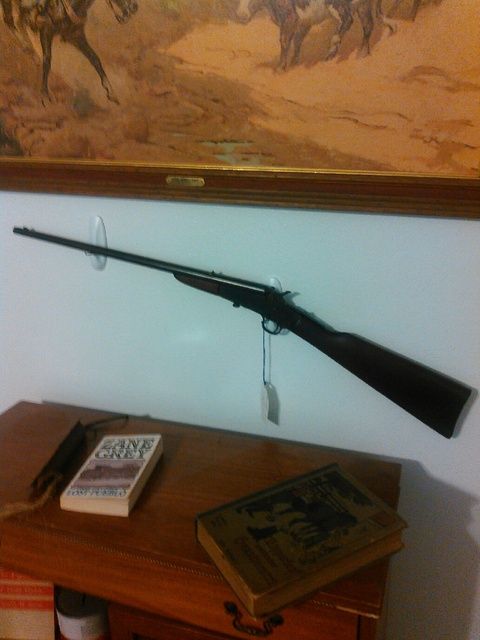 It is a very small lite little rifle- one of those types that were given away at co-ops and gas stations for being a good client. ETA- It's a Remington model 6... It had a hammer that was cocked back then a knob on the right side of the block the hammer strikes was pushed down to roll the block out of the way. As the block lowered it pushed the spent casing out enough to get a fingernail under it to remove it the rest of the way. A new round was inserted, the knob lifted the block back up into place and it was ready to fire. Yup, it was ready to fire! No safety...
Cool little gun! Only weighed about 1.5 lbs it seemed. I'll text him and ask him to take a picture and send it to me. Just one of his extensive collection of .22's and other old western style firearms.
Husker, I don't know for sure but his collection might just rival yours in shear numbers. He said he lost count about 20 years ago! Of course, he collects more than just .22's also... I know just since midsummer (when I help him move we carried in a large number of VERY heavy cases that he said where packed with rifles) that he has bought at least two dozen more.

_________________
http://smalltowngunshops.blogspot.com/

"It is foolish and wrong to mourn the men who died. Rather we should thank God that such men lived." — General George S. Patton

May we always realize the cost of our freedom. We can never repay them, but the very least we can do is uphold the ideals that they died protecting and honor them in the choices we make each day.



"If Tyranny and Oppression come to this land, it will be in the guise of fighting a foreign enemy."

-James Madison
It's gettin close boys. The time is near.

The greatest

RE

-productive force is human selfishness (Say NO! to population growth!).

--No good deed goes unpunished--

When we do good, nobody remembers, when we do bad, nobody forgets. --unknown

Just because you are unnatural, bizarre, bring problems on yourself, and don't fit in does not mean I dislike you...well, yeah it does

"Life should not be a journey to the grave with the intention of arriving safely in a pretty and well preserved body, but rather to skid in broadside in a cloud of smoke, thoroughly used up, totally worn out, and loudly proclaiming "Wow! What a Ride!" ― Hunter S. Thompson