OK, after much todo I sucked it up and slipped on some shoes (no socks) and took the AR into the back yard and made some noise. As per my normal
self I double checked everything
made sure I only had one round in the mag to check for lockback (JPE adjustable gas block) and shouldered firearm and fired...
shoulda double checked my hearing protection...what's that ya say? Stupid! NO, I'M STUPID! Luckt for me the blast forwarder works! It only popped a little louder than a .22. The bolt did not lock back, the case stayed chambered with the initial setting for the gas at 1.5 turns out. LIMP, LIMP, LIMP, back inside, load ONE bullet into the mag, turn the setscrew out .5 turn and limp, limp, limp back to behind the barn. Double checked ear plugs...good...shouldered rifle and click...Damn! gotta put mag in gun! Getting clear as to why I prefer shooting alone?
Limp, Limp, Limp back into house, realize I am a total dolt, take my Sucrets throat lozenges and the allen key with me out to behind the barn. Aaha! How does Sucrets figure into this? you ask...maybe this shed some light->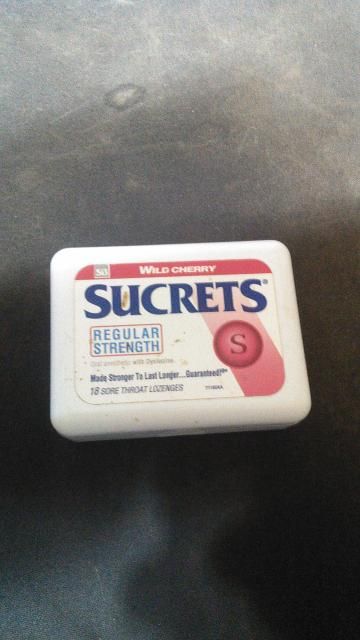 hehehe, stupid huh?
Load another round, double check my ear plugs, shoulder rifle, shoot and BCG still does eject round so another .5 turn...
Did this six times until it was 3.5 turns total and the BCG ejected and locked back on the empty mag! Turned it to 4 turns, tightened up the locking set screw, loaded 12 rounds (what was left in the Sucrets box) and slow fired five and dumped the rest. Grabbed the barrel of the gun to set it against the tree and WOWZEOWIE! that gas tube gets HOT!
Can I say stupid?
Went inside to replace the handguard and look to see if there had been any gas leaks from the under the gas block, from around the tube, etc. Everything was clean so I re-torqued the clamp screws on the gas block, tightened up the muzzle device (I never did get it clocked, still need crush washers) and reinstalled the guard. The first mag I used was an ASC brand so since I only have two mags so far I grabbed the full metal Pmag (30 rounds with 32 inside) and went back back out to play. Limp, Limp, Limp out to the shooting area and sighted down the top rail (took the red dot off this morning to send back) and shot at an old Charlies Chips type can I leave on the berm for just such a moment. Big target, big sights I always say...
I think the top pic rail fits the bill.
Did a few slow and a lot fast because I couldn't feel my fingers by this time with the 19*wind chill and 24* temps. I wasn't cold because I had on a sweatshirt (and shoes not flip-flops) but my fingers can't take it any more... the BCG locked back on the empty mag and stayed there when I removed the mag...
I think that's how it's supposed to work anyway.
It's not nearly as fun as my VEPR to shoot but it fills a space. Besides, this one is my wife's. The AR platform might grow on me after more time shooting it, who knows? It's that DANGED TWANG!!! It wasn't as bad on this one as I remember it was on the others I've shot. Or maybe I'm just that much deafer, or that first shot did more damage than I expected it did...NAW, I'm deeef and it's not getting any better.

_________________
http://smalltowngunshops.blogspot.com/

"It is foolish and wrong to mourn the men who died. Rather we should thank God that such men lived." — General George S. Patton

May we always realize the cost of our freedom. We can never repay them, but the very least we can do is uphold the ideals that they died protecting and honor them in the choices we make each day.



"If Tyranny and Oppression come to this land, it will be in the guise of fighting a foreign enemy."

-James Madison
It's gettin close boys. The time is near.

The greatest

RE

-productive force is human selfishness (Say NO! to population growth!).

--No good deed goes unpunished--

When we do good, nobody remembers, when we do bad, nobody forgets. --unknown

Just because you are unnatural, bizarre, bring problems on yourself, and don't fit in does not mean I dislike you...well, yeah it does

"Life should not be a journey to the grave with the intention of arriving safely in a pretty and well preserved body, but rather to skid in broadside in a cloud of smoke, thoroughly used up, totally worn out, and loudly proclaiming "Wow! What a Ride!" ― Hunter S. Thompson