please see the images below. Each rd was shot through a 4" barrel at a distance of 10 feet, shot into wet phone books tightly taped together. The ammo is Remington JHP, nothing fancy, but notice the results. Kinda makes me rethink carrying a 40 caliber as my primary. The tests are obviously not very scientific, but this really opened my eyes.
.45 shows excellent expansion and took a mean and nasty tumble through the mass while .40 shows very little expansion and took a very direct path to its stopping point, just shy of 5.5 inches. The .45 went in about 5 inches, but traveled approximately 7 in total because of the tumble.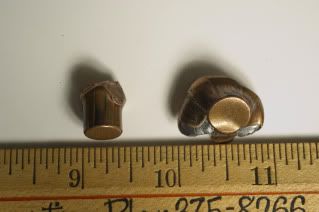 What do y'all think?