Thanks Ex!! I might end up with a "slip on" recoil pads to cover what I've done, but we'll see...
Just for the hell of it, I'll show my flabby old-man arm and how my shoulder is healing:
It sure turned into a big ugly bruise!! I sure never thought a shotgun could kick that hard - but it was 25 shots...
Anyway, I'll probably just embarrass myself by showing everyone how cheap I am here. But I do like mess with things and seeing if I can come up
with something on my own, instead of doing the smarter, easier, more intelligent thing - just but something.
To start with, I took off the recoil pad and made two metal "buttplates" out of some .060 (16 gauge) steel. They fit the end of the stock really well.
I hung that shotgun, barrel down, and filled the hollow plastic stock with sand. I wanted to fill it with lead shot, but I don't have any.
The sand is pretty heavy and filled the stock up well. I then put a little clear permatex around the outside edge of the stock to help keep the sand sealed in there: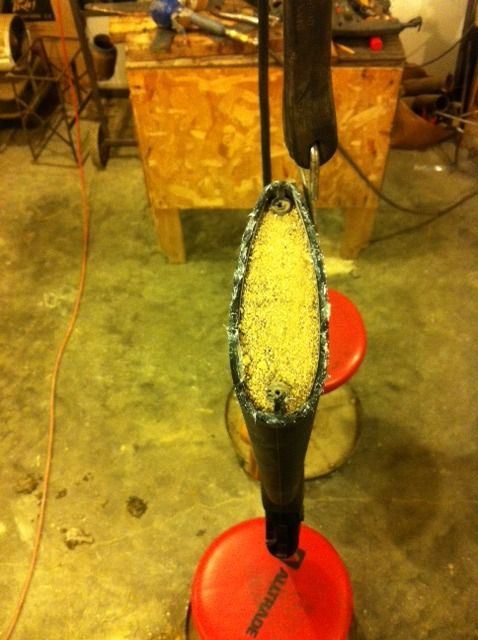 I screwed on one of the steel buttplates I made on the end of the stock with a couple of springs we use at work.
Fairly normal... Then I screwed the recoil pad on to the springs.
I put the other metal "buttplate" I made between the recoil pad and the springs: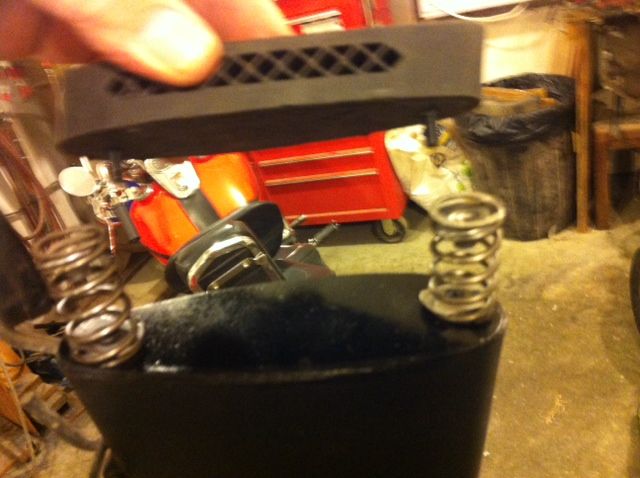 Wah-Lah!! Spring loaded, shoulder saving recoil pad!! Now the recoil pad tends to flex off to one side or the other.
So, I am going to try gluing a piece of foam between the stock and recoil pad to help keep it square, which I'm not quite done with.
The foam block:
And the block rough fitted to the recoil absorbing contraption: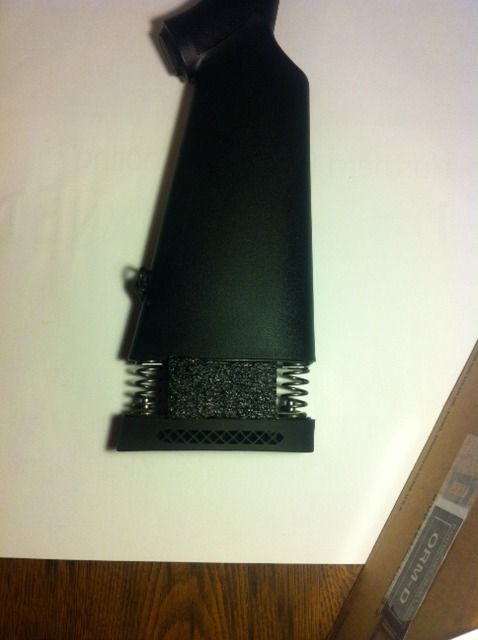 The foam block helps a lot with keeping the recoil pad square with the end of the stock. I need to put a cover over it of some kind
and I was thinking one of those slip-on recoil pad would be the thing. I might be able to eliminate the foam block with the right
recoil pad. My total monetary investment so far - $0
The extra length of the stock makes the shotgun fit me better and the sand in the stock gives it a lot better balance.
I haven't tried it out yet - It could be a disaster!! This Thursday is the trap shoot again, and I'm not sure I'll be healed
up enough to shoot!! I'll go for moral support anyway...
I'll report back when I'm finished with it and actually shoot it to see if it works...
Anyway, a day in the life of a cheap bastard.