That is never a bad idea - go see how something is rated!!
I like Midway for that - Letting folks rate the products...
Well, even with the busy company filled weekend, I still managed to go to the range and run another 40 rounds through the 24" SS upper.
I would say I had some "mixed results". No great targets - but getting used to the new set-up.
Shot from a bench with a rest and sand-bags - still not the greatest rest...
These are the 1st two targets I shot - 10 rounds at each target - shot the bottom target 1st.
I made no adjustment with the bottom.
I adjusted up and left for the upper target...
Now, when it says "1/8 clicks" or what ever on the scope - doesn't that mean 8 clicks = 1 inch??
I think they are actually 1/4 clicks as it went twice as far as I wanted it to go...
So I tried to get it adjusted back with the top target.
I shot 2 more targets - 5 shot this time - bottom one 1st...
That upper target has a higantic flyer on the left - All skill here... And the one on the right is a screw up too...
The circle in the middle is one inch and I managed to get three in there!!
Next, I've been saving a bunch of 20 oz. plastic bottles...
8 inches high and about 2-1/2 inches in diameter.
I fill them with water so the wind won't blow them around and I get a nice splash when I hit one!!
I set 4 of them up at 200 yards. 2 on top of the bullet stop, one on a rail-road tie on the ground, and the last on top of a pile of dirt.
Figuring a 3.5 inch bullet drop from a 100 yard zero, I would just aim at the top of them and I should be good.
After shooting the last 100 yard targets, I turned that side focus knob to focus on the bottle 200 yards away on top of the dirt pile.
What came into focus was 2 black birds on top of the dirt pile...
Hmmm... OK what the hell!! Aim just slightly over the top...
watch the breathing - watch the heart-beat - squeeze that shitty trigger and take up the gritty slack - and BOOM!!
One sadly dead black bird...
The next 200 yard target is a 20oz plastic bottle - the one on top of the rail-road tie.
Same as above - careful aim - squeeze and Boom!! Splash!!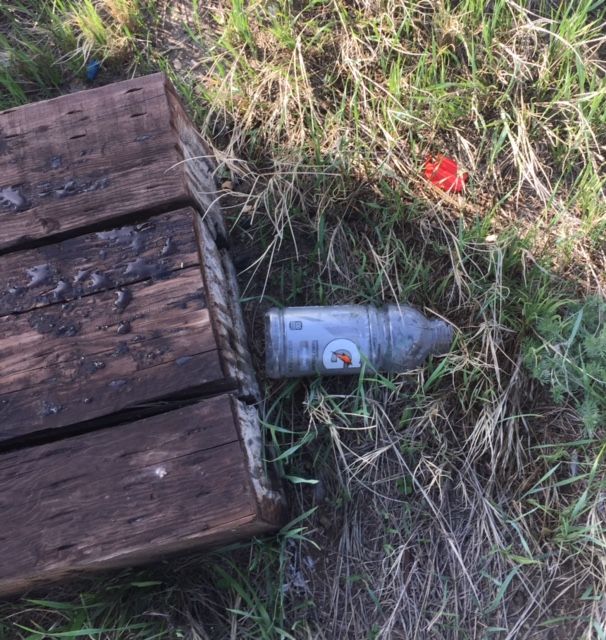 Woo-Hoo!! This 200 yard stuff is a piece of cake!!
The next is a 20oz bottle full of water is on top of the bullet stop.
Same thing - careful aim - Boom!!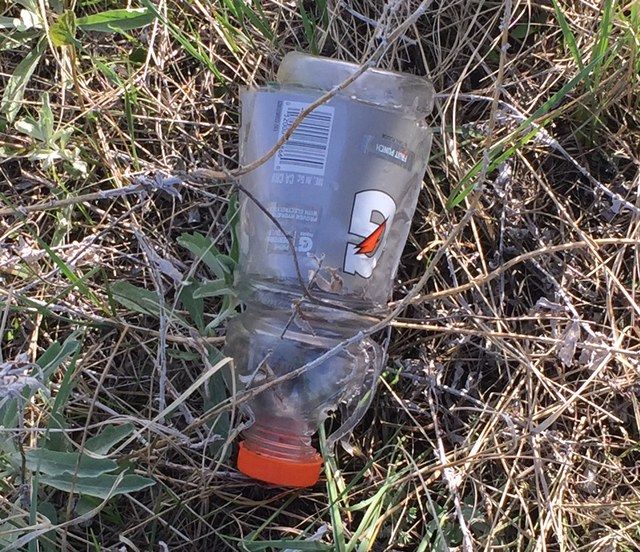 Another splash!! Call me Quigley Down Under!!!
Alright - the 2nd 20oz water filled bottle on top of the bullet stop.
Well - that one wasn't so simple...
About 5 shots later...
Splash!! Got it!!
The bottle on top of the dirt pile was behind the 100 target/backstop - so I couldn't see it!!
So, I'm getting familiar with how this baby shoots - but want to spend some more time target shooting with it.
But - I still had troubles with it feeding rounds. It still wouldn't chamber one out of the mag.
I put a fully loaded mag in it, pull the charging handle back, and let 'er fly!!
Click.. No round in the chamber... It wouldn't strip one out of the mag and chamber it.
So I loaded each round by hand and single shot the damn thing again - which really takes the fun out of shooting an AR!!
I have another post going as to why - We'll get it figured out!!
Had a blast shooting it anyway!! Can't wait to do it again!!