That's for sure...
I just barely even have it sighted in!
It's more lame excuse making - but, man was it a long weekend!!
Had our kids with us and dogs running around and Grand-Daughter getting baptized and insane "1 Hour AR Assembling" and well...
I'm used to nothing going on - and I'm getting to be kind of a weak old fart.
Finally got back home and sat down in my chair Sunday about 5:00 or so after all the church going and lunch and visiting with in-laws was over and figured I was there for the evening.
Darn Kids - make do all this shit and all I wanna do is play with my Load-Master and my guns!!
Then...
I open my lap top and go to HPT and the guys are like "Well??" Like, "WTF taking so long with the next range report!!??"
So - well - geez - I am darn tired - but it's nice out, just a little breezy - it's only 5:00 - I have enough daylight left - Sunday afternoon, range should have no people there - OK. I'll go!!
But I was pretty shot that Sunday afternoon...
I'm really good with the excuses..
Anyway, the top target I shot last - The one is a huge flyer!!
But the last three shots I really tried - took a little more time - let the wind die down a bit...
And they were the 3 in The middle touching the 1" dia. Bulls-eye.
And, I must have it sighted in fairly close...
Those 200 yard shots were the same deal - took my time - worked with that gritty trigger...
To blast that bird and 2 bottles all the 1st shot - Well, It could be luck!! (-:
The last bottle I got in a hurry with...
When you have a scope cranked up to 24 Power, everything is jiggly...
The breeze will jiggle the cross hairs and every time my heart beats... it moves the cross-hairs completely across the bulls-eye...
Trying to get that trigger to break between heart beats is more luck and chance than anything!!
But if fun trying to see how good I can do...
A better rest is in my future.
You can see a bit of what I use for a rest in this picture: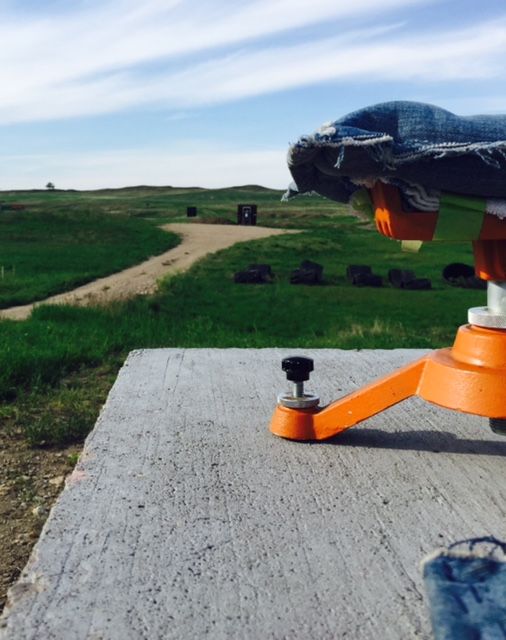 That's an adjustable rest made by Hoppes - and home made sand bags.
At the end of the road is the 100 yard target - to the left is the 200 yard - to the left a bit further is a black spec... that the 300 yard target!!
The Hoppes rest is pretty nice!!
I need something with more of a "V" in it, as it's hard to make the round handguard to stay-put.
I'll see whats available - or I'll see if I can make something that will work.
Raining like a SOB here now - won't be anymore range reports for a few days...