I finally made it out to the range with that 24" SS barreled upper and new NcStar scope today!!
I woke up this morning and the weather seemed decent - not cold, but sure as hell not hot!!
Frost warnings in the hills and mid thirties for lows - in another week it'll be June, right??
Weather man says more rain on the way this evening and lots more for Saturday evening...
So I figured I better make my move!!
To start with - we have "everything" ready to go!!
I knew I had 3 sandbags... I finally found the other two!!
The wife sewed them up for me years ago - used the legs out of some old blue-jeans.
I headed out to the range and when I got there, the ef-ing wind picked up significantly...
I put up a target and parked my suburban 25 yards away.
Looks further than that in the picture!!
And a good ol' South Dakota hail storm broke both my side mirrors last summer - in case you were wondering!!
Also busted windows in the house.
You know it's a bad hail-storm when you end up with hail on the living room floor!!
Anyway, with the wind like it was, I didn't wanna set up my big brass catcher on the hood.
I forgot to bring the small one that attaches to my AR with velcro straps...
So, I got in my suburban, punched the drivers-side electric window button, and adjusted the window to have the perfect height rest.
Took a few shots and used this as my brass-catcher:
I did have one small problem right from the get-go...
The ammo I reloaded wouldn't cycle. It wouldn't come out of the mag right and not at all most times...
I knew why - I did the same damn thing the 1st time I reloaded for my other AR upper. I'm using the same lower for both.
What I did was have too long of an OAL - Book says 2.2 inches, I did 2.25 inches: 50 thousands longer.
I did that because leaving the bullet out closer to the rifling can help accuracy.
But sometimes I forget we're dealing with an AR - not a bolt action!! But still, a lousy 50 thousands....
I made sure they fit in the mag, which they did. But won't cycle right being too long.
I did that the 1st time with 10 rounds - but this time I did a 100 rounds!!
So I loaded them one at a time - no big deal - lesson learned 2wice now...
Anyway, this was our 1st target: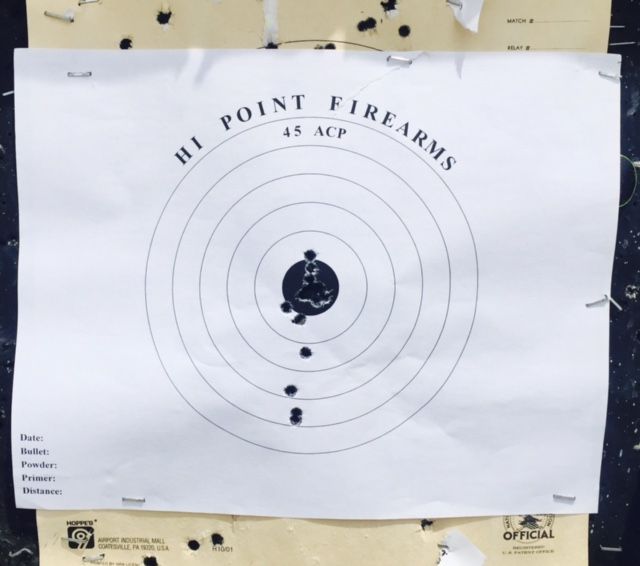 Each ring is a 1/2 inch - I was about 2-1/2 inches low to start with and pretty much right on horizontally.
I adjusted it so it was pretty much zeroed and put up another target.
I moved back to a 100 yards and took a couple shots and had 3 high hits...
So I moved up to 50 yards and had this target:
The top three are the 100 yard shots - the rest are the 50 yard shots.
So I put up another target and shot a bunch more times from 50 yards.
A nice group!! Remember, the wind is blowing worse all the time. It's shaking the suburban quite a lot!!
So finally, i back up to a 100 yards and hang a new target. The 1st hit is high so I adjust down again.
I ended up with this:
Now this 100 yard target is a little spastic - But I'm telling you, it ended up being a steady 30 mph wind by now!!
With the suburban rockin' and my heart beat thumping - it was difficult to keep a steady hold.
I did set up 2 yellow 20 gauge shotgun shells and a few orange clay pigeon pieces.
The clay pigeon pieces and one 20 gauge shell went flying, but not the other...
I ended up shooting the whole 100 rounds I had reloaded!! Had a blast too!!
I went up to collect my target and this is what the other 20 gauge shell looked like:
Hit that SOB 3 times!!
It was just stuck in there a little more secure than the other one was.
I also took this picture just because I though it was cool:
And, the smarter one that are reading this are probably shaking your head and thinking how stupid I am.
There is one other small lesson I apparently needed to learn again!!
What is it??
Well My 1st shots at the 25 yard target were right at 2-1/2 inches low.
Look at a ballistic chart with my bullets moving at 3100fps with a 25 yard zero...
where does it hit at 100 yards???
At a 100 yards - it hits 2.9 inches higher!!
So if it was hitting approximately 2.5 inches low at 25 yards - well at a 100 yards it hits 2.9 higher - which would be in the Bulls-eye!!!
So, I was pretty damn close to having a 100 yard zero right at the start...
That laser bore sighter - if you send the laser through the barrel and sight it in...
That must get you awful damn close!!
Either way, I got to shoot my new target upper - it shoots good - and I had one hell of a lot fun!!