I've been fooling around with the rifle for quite a while and decided it was time to go shoot a pistol...
Used to shoot rifles all the time and never owned a pistol until a few years ago.
The difference between going to the range with a rifle or a pistol a pistol (for me anyway) is this:
A rifle involves taking your time and carefully placing each shot.
With a pistol, you get to shoot a lot more!! Pistols cartridges are usually cheaper to reload, especially the 25 ACP!!
So, I can have a lot more fun pulling the trigger without stressing over every shot...
So, for me, I do enjoy both - but - Shooting a Pistol is way, way more fun!!
I wanted to take my little 25 ACP Jimenez out - it had been quite awhile and I enjoy the hell out of shooting that little bugger!!
The mags hold 6 rounds, and I bought and additional 5 mags to go with the 2 originals, so I have 7 mags!!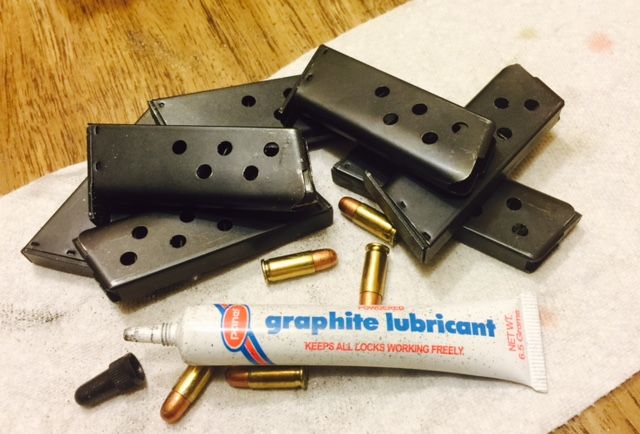 You can see I have my little tube of graphite out - the picture below shows why....
This is a problem that seems to be pretty common with the 22-25 caliber Jimenez pistol mags: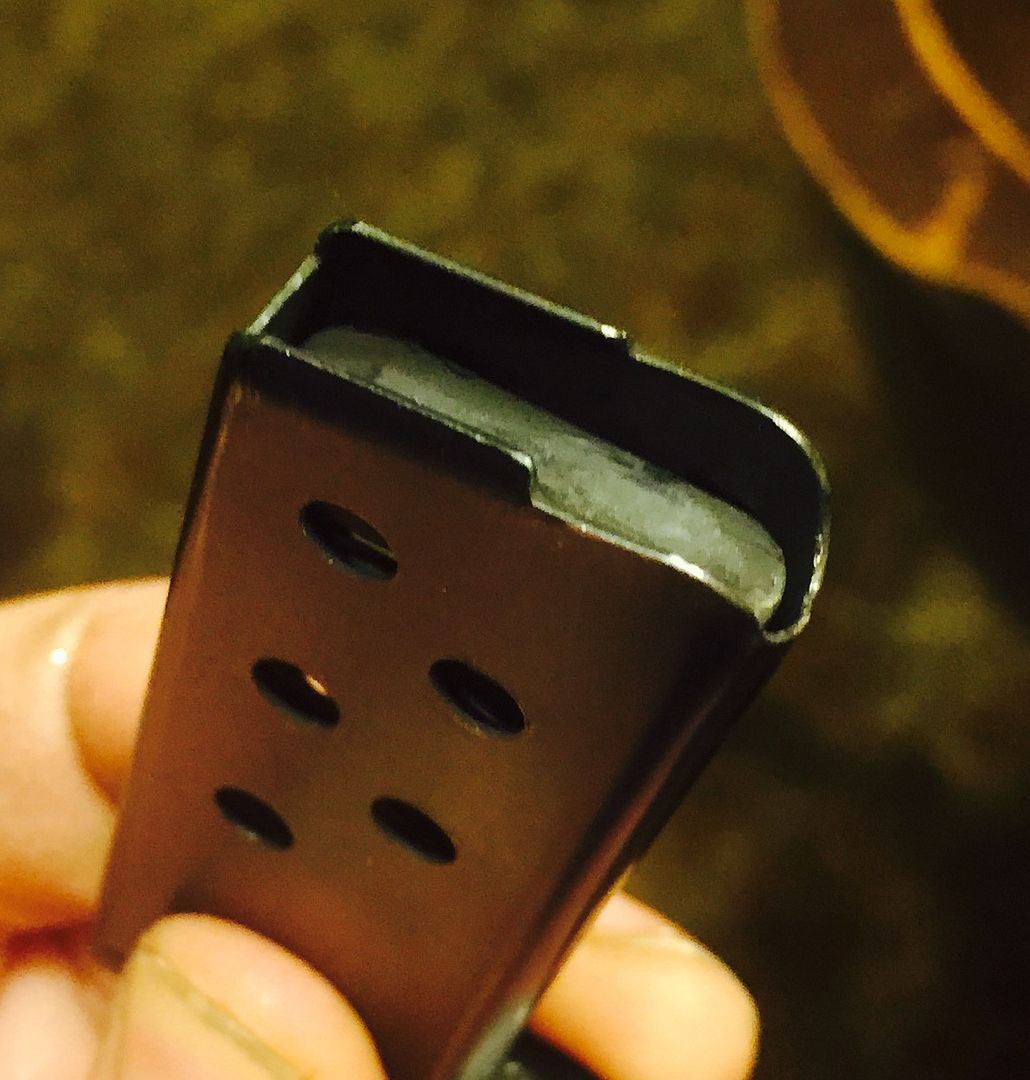 The plastic pusher won't go all the way to the top of the mag...
If I use them like that - sometimes the last one or two in the mag won't load.
So, I used a little graphite on them and got them to work pretty damn slick!!
It seemed to be the very front of the pusher that was touchy about its orientation...
If the front of the pusher was a little lower than it was supposed to be - that would slow it way down or stop it completely.
Graphite worked really good to eliminate this problem!!
But, with a few of them, I used a straight screw driver to push the pusher down and turned it while inside the mag.
That very slightly spread the sheet-metal a little tiny bit wider - as the body of the mag was putting the "Squeeze" on the pusher.
Bingo!! Mags that work like they should!!
Here we have around 850-900 reloaded 25 ACP rounds and some little mags begging to be loaded: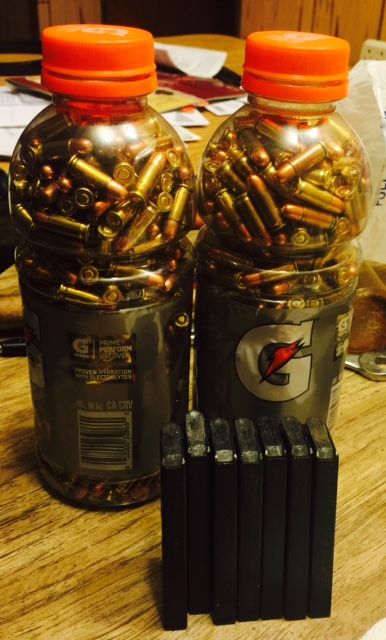 A very short time later, we have 7 loaded mags and a container for the empties - our 25 ACP Jimenez pistol and my finger-saving Baby LULA mag loader!!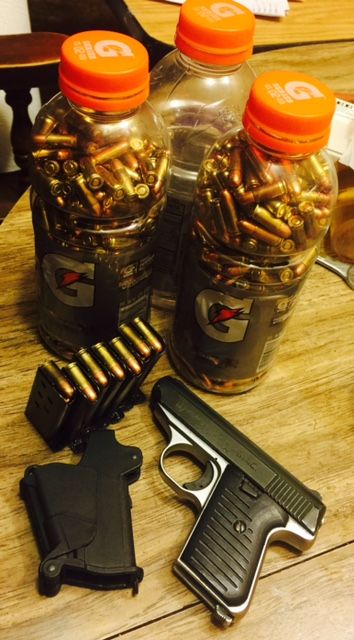 That Baby LULA is critical to having a fun time shooting a bunch of small caliber ammo!! Makes loading those little mags fast, simple and painless.
It's the ONLY way to go!!
Finally, around 4:00, I make it to the range.
I have everything set up on the bench.
These are the rifle benches. I had to shoot from here because it was
way too muddy and wet to get over to the pistol shooting area.
The Caldwell brass catcher is mounted on a shaft.
I made a "stand" for it to catch brass when I stand to shoot...
It just so happens the shaft I have it mounted on keeps it in place on a bench too.
That brass catcher makes going to the range a LOT more fun too...
I don't have to crawl around on the ground looking for my brass anymore!!
Especially 25 ACP brass... it looks a lot like 22 LR brass.
I put up 3 targets - 4" round "Paddle" looking things I can stick in the ground and made from 7 ga. steel and painted white.
Can you see them??
It was a bitch finding a place to stick them in the ground where I could see them!!
But I did. 3 different distances too!!
This is a "Zoomed" picture...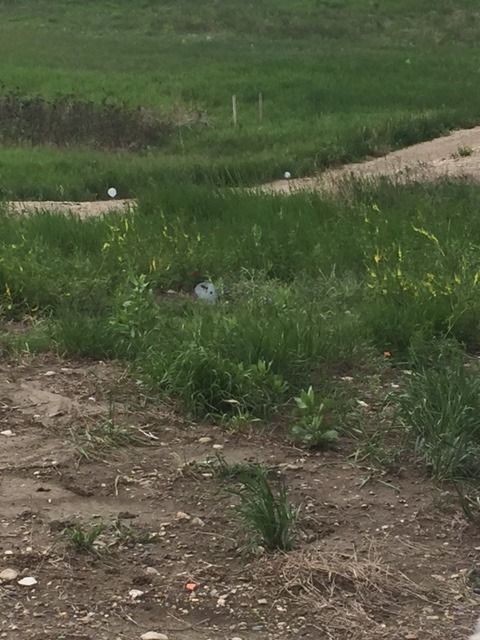 Now we can see them!!
The closest was about 30' away and the one on the left about 60' away - the one on the right about 75' away.
Ridiculously far away for a 2" barreled fixed sight mouse pistol...
But a ton of fun to try to hit something that far away!!
There's a 3'-4' tall dirt pile 100 yards away - Just for the hell of it - I even lobbed a bunch of rounds at it!!
Might I say how wildly inaccurate a mouse pistol is at a 100 yards...
or - how difficult it is to place a shot with a mouse pistol at a 100 yards!!
If I even hit that pile of dirt - It was an accomplishment!!
When it was time to reload, I'd just dump a bunch out inside the brass catcher and start reloading!!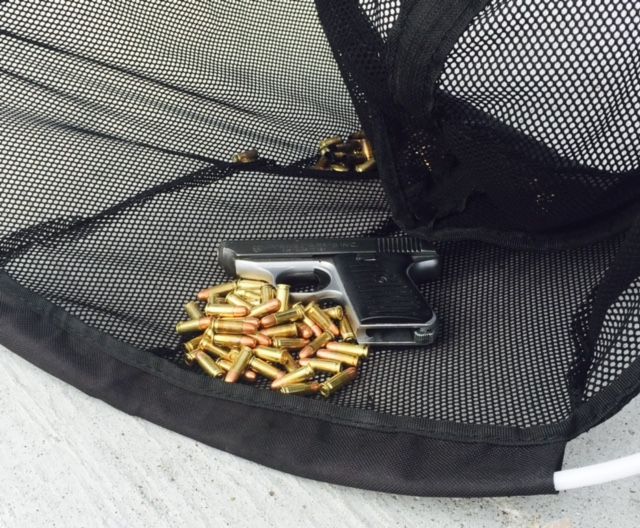 I doesn't take very long at all to load the 7 mags.
They're supposed to be 6 round mags - but most of them will hold 7!!
I was there for a couple of hour+ and had a great time!!
I say I shot up 300-350 rounds or so...
And at 30' away,I did pretty good with that closest 4" round target!!
I hit it 50 times or so.... It's on the left.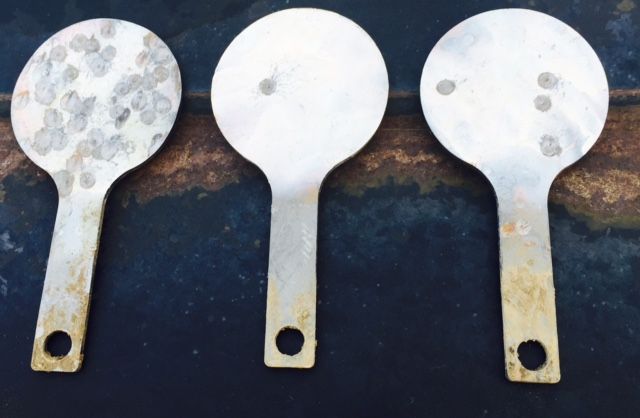 The next furthest, the 60' away target, is in the middle. I hit it once and it fell over!!
The 75' away target I hit 4 or 5 times...
That one was fun to shoot at!! if I was short, I'd see it hit the road in front of it...
If I was long, there was a big ol' mud puddle behind it, and I'd see a splash where it hit!!
I was having so much fun!!
Then - I had to quit before I wanted to...
Someone pulled up behind me and got out.
And then there were two...
I recognized on of them as the fella that runs the trap shoot club...
"Trap shoot tonight?" I ask.
"Yep!! Did you bring your shotgun??"
So I put the pistol away and went home and got my shotgun...
I put 75 rounds through it, shooting at flying clays, and I sucked like a black hole. But had fun!! I didn't get home until 8:15...
I worked 10 hours, then spent 4 or 4-1/2 hours at the shooting range... A LONG Day!!!
When I got home I took a picture of my ammo cans... The closest are the empties:
And I took my little JA-25 Jimenez apart the next day.
It's amazing how dirty that thing gets!!! It was clean before I started...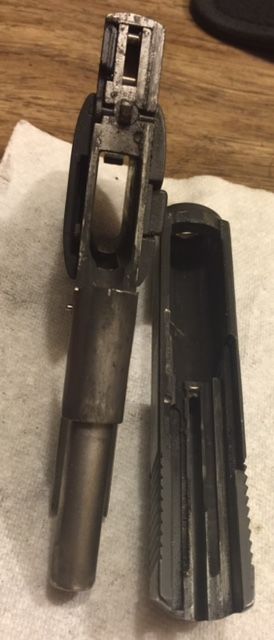 I use IMR-700X Powder and it's a really dirty powder in a pistol!!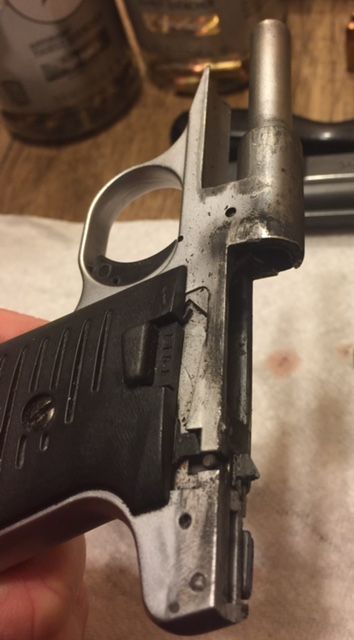 After about 200 round are fired through it, you can definitely tell things are getting a little gritty.
You can just feel it when you rack it - and it starts to have an occasional mis-feed.
I have about a 1,000-1,200 rounds through this little Jimenez JA-25.
You can see just to the right of the erection port, it is showing a fair amount of wear on the slide.
It'll be interesting to see how many rounds this little pistol will fire before it quits functioning correctly
or needs to have some major work or parts replaced...
I am happy to try to find out!!
And when it does need something - I am sure Jimenez will make it as-good-as-new when the time comes.
Well, Thank You all for reading this - the "Worlds Longest Range Report"!!
I hope it was a little bit entertaining and/or useful to someone...