I wanted to get out to the shooting range this week - decided I'd go after work Monday.
I was thinking about adjusting my Mahan Sight on my JHP because it's shooting a little to the right and maybe a little high.
I have a hell of a time remembering exactly how to adjust the rear sight on a pistol and I founds this: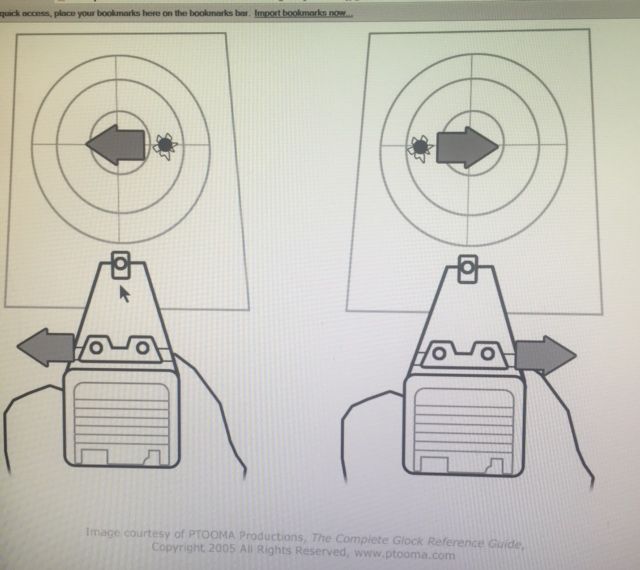 I look at that thing and I still ain't exactly sure which way to move it...
The last time I asked about this here, somebody had a saying to help a guy remember.
Well - I can't remember what it was!!
I think the rear sight and point of impact move the same direction...
Move the rear sight right and the point of impact moves right.
Anyway, I was figgerin' on shooting it off a rest and getting it dialed in good.
After work Monday, the wind was blowing like hell (what?? in South Dakota??) so I decided to
drive out to the range to have a look at the new targets they put up out there.
On the rifle range, they have this next to the 300 yard target:
I guess they call that a "KYL" (Know Your Limits) target.
That smallest one would be a tough one to hit a 300 yards...
I'm looking forward to taking a few shots at this thing if I ever get some rifle ammo reloaded!!
This is what they have at our pistol range now:
The right side has targets that spin around when you shoot them.
On the left are 6 bigger targets that fall over backwards when you shoot them.
The you can pull on the rope and stand them back up - pretty cool!!
The rope is tied to a steel post the SIL said was 21 feet away and that where to shoot from.
Those targets seem huge compared to my spiny target contraption I made...
The next day the wind was a little better, so I decided to go to the range with my JHP and try those targets out.
Don't forget the ammo!!
Also - to my wife's dismay - keep a small collection of "stuff that's fun to shoot" on top of the refrigerator.
I had an empty Copenhagen can sitting up there and grabbed it and stuck it in my pocket.
Those are fun to shoot - If I hit just below it it flys in the air and I try to shoot it again before it hits the ground.
It's a lot harder to do than you'd think!!
When I got to the range, I parked my suburban to block the wind a bit, and got my Caldwell "brass catcher" set up.
I did my shooting by the steel post.
Remember I said those targets look huge to me??
I did this with the 1st mag!! (-:
Knocked the 6 on the left over and spun 2 on the right - 8 hits with 9 shots!!
Those targets on the left were really easy to hit - The ones on the left were a little tougher to hit.
And My JHP is shooting to the right and a bit high - but I didn't adjust them - I'll do it when I have more time and less wind.
There were a few times when I'd get 3 of those left side targets with one shot!!
I looked and they are adjustable - I adjusted them to lean forward as much as they could.
Even then, every so often, 2 would fall with one shot.
I suppose I was hitting the metal in front of the targets and the bullet spatter knocked down 2 of them.
And setting them back up with the rope was kind of a bitch... It takes a pretty hard pull to set them back up!!
If they'd made the lever on the pivot thingy longer, it would a LOT easier to stand them back up.
That rope would stretch 6 inches before the targets would move...
I actually think the metal spiny thing I made is a little more fun to shoot.
No resetting anything - just shoot till it breaks or I run out of ammo!!
You guys are gonna love this... Or be extremely concerned about me - or both!!
I set up that empty Copenhagen can and after a couple shots, it went flying.
I went up to the dirt bank to set it back up, and I noticed something:
Do you see it...
It's an unopened can!!
So
happened??
What a moron...
I keep a couple of new cans in the refrigerator...
Instead of grabbing an empty can off the top of the fridge - I did what I normally do when I run out.
Which is open the fridge and grab a new can!!
Damn it!!
I took it home when I was done and opened it.
It's a can of pouches - so it's not just loose tobacco in there.
That "nick" where I shot it broke open most of the pouches in the can!!
It really exploded a couple of them an there was a bunch of loose tobacco in there because of that.
Anyway, the wind was getting a lot stronger - and when I saw I just shot a $6 can of Copenhagen...
I figured I better quit and go home!!