Well guys, I ended up going to the range twice... Last Friday and Saturday morning.
The 1st time I went I kinda forgot something about my high-dollar ($75 used!!) NcStar MarkIII 6-24x50 scope...
It has a real narrow eye-relief - I have to have my eye in exactly the right spot when then power is cranked up to 24.
The parallax is a bitch with this scope too to say the least - But it has other things I like about it like side focus and target turrets.
That being said (sounds like an excuse doesn't it??) What I normally do is just work with the scope. I can usually do pretty good with it.
But the 1st time I went out I didn't do that and didn't have very good results.
I shot 50, 100, 200, and 300 yard targets - and I shot at the steel targets they have at 300 yards too.
And, even though I didn't do as good as I'd hoped - I shot 120 rounds and had a great time!!
I went back out the 2nd time and shot 4 targets at 100 yards and 2 targets at 300 yards.
I used the same load for all shots fired..
That distance of 300 yards... That's pretty far away!!
Anyway - This bag arrived with a 1,000 55gr spire-point Hornady bullets in it...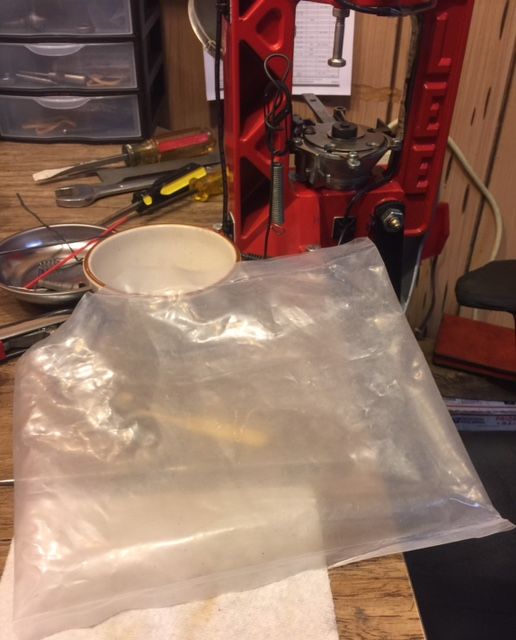 I loaded up a Hornady 55gr spire point bullet and used 23.5gr of 3031 powder and CCI magnum small rifle primers.
The LC military brass was bought off GB a while back and was not fired in my gun before.
I was really happy with how my Lee Load-Master did with these rifle rounds.
They are a little tougher to load than pistol round that's for sure...
There was one time there where I squished 4 or 5 primers and wondered WTF was going on...
I thing that pokes the used primers out of the brass slid up and wasn't pushing them out.
So it was trying to put a primer in while there was a primer still in there!!
That was with the 1st batch of military brass I bought - primer pockets weren't swaged very well.
I'll be putting a chamfer on the rest of them...
So - I got all set up on the fairly rough and uncomfortable cement shooting bench.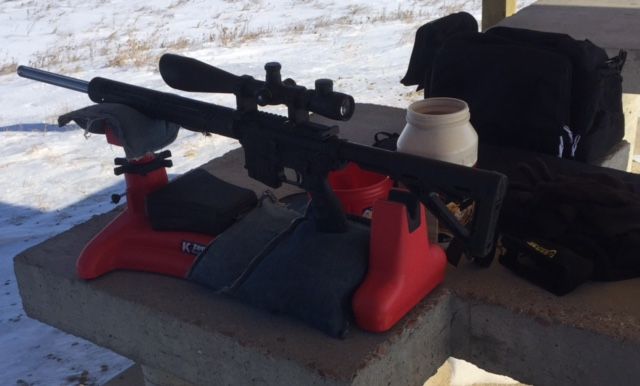 That's my AR with the 24" heavy Stainless barrel with it's $75 scope and my homemade sand bags.
They put a roof over the benches and one guy even volunteered (and did!!) to spray insulation on the underside to help keep things quieter.
The shade is nice in the summer!!
But it was around 6° - 8° when I went out and I was in the shade the whole time I was shooting and a slight breeze...
I had my Carhartt coat on - But just sitting there for 3 hours on that 1st day.
I got a little cold at the end!! Still a lot of fun though.
The 2nd day I was only there for an hour or so and we still had a little wind.
The 1st day targets all sucked like a black hole... I really was off my game.
So I'm showing the targets that I believe are the most relevant.
Enough bull - lets get to the targets!!
These are the 2nd day targets: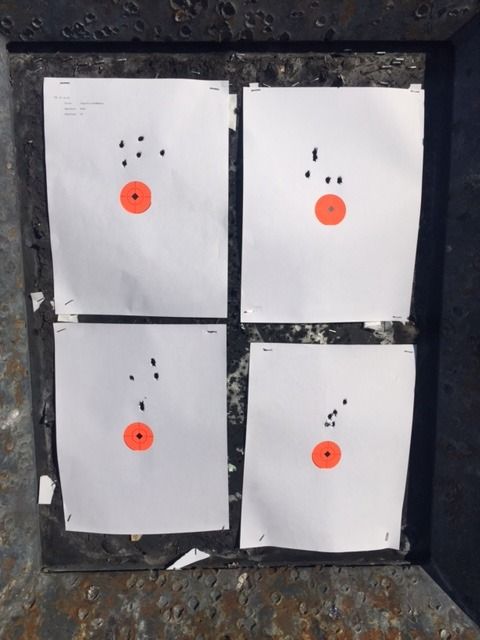 These were the 5 shot 100 yard targets.
The group sizes were 2.375" - 2" - 2" and 1.5" on the lower right.
Take the flyer out of the last one:
And it's a .75 group. (-:
Also, I had it sighted in to hit about 3 inches high at a 100 yards (in theory, a 250 yard zero) so I could still aim right at the 300 targets and the bullets would hit the targets.
Below are my 200 yard targets from the 1st day: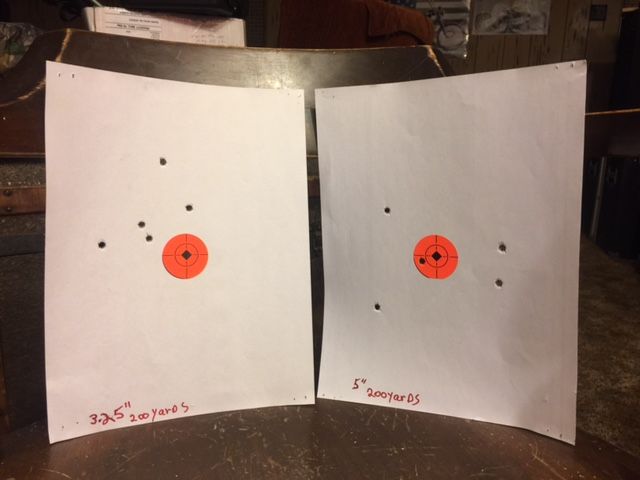 We have a 3.25" and a 5" group...
Just a so-so result - it'd be a dead coyote for sure and is about right considering the 100 yard groups.
The 300 yard targets from the 1st day: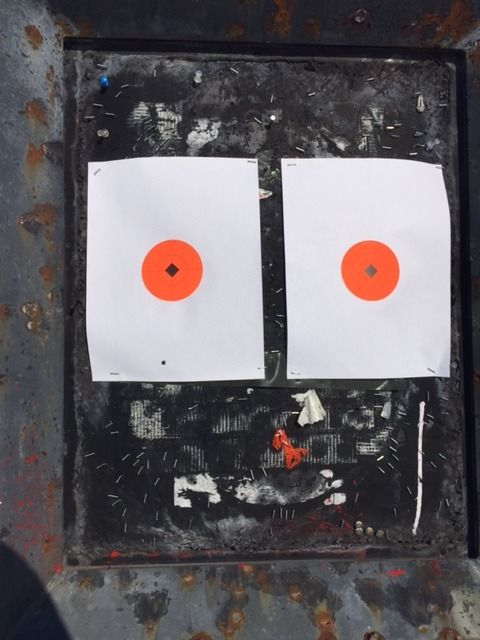 The targets were pretty safe... one hit out of 10 shots. Not good at all. )-:
I know this rifle can do better than that... So what went wrong??
Well - I explained above about working with the scope.
I shot a bunch of rounds at the steel targets we have at 300 yards: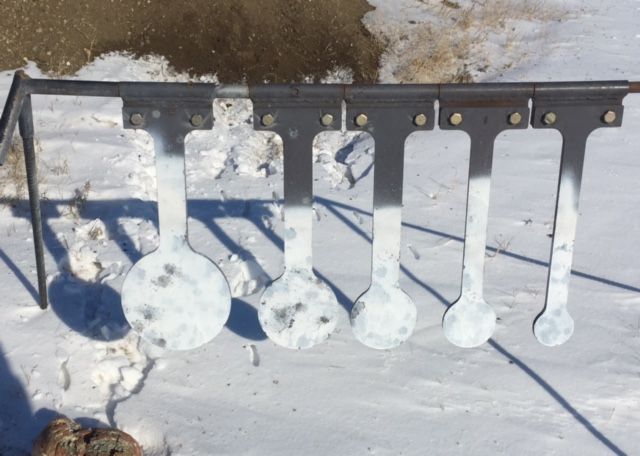 I got so I could hit the bigger 2 of them:
I figured out it was hitting a lot lower at 300 yards than I thought, and the wind was blowing it off to the right 4 or 5 inches.
Yes.. Looking back - I should have shot at the steel targets 1st to get an idea of where it was hitting.
So - I used these targets for my 300 yard shooting...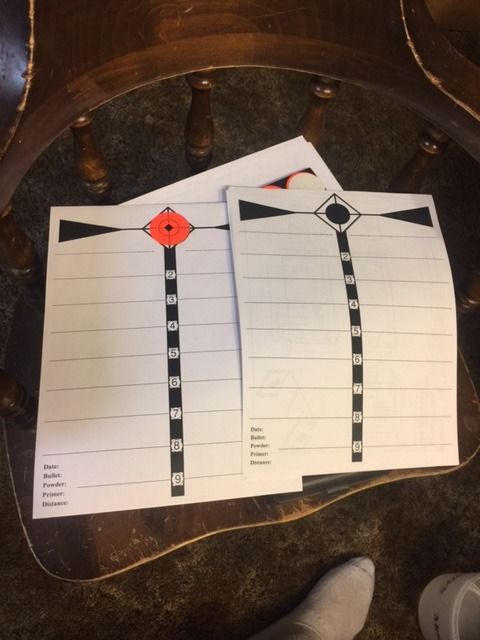 Sorry my size 15 foot is in that picture... If it's ok for Hobbles to do that, I can too!!! (-:
I drew them up on AutoCad and printed them out - each line is an inch apart.
I put a bright orange circle where I wanted to aim.
I will be able to tell how much my bullet is dropping - Ballistic table said it should drop 4.7 inches at 300 yards.
These are the 300 yard targets from the 2nd day when I was working with my scope a little better.
These are 10 shot groups.
That might look a little confusing... All but one of the bullets I shot at the left target hit the right target - on the left side. There are 8 hits total.
And the right target had 6 hits - and way to the right you can see 2 or 3 hits on the steel of the target and splattered on the right side of the target.
And the there was a little breeze that day - so I aimed at the orange circle. Surely they'd all hit the 8-1/2 x 11 target!!
This is a better picture:
We have a 6" group on the left and a 5.25" on the right - they are actually bigger than that as we have some that didn't hit the target.
And with 10 shot groups - I figger that ain't too awful bad.
That little breeze blew my bullets 4-6 inches to the right.
My SIL snapped out his cell phone and informed me a bullet with a .235 Ballistic Coefficient
would drift around 4-1/2" in a 5mph win at 300 yards... Yep - I can believe that!!
Another thing to consider about this that I really didn't think of until it was over...
The brass had not been fired in my rifle before - And that brass is usually a little "roughed up" by the time it gets to the end user.
So I do believe that was a factor here...
I am figuring on coming back with some targets I shot with some brass that's been run through my gun once.
Will it make any difference??
I would think so - but it looks like my shooting is a little more crappy that I'd like or remember...
But, despite the "less than stellar" and disappointing results, I still have a lot of fun!!!
And I can use the practice.
Thanks!! (-: