This is some new furniture the delivery man brought me a couple weeks ago...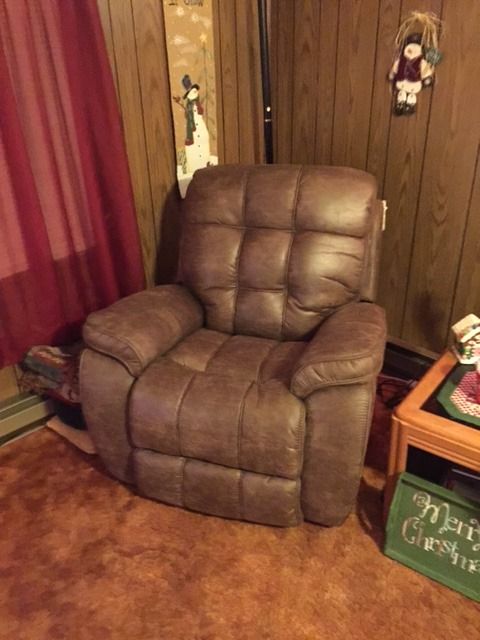 It's like I'm being cradled in a soft cloud when I sit in that thing.
It's even electric - push a button and it reclines!!
The wife got it for me for Christmas.
I sleep in my recliner because of my back. As a 350 pound flibbo, my recliners take some serious abuse...
The last one I ended up taking out to the garage and welding some braces to hold the ass-cushion in place.
The worst thing about the el-cheapo recliners that I've always used is that they would tip over backwards!!
I have a hell of a time getting out of the damn thing when that happens in the middle of the night.
Feet up in the air flat on my back... It's a real struggle to get myself back on my feet again!! Being
half asleep with extreme back pain and pinned against the wall... It's OK - go ahead and laugh!!
The last time it happened, I smashed the shit out of my new "Drew Carey" glasses!!!
I think in the military they call them "birth-control" glasses - because they're so ugly you can't get laid...
They ended up 1/2 way under the back of the chair - kinda like an accident victim when they get thrown
from the vehicle and it lands on top of them.
The 1/2 that was sticking out looked fine - When I finally got the chair up-right - The other 1/2 was FUBAR!!!
Thank goodness the glasses have a 1 year warranty!!
Anyway, the wife said this new one is guaranteed for 10 years!! It's leather too - "distressed leather" they call it.
It's so comfortable and so good for my back... It sure seems to be made a LOT better than all the others.