The above is a HI-Point JHP 45 - and it's NOT my JHP!!
The young fellow that was shooting it when this happened was not injured.
I have to admit - My 1st pistol was a JHP that I still own...
And seeing this one blown up like that it made me wonder about Hi-Points!!
But it was just the opposite - This Hi-Point may have saved a young persons life.
So What Happened??
It WAS NOT the gun - And it was fairly new when this happened.
The man that owns it says it was a bullet.
A freak "one-in-a-million" thing.
It's a "Name Brand" hollow-point bullet that he reloaded with a single stage press, and he been reloading for 30+ years.
It's the "H" brand that I load up and shoot all the time in my rifles!!
Another picture: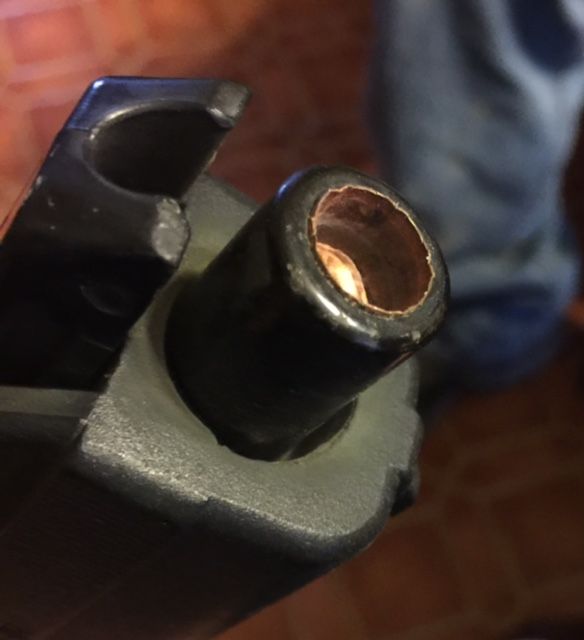 See That?? Looks like the outside jacket is still in the barrel from that bullet...
But the lead core continued out the barrel and they saw it impact the dirt near the target.
The next trigger pull resulted in the gun blowing up.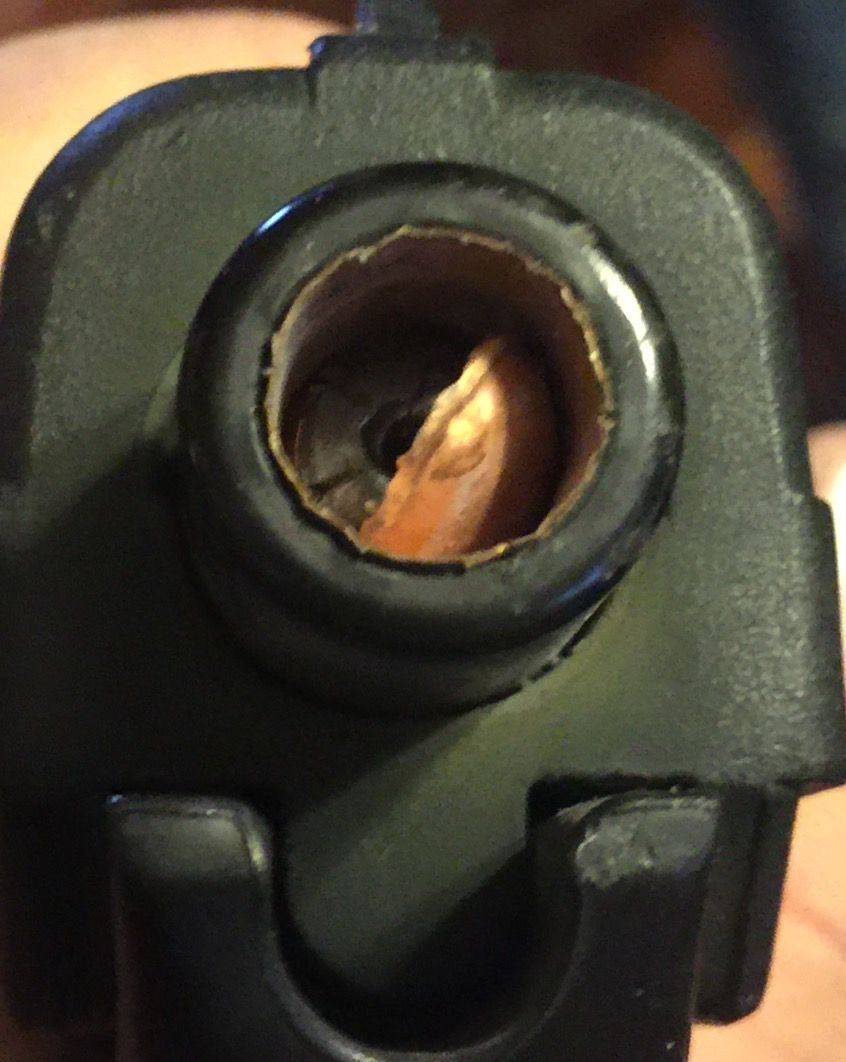 If you look down in the barrel, you can see the bullet from the next round is still in there behind the copper jacket of the previous bullet.
The guy that owns this JHP believes that's what caused the "Catastrophic Failure" of this gun.
The guy that owns it thinks this is what happened:
Bullet 1 left it's copper jacket behind in the barrel but the lead part exited and it was seen where it impacted the dirt.
Bullet 2 couldn't go through the barrel and got stuck because of the copper jacket that was left behind.
The result is shown in the pictures.
He also says if it was a FMJ or one of those too expensive copper plated bullets - It would not have happened.
He said he'll never reload hollow-points again.
The guy said when you pull the trigger, it fires and you see the bullet impact, you don't think the barrel will be plugged for the next round!!
Which is 100% understandable - I'm sure we all would have thought the same thing.
The guy said this,
"Thank God it was a Hi-Point!! They're made heavy enough to be safer when this kind of thing happens."
And I think that he is right about that.
Was his faith shaken with Hi-Points after this happened??
No.
He had me order three CF380's for his threes sons for Christmas.
"I'm trying to give them all Hi-Point pistols - one in each caliber."
So - I figure I'll ask you "KeyBoard Commando's" for you thoughts about this.
Do you think he right about why this gun exploded??
Would a hollow point bullet leave it's jacket behind in the barrel like that??