Well, I'm pretty sure this looks this bad, or maybe worse than it is, because of the powder I use.
700X is the dirtiest damn powder I think I've ever seen!!
I bought it when pistol powder was nowhere to be found...
And yet I found this 8 pound jug of 700X for $126
It works good - but when I use this up, I think I'll be trying something else...
A person who's opinion I hold in high regard says I should try some Longshot powder...
I'm glad powder is starting to become more available!!
I did a quick search and found a 8 pound jug of Longshot - They want $215 for it!!
That's at least $50 over the MSRP... Gouging is still alive and well!!
But, when I'm a few bucks ahead - I'm going to get me some!!
I'm pretty darn sure this is what happened:
I took my beloved JHP to the range and ran around 400 rounds through it, and brought it home, figuring I'd clean it "Later"...
Then, I decided to go the range again later. Realizing I didn't clean it, I pulled the slide back and put a little more oil in there...
That should do it for now!!
Went to the range and put another 400 or so rounds through it and came home, figuring I'd clean it "Later"...
A short time later - the "in-town" SIL decided he wanted to try shooting at my "spinny target contraption" and on fairly short notice...
So, I pulled the slide back and put a little more oil in there...
Ran another 200 rounds or so through it and came home, figuring I'd clean it "Later"...
Procrastination without limits...
The other two abusive things that happened to my poor beloved JHP....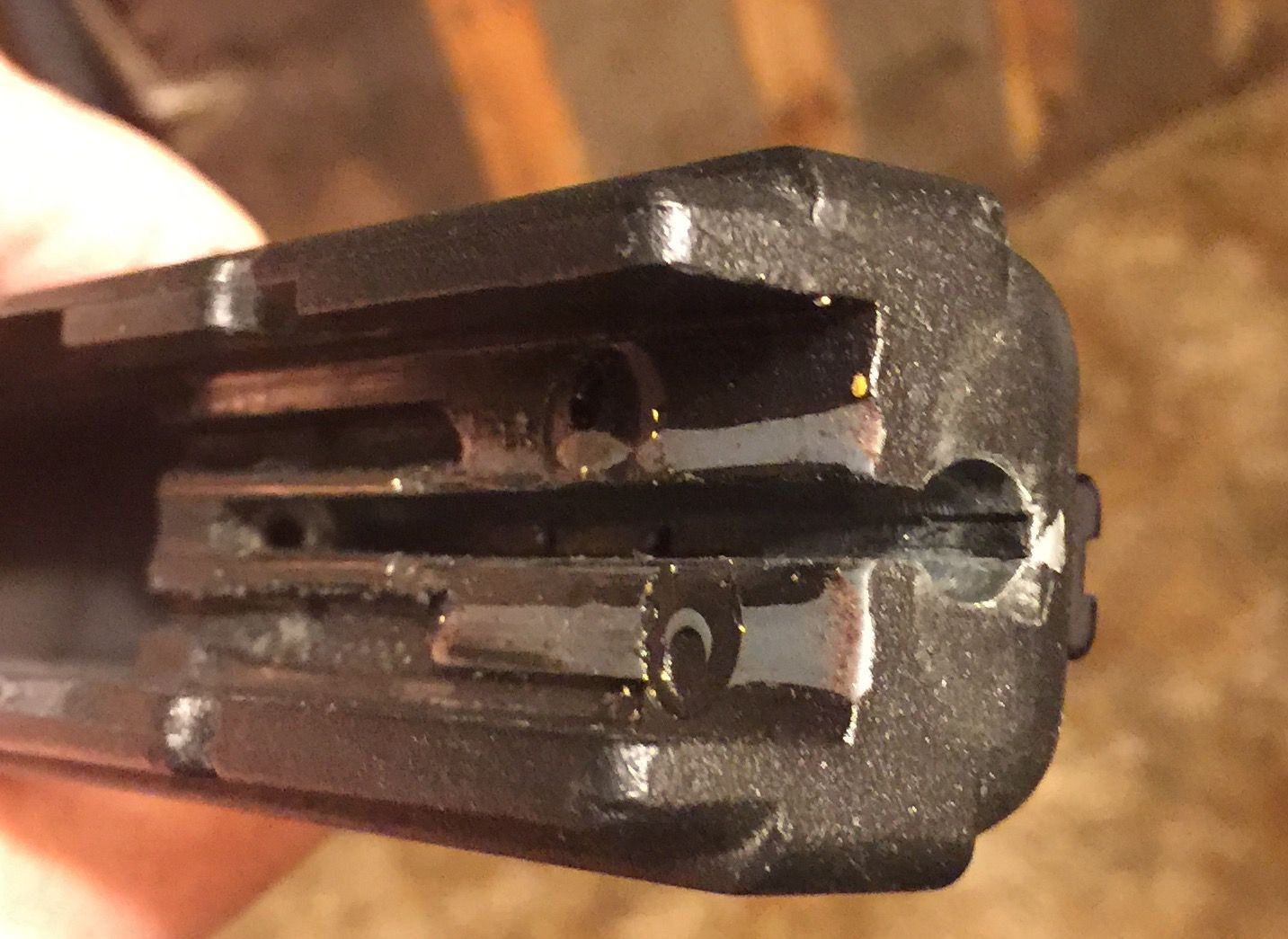 The hole or round "cavity" that the firing pin fits in...
Somehow or another the opening of it got whacked or bumped on something...
It even knocked a piece of my spiffy black finish off right next to it.
It made a burr or a "bump" at the opening where the parts hung up...
I couldn't get the slide retainer to come out!!
Not exactly sure how the hell this happened...
So I spent some time gently filing - being careful not to get too carried away - that burr in the opening of that hole.
Finally, I got the Slide Retainer and springs and firing pin to come out!!
Whew!!!
I set them on a paper towel on the table - Geez they're dirty!!
Wait a minute...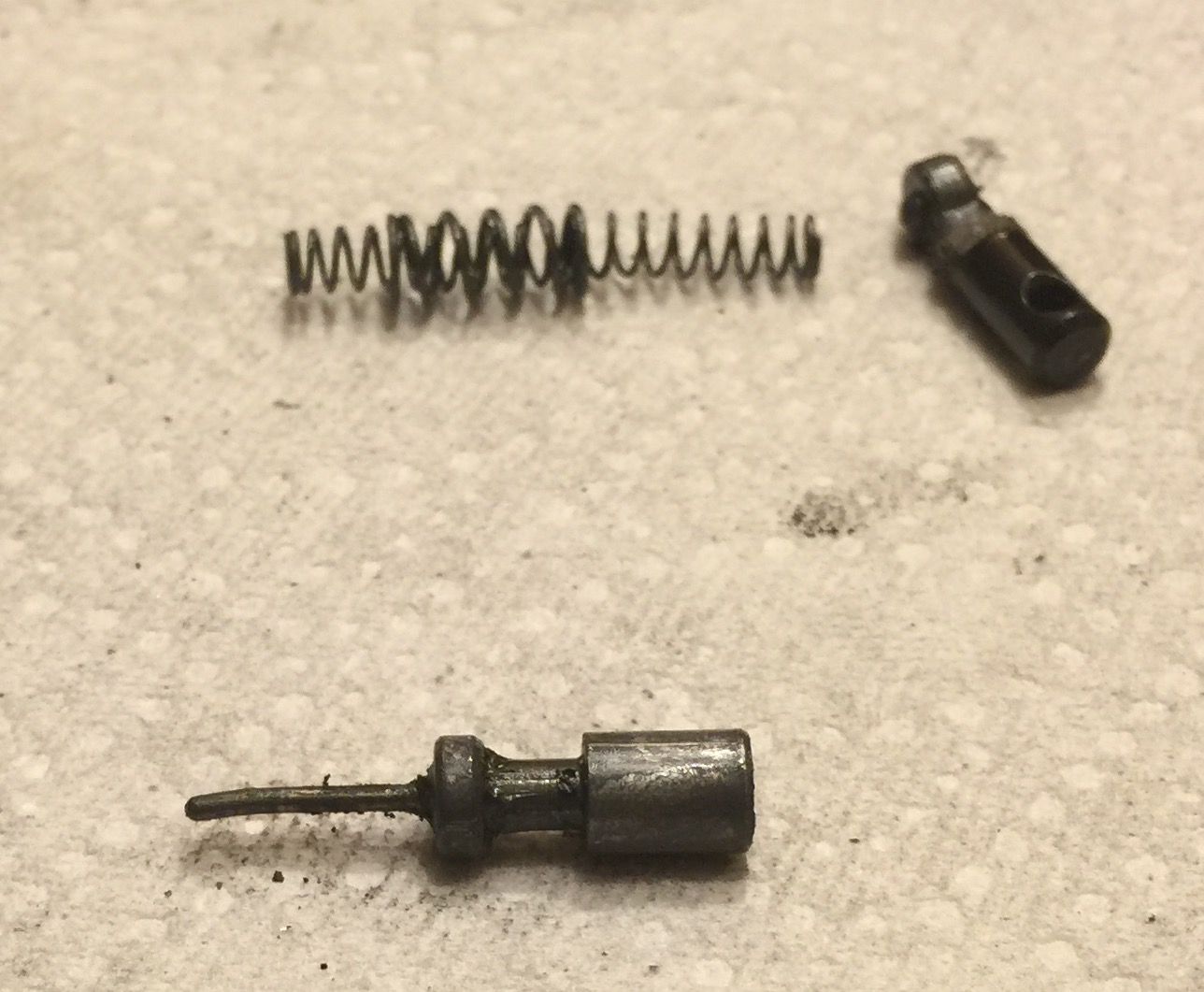 I do believe that firing pin is bent!!
Makes me wonder what they're made from - They seem a little soft to me.
I think this is the 2nd time this firing pin has come out bent.
Makes me wonder what the heck causes it??
It still fires - But I've noticed I've had a lot more rounds I had to run through a 2nd time.
Because they didn't fire on the 1st try.
Before I took it apart, I dry fired it a several of times.
It sounded like the firing pin spring was getting weak.
Pull the trigger and it was a pretty pathetic sounding dry fire!!
But as freakin' dirty as it is, and the slightly bent firing pin...
Well, that may be what was slowing things down!!
Maybe they make them that way for a reason... Maybe something harder would break.
I am about half tempted to make one out of some tool steel and see what happens.
In the meantime, I think well get a hammer and see if we can give this firing pin a little tap or two...
And have us a straight firing pin again!!
And I need to get my beloved JHP cleaned up...
So I can get it all dirty again.