Well, I finally got to try out the new rest yesterday after work!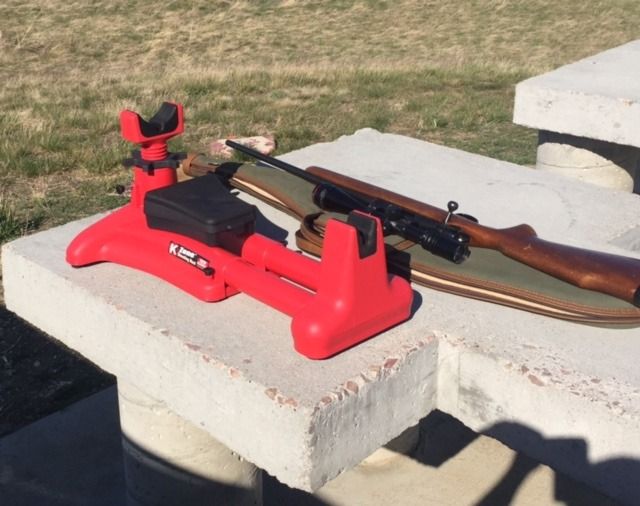 I had reloaded some "unusual" bullets for my .308 and figured on them being nothing more than "plinking" rounds.
The one on the left is a .30 caliber 100gr Hornady "Short Jacket" bullet.
They were originally made for the good old 30-30, but I think the 300 Blackout guys are liking them a lot too.
I've had these bullets since - well I'm not sure!! I traded my 30-30 back in the late 80's!! 25 years or so??
The bullet on the right is just plain stupid...
I found a box of 86gr 30 carbine bullets for like $8.00 for a 100.
I figured, what the hell?? You never know - they might shoot pretty good...
Neither of these bullets are recommended for a .308!!
I reloaded them as slow as I could - with the lightest powder charge recommended for a 110gr bullet.
As neither of these bullets are designed for speed - or even moderate speed for that matter!!
But - the intent was for "plinking" as said earlier - to have a little fun with the .308...
And not using full power loads like I do with my hunting ammo.
The Remington magnum rifle primers I used were bought in the early 90's.
Old reloading components - are they reliable??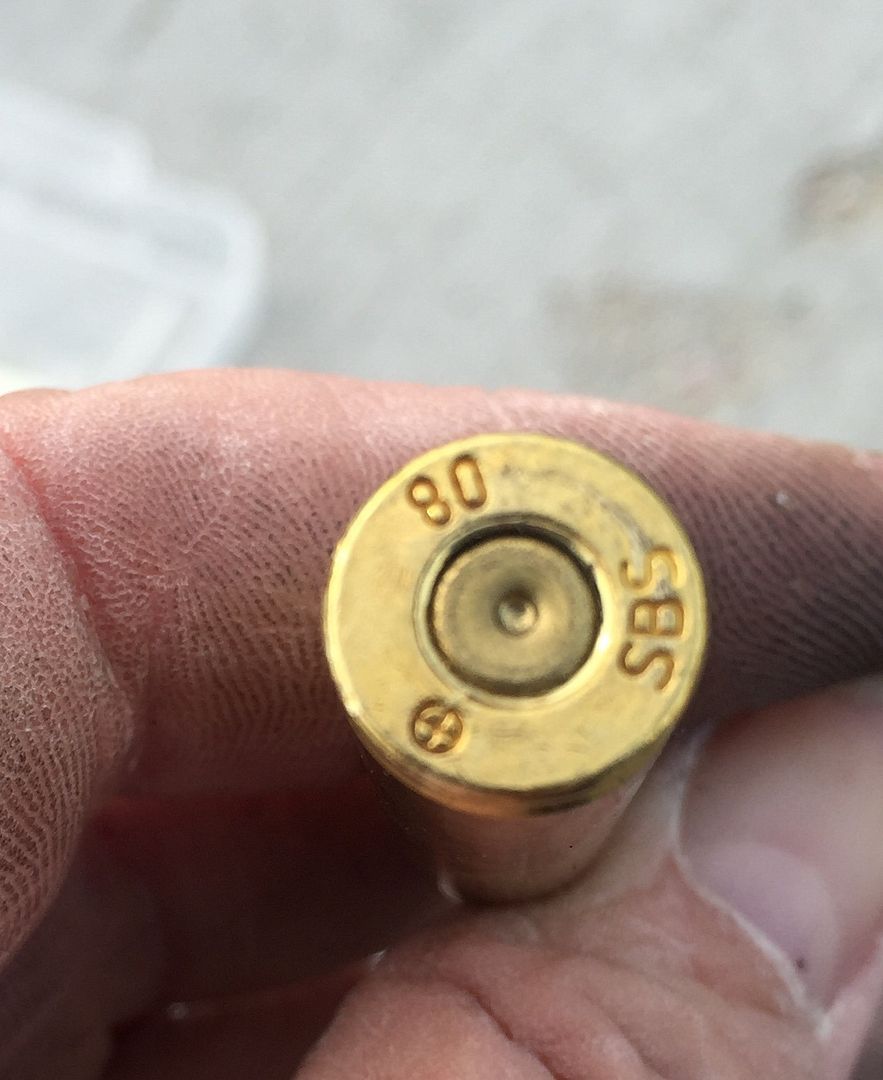 I'd say they're about 96% reliable - I had 4 failure to fire's out of 100.
I tried to shoot all 4 dud's several times - and no ka-boomy with any...
That's why the primer dent is so deep in the picture.
Getting back to the shooting rest...
This MTM Shooting Rest is excellent!!
It's a 100% better than the plastic Caldwell rest I used before.
It's more sturdy, stays in place better, is adjustable for length, elevation adjustment is smooth as silk and holds a rifle better.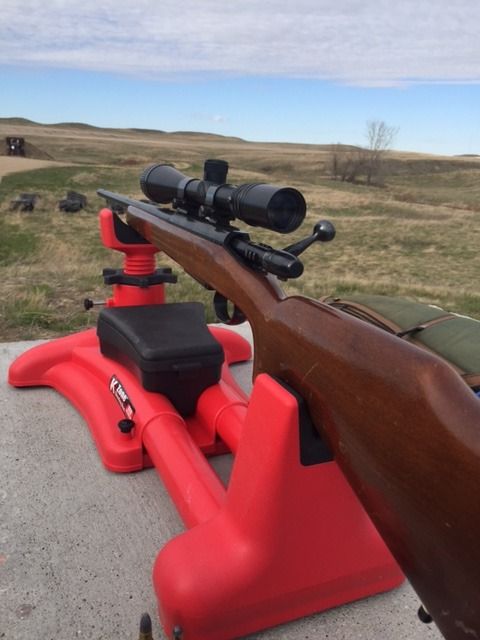 If you're thinking about getting an inexpensive plastic rifle rest, the Caldwell is cheaper and it works.
But you'll be WAY further ahead to spend another $15 and get this MTM K-Zone rest.
I could put and keep the scope crosshairs on target easier - and I could get it back "on-target" faster after the shot.
The Caldwell moves a lot more with each shot and is a bigger PITA to get back where it was.
With the MTM - it was easy!!
Another thing - I spent about 2 to 2-1/2 hours at the range and all I shot was my .308.
It (of course) has more recoil than my other rifle - which is an AR.
I ended up shooting up all 100 rounds of those 86gr bullets I reloaded and about 10 or so of the 100gr bullet reloads I had.
The 100gr bullets were "somewhat" accurate...
The 86gr bullets were pretty bad!!
I set a bright white empty milk jug in front of the dirt pile at 200 yards and a similar smaller target at 100 yards.
I could get that milk jug to move for me at 200 yards with the 100gr bullets. 8 of the 10 I shot made it move.
Those 86gr bullets were just the opposite - about 2 out of 10 shot's would make that milk jug dance for me!!
So I shot most of them at the 100 yard target.
Every so often one of those 86gr bullets would be WAY off target!!
I suspect those bullets probably came apart...
Nonetheless - I had a lot of fun and got familiar with my .308 again.
I haven't shot it much at all in the last many years. My AR has received a lot of attention lately!!
And that MTM shooting rest made it that much more fun.
I highly recommend it!!
Get one - you won't be sorry!!