Mo told me about this rest. It doesn't cost that much (around $25) and it works pretty good!!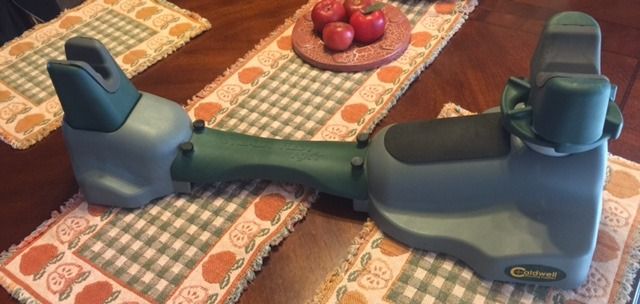 I throw a couple of home-made sand bags on it for a little weight and that helps to keep it from moving.
But, I had an insane (for me) number of scopes to mount recently, and this works good to set the rifle in while I work on it.
Then, I use it to laser bore-sight the scope after it's mounted.
I have one fella that has bought and had me mount 6 Leupold VX-3 scopes on his high-powered rifles and one VX-1 for his 22...
And there was about that many other people wanting scopes mounted too!! I still have a few more to go...
So, I was bringing that Caldwell rest in the house and down to the basement to mount a scope,
and then taking it back out to the suburban when I went to the range.
It was happening on a way to regular basis!!
Once I drove to the range with my AR and discovered I forgot the rest at home.
So I decided to get another rest. I have always had my eye on this one:
I especially liked that picture on the lower right on the box, with the AR and 30 round mag.
This rest has like 2 plastic "tubes" that hold the front and rear of it together.
That allows more room for the mag in the middle. Plus its a little taller - which is good!!
I just used a 10 round mag in my AR with the Caldwell rest.
I also could screw the Caldwell apart and have more room for a mag.
But that sounds better than it works!!
Things are a lot more sturdy when it's all screwed together.
I kinda eyed this one too:
It called the "Matrix" and was about the same price as the red MTM "K-Zone" rest.
But, I really looked them both over - and the MTM just looked like a better set up to me.
The search engine says the above picture is "Donnie D's" - remember that guy??
Just dawned on the that "K-Zone" probably means "Kill Zone"...
Us Norwegians - We're slow, but get there eventually!!
Anyway, I opened the MTM box and took all the parts out: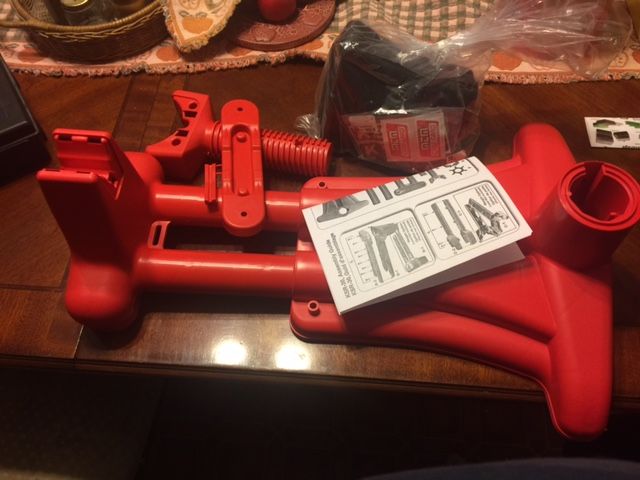 After a quick look at the instructions, I put it together.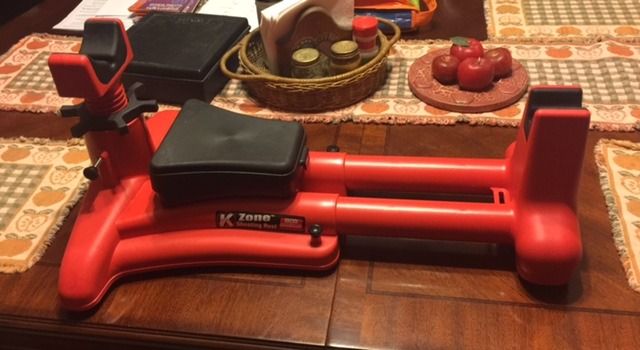 Even put the stickers on it!!
It is a little more expensive (about $40) than the Caldwell I have, but it is made better and is more sturdy.
I like that it has a threaded knob on the side that I can turn and it presses a plastic "Brake" against the elevation threads.
It makes raising the elevation a "smooth" operation and keeps it more sturdy.
The Caldwell was a bit of a "flopper" in the front. It had the same kind of threaded knob on the side,
but if I tightened it - I couldn't adjust the elevation. And leaving it loose made it tip side to side a bit.
I haven't tried the bright red MTM rest yet, but it's in my suburban!! And it's staying there.
I'm thinking it'll work good for shooting prairie dogs too!!
The table I use is a little shorter than I like. I hope this taller rest will make it just right!!
I was hoping the wife would get me a nice Lead Sled for Christmas - like Husker!!
I think he got his for his birthday?? The Lucky So & So...
But, I think the plastic ones are a little more portable - and seem to work ok for the price.
When I get a chance to try it out, I'll let you know how it works.
Thanks for Reading!!