I was getting ready to order some stuff, so I looked at what reloading components I have left.
I determined that I need some large rifle primers.
This is what I have left: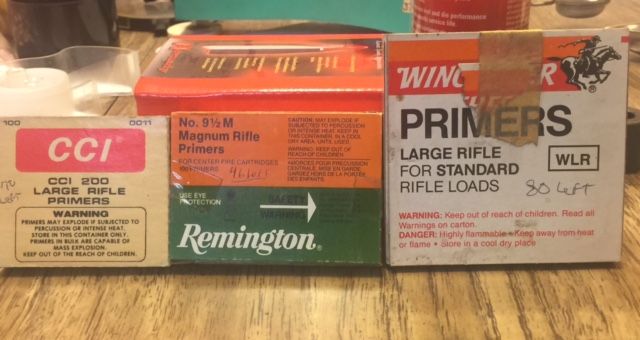 And none of them is a full 100 primers.
Plus these primers are 20 years old!!
So, a while back I loaded up a 100 rounds for my 308 (with some of the above primers) to do some plinking with. (plinking is such a weird word...)
And when I went out and shot up these 100 rounds, a few of them had to be ejaculated and reloaded because they didn't fire the 1st time.
The ones in the picture below were ejaculated an run through my rifle several times, and would not fire - dud's...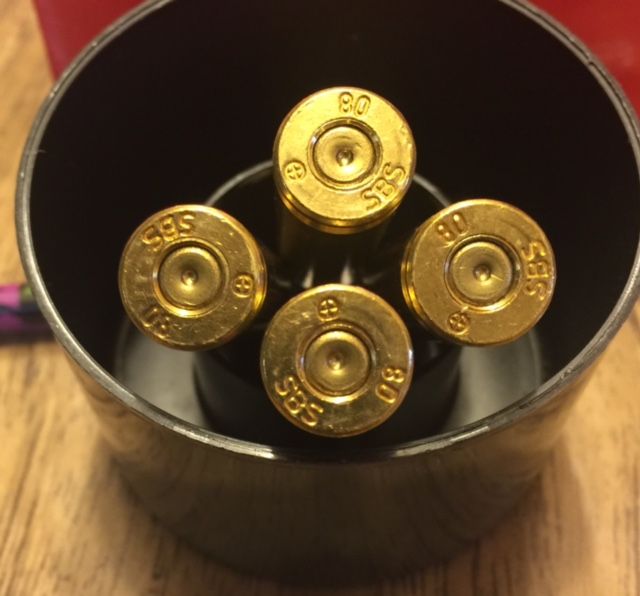 Anyway - it's obvious I need some fresh primers if I'm going to load up some "accurate" ammo!!
So one question I have is about this the brass in the above picture...
It says "SBS 08" on it and has that circle thing with a cross like design on it.
I assume the "08" means it was manufactured in 2008, but what do the other markings mean??
I also looked and I'm getting a little low on rifle powder...
I have an 8 pound jug of IMR 3031 and it's less than 1/2 full.
So I figured theres about 3-1/2 pounds left - or 24,500 grains.I have a 1,000 pieces of 223 brass and a 1,000 55 gr spire point bullets.
And figuring approximately 23 grains of powder times 1,000 rounds to reload = 23,000 grains of powder.
So I probably have enough 3031 to reload the 1,000 rounds of 223 for my AR.
I also have about 500 rounds of 308 I'd like to reload and that will take about 40 grains of 3031 powder.
500 x 40 = 20,000 grains of powder
So, II could reload my 500 rounds of 308 with the 3031 I have left.
Obviously - I don't have enough to reload them all!!
But, I do have this powder on hand too: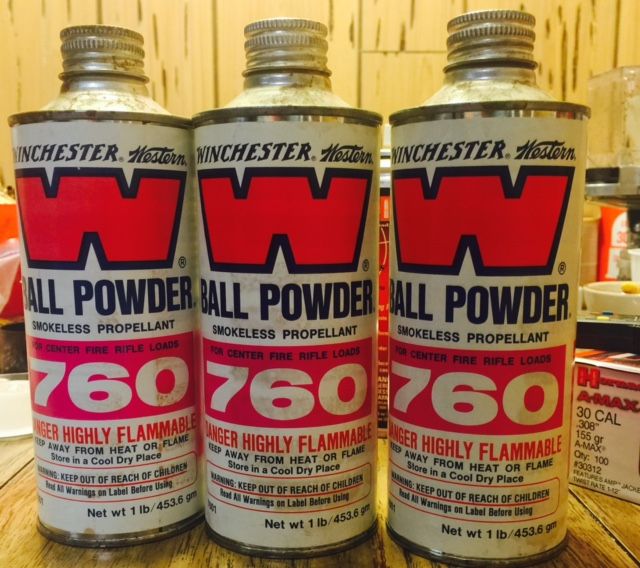 This Winchester 760 powder is unopened and as old as the primers - 20 years old or so...
I kinda wondered - how many 20 year old unopened cans of gunpowder are around??
I thought it might be a bit of a novelty item - powder in the old metal can - but maybe not.
I suppose they sold millions of them!!
And if it ain't worth nothing as far as a novelty item...
Do you think this powder would still be good to use?
Another thing I wanted to ask about was this pistol.
It's a Polish P64 Pistol 9x18 Makarov
What do you think these would sell for?
Just curious... (-: