My Saturday morning started with a, "Honey, the remote start didn't work this morning..."
I noticed the car was turning over slower - a LOT slower lately, but it still started.
But not this morning....
So, I put my Carhartt coat on and cap and gloves and went out-side just as the wife jumped in the car and hit the starter.
"click, click, click" - The all-to-familiar sound of a solenoid trying to do it's thing with battery too dead to start.
I have a battery charger/booster - unfortunately in in the garage and it has a snowdrift in front of the door...
So i thought I'd see if it was my day for a heart-attack:
Not today!!
It had rained before it snowed...
So even though I dug it out it was a bitch to get the door to open.
So I get the battery charger and extension cord and start the car and let it warm up.
After it's warmed up, I know it'll start again, so the wife goes on her way.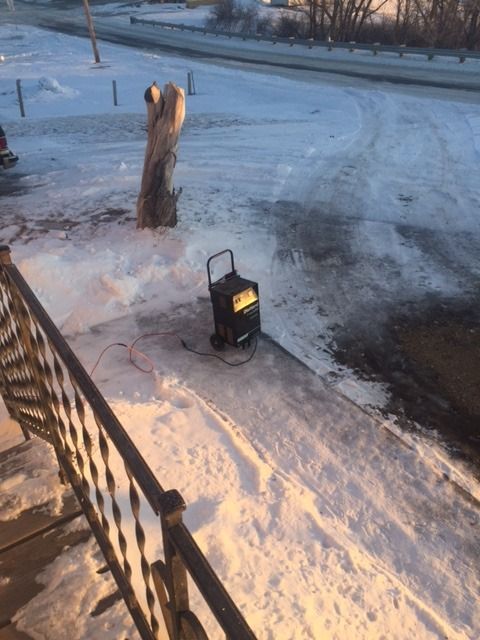 And I leave the charger out... It shouldn't get stolen. But the cold makes people desperate!!
The car had it's cheap crappy original battery in it and it was time for a new on.
While the wife was gone I looked up the battery size and checked on-line if our local NAPA store had one.
They did not...
So I figured I'd get this one:
I have that one in my 85 Suburban - and it's the greatest freakin' battery I've ever had!!
And yes - living here in the Arctic I am all done using cheap batteries.
It looked like it would fit the car dimension-wise - our little Kia Soul has a huge battery!!
The price after the discount and returning the old battery for a core charge was actually $157
So I reserved "on-line" to get the 10% discount.
Went to NAPA to pick it up, but double checked with them to see if they had they anything else that might work 1st.
He looks it up...
"Uh-Oh... That's a real odd-ball. It has the post's reversed on it."
Nice...
"It also says it's difficult to replace..."
Why not??
I like fixing stuff in a snow-drift...
I ask if the red-top Optima battery would work.
It would fit, but I'd have to modify the cables to reach.
No Thanks...
So he says, "Let me look." and goes through all the batteries he has and finds he has just one that would work.
It was shorter and not as wide and the clamp-down would hold it - So I got it.
Well - at least it would be a little cheaper!!
That'll be $148 please."
I look closer and it's a super-dooper Interstate battery with a 6 year guaranty - their best one!!
I looked it up afterward: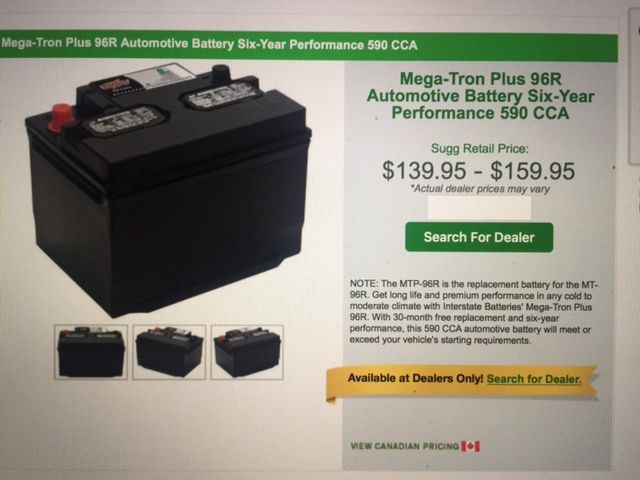 Well, I saved $9...
It should be a good one though.
I get it and go home and put it in - and It wasn't the worst one I've ever put in... But it was close!!
The battery clamp took time to get in there as there was no room to get at it.
A classic mechanics situation - If I had literally another 1/4" it would be easy!!
And frozen fingers don't help at all either...
But to get the clamp down in there and lined up to get the bolt in there... And I GOT IT!!
I victoriously tighten the bolt on the clamp just pleased with myself and go to hook up the cables...
F*CK!! I put it in backwards...
And, of course, it took about 3 times longer to put it in the right way!!
And it was a couple inches shorter and I had to fight those frozen stiff-as-a-pump-handle cables to get them to fit.
But we got'er'done!!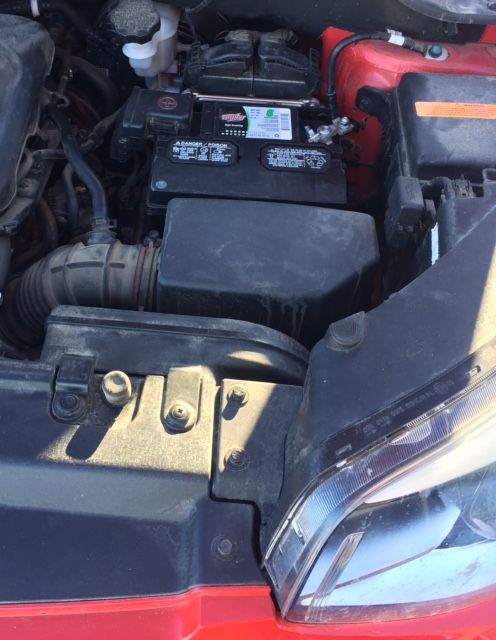 Mama's happy!!
And if Mama ain't happy - Nobody's happy...
But most importantly - I should have to mess with this again for at least another 5-6 years.
It only took about an hour to thaw out my feet...