Time to see if this 4-12x40 Simmons scope makes my 4595 even more fun to shoot!!
I'm sure these carbine aren't the most accurate weapons around...
But I wanted to find out just how accurate it is - out to a 100 yards even.
I wanted to see what kind of group I could get with it at that range.
And a scope should help me find that out!!
I made 8 targets by sticking a bright orange circle in the middle of a regular 8-1/2 x 11 sheet of paper.
I get my paper for my targets from work - we throw away a lot of paper there in the engineering department!!
This is the kind of stuff I get to draw at work:
In drawing something like that, I print it out and double check everything - and usually I find a mistake or two and end up printing another one -or two - or three!!
Then it gets a 2nd use as a target because we love the environment .
Anyway, I loaded up my 14 mags at home and put them in a box: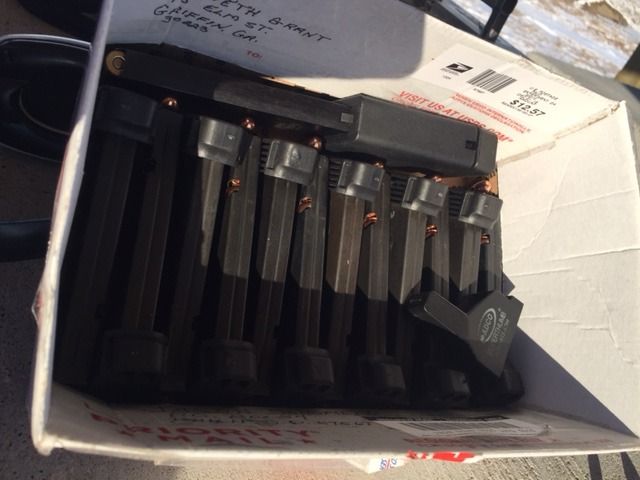 Instead of a box mag - it's a box of mags...
And I think I had enough ammo for this trip to the range:
I ended up shooting up about a third of it...
I do have one more box full just like it though.
I took the mags, targets, ammo and my new 4595 out to the range and spent 2 or 2-1/2 hours shooting it.
I didn't laser bore sight the scope - I just put it on and sighted it in at the range.
The 1st sign thing probably weren't going to be good was sighting it in!!
I sat a styrofoam cup in the middle of a patch of snow - easy to see where the bullet hits in the snow.
The 1st shot at about 35 yards was about 2 feet to the left...
I adjusted the scope right and it was about 6" low.
I hit the cup several times - or at least made it move - So I shot at a 50 yard target.
We have some old implement tires set up at about 50 yards that we put targets on.
And I hung 4 targets there and I hung the other 4 targets at 100 yards.
And just for the hell of it, I put an empty milk jug at 200 yards...
High Hopes or what!! (-:
Above is my 4595 on the rifle rest I use.
Just in front of the barrel are the 50 yard targets.
Right above those are the 100 yard targets.
And behind and to the left of it is our 200 and 300 yard targets.
This is "zoomed in" a little:
You can see that 200 yard milk jug - It's a little tiny white dot next to the shadow in the furthest dirt pile...
So I shoot at the 1st 50 yard target... And I wasn't impressed.
I'd shoot 3 to 5 times before adjusting the scope.
My 1st target is the left one above, I shot 5 rounds and they hit low and right.
I adjusted it up and left and the 1st shot hit the bullseye!! Yes!!
Then the next 8 shots were left, and gradually went higher and higher!!
You can see a "T" towards the top of those targets - it's 4-1/2 inches above the bullseye.
The plan was to sight it in to hit that high at 50 yards, then it should be adjusted to a 100 yard zero according to the ballistics chart.
So next, I took 15 or 16 shots at the target to the right...
Most of them hit towards the center - I think buckshot would pattern about like that.
Below are the other 2 targets at 50 yards.
Just to check the scope - I adjusted the scope down and shot a mag at the left target you can see they all hit lower.
I adjusted it back up and shot at the same target and you can see they hit higher.
So i adjusted even higher and shot a mag at the right target trying to hit that "T" above the bullseye...
Well - I guess that's as good as it gets!!
So here is the 4 targets I set up at 100 yards...
I shot a 9 round mag at the lower left target and no hits...
So I put the cross-hairs right in the center of the 4 targets where the 4 corners meet in the middle.
After 3 mags - the above is the group (pattern?) I got!!
At least I'll be able to reuse the upper right target - it's unscathed!!
And after a bunch of shots at that 200 yard milk jug, it looked like this: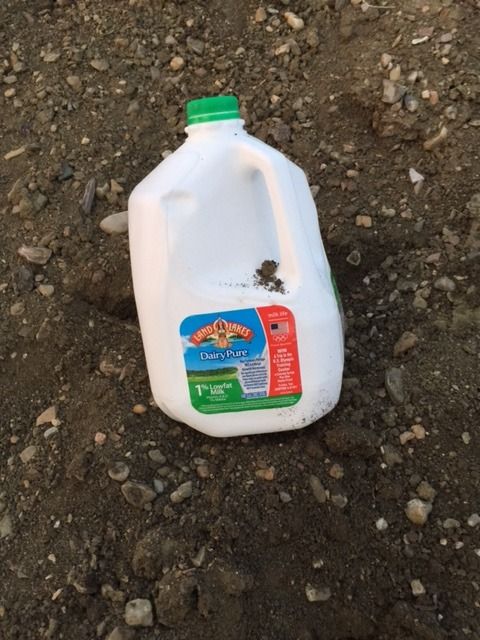 No holes in it - but it hit close enough to splash some dirt up on it!!
It was really something to see the bullet impact the dirt around that milk jug!!
But some of those shots impacted 6-8 feet from where I was aiming...
It'd be a 50-50 chance to even hit a car with that kind of accuracy!!
At least that up-close coffee cup got it good!!
So I believe were looking at a carbine that shoots about a 7 inch group at 50 yards which should = a 14 inch group at 100 yards.
But it might be even a bigger group at a 100 yards given the inefficiency of a large slow pistol bullet - and how far off it was at 200 yards.
I was a little surprised by this, to say the least!!
It sure seemed more accurate with the stock open sights - but I never shot it more than 30-35 yards with open sights.
And I realize it's a little insane to expect a carbine shooting pistol ammo to be a tack driver at a 100 yards - and I wasn't!!
But I was hoping it's do a little better than this...
There are most certainly some other factors at play here.
I use lead bullets that are copper plated - not the best bullets money can buy.
but the company that makes them sponsors several pistol shooters that use them.
These are all my own reloads...
But they should be amazingly consistent and perfect in every way because of the high-quality Lee Precision Load-Master press I use.
Take that Ex!!!
And the other possibility is this scope sucks or is defective in some way - possible - but i doubt it.
The rounds always hit in the general direction I adjusted it.
It may be what Husker hinted at - the plastic rail the scope is attache to is anything but solid...
It's held on by a few tiny M4 sized screws and is actually unsupported underneath the front scope ring!!
There is about a 1/4" gap under it - That can't be good.
I still had a blast shooting this thing!
I shot up all 14 mags and reloaded them all and shot 'em up again. 232 rounds in all.
And the carbine functioned almost perfectly - even with the 14 round ProMag that was giving Ken problems.
That longer ProMag worked fine with my rifle rest: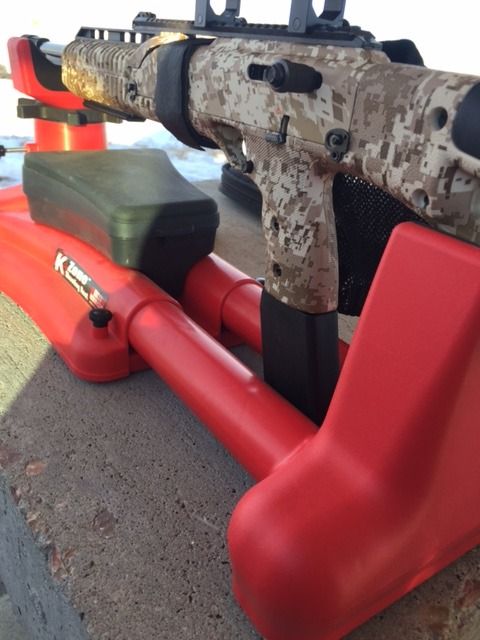 And with the 2 brand new mags I had and the new looking factory mags and ProMag I got from Ken...
I had this happen 3 times: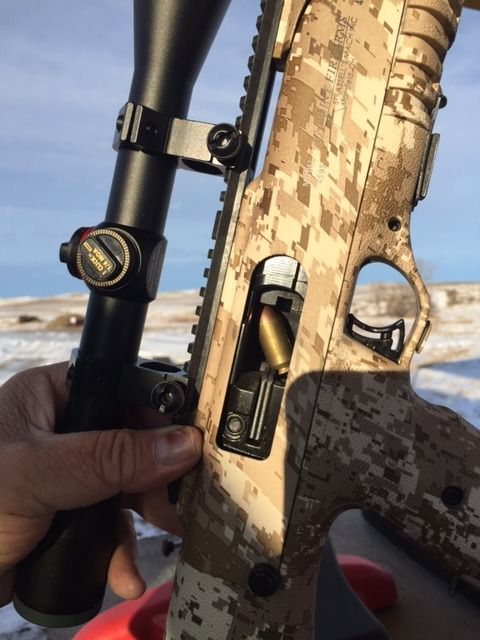 Which I believe is your classic "stove-pipe" - is it not?
And I say that's pretty damn good with all the new mags and that ProMag.
I've never loaded the mags and let them sit or anything like that.
If the mags are tight - where they're a little harder to load - I give that front beveled part a little tweak and they usually work fine.
You can also see how the front scope ring had that 1/4" gap under it!!
And when I was done and leaving I had to stop and take a picture of this: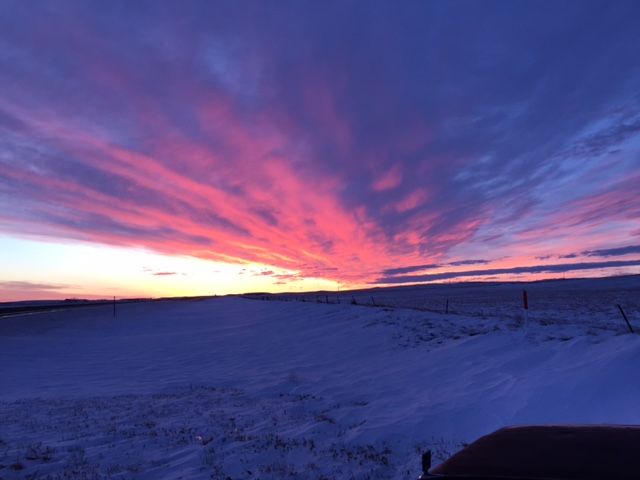 A beautiful end to a fun range report!!