They said this snow was gonna hit us - So, after work I found some ammo:
And loaded up the pile of mag's I have: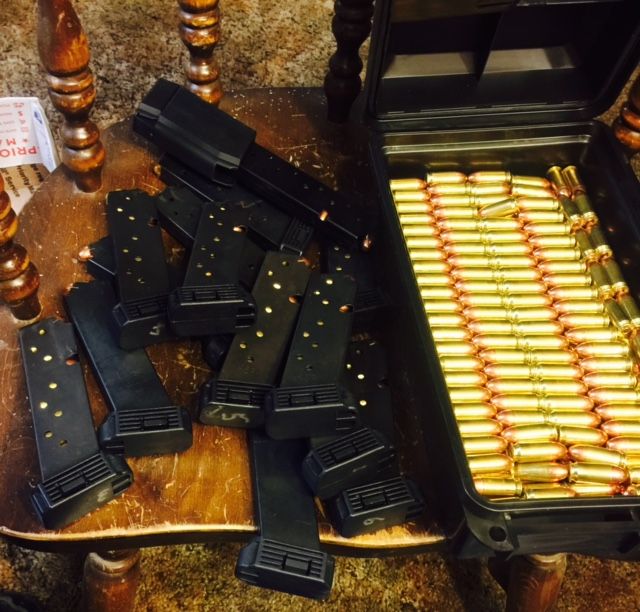 And headed for the range. I got there a little after 4:00 and parked at the pistol area..
I decided to just use the hood of my suburban for a shooting bench/rest mostly because
it's easier on my back to have something to lean on.
I got all my stuff out and set up - gun, extra ammo, box of loaded mags, sand bags and brass catcher: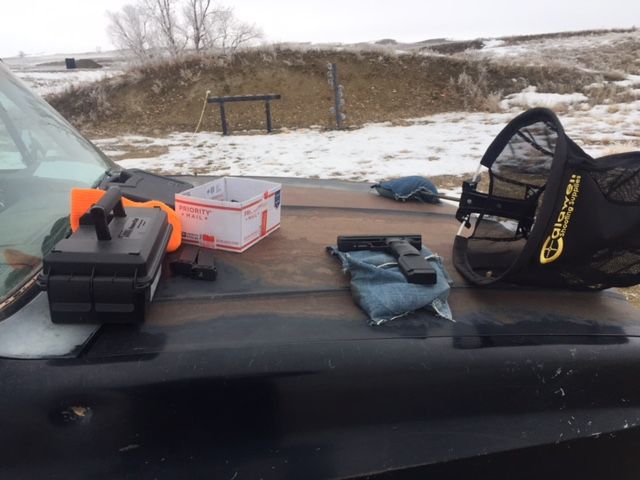 You can see in that picture we have a couple different metal targets to shoot at.
on the left you pull the rope and it sets up several large round targets.
The one on the right is kinda fun and no resetting anything as if you hit one
it just spins around from the left side to the right side and vise-versa.
This shows them better:
I parked about 20 steps away (60 feet??) and did pretty good!!
I think the left targets are 10-12 inch and the spinners on the left are 6-8 inch. I should measure them sometime!!
I shot about 300 rounds and I need to adjust my Mahan Site - It hits a little to the left - but it was cold and dark was coming soon so I just compensated for it,
My JHP which has many thousands of rounds through it. With these 300 rounds it never had a single problem with the Hi Point mags.
Some are new - this is only the 2nd time I've used them.
The one Promag I have is fun because it holds more rounds - 14 I think!! And it even looks OK.
Kinda like a mag with a gun attached::
But this happened twice: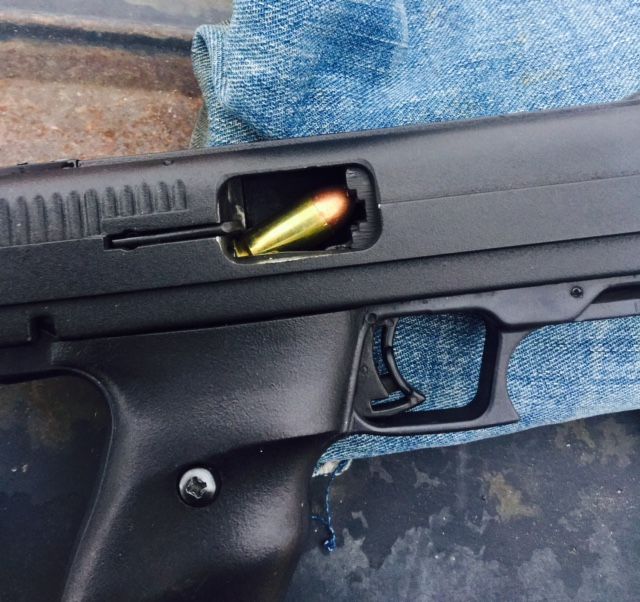 Is that not a stovepipe??
All I had to do was pull the slide back a hair and let the round go into the chamber and we were back in action.
I'm sure when it gets used a little more it'll work better. (-:
I watch those "speed demons" on TV at those shooting matches and they are VERY impressive with their speed and accuracy.
My favorite ones are Julie Golob and Jerry Miculek - both are fun to watch.
I've always had this thought that it'd be fun to show up at a local shooting competition like that with a Hi Point...
Can you imagine how you'd feel with your high-dollar "Race Gun" if some ugly old fat guy beats you with a stock clunky Hi Point??
Well - Stock with a Mahan Site.
So, I try to shoot those damn targets as fast as I can with good solid hits and have a blast!!
But it's weird how I can hit 6 in a row and shoot the last 3 rounds at the 7th and not hit it....
Or sometimes shoot the whole 9 round mag and maybe hit only 2 of them!!
And I have a couple of excuses - well maybe just one...
It's was a cloudy late winter afternoon and not much sunlight - And I had a hell of a time seeing my front site.
I had not cleaned it from the last range trip and the muzzle end get real dirty from residue from the muzzle blast.
And the yellow front site gets covered too.
I need to find a way to make it more visible!! (-:
The other excuse is my fingers were cold and I put some gloves on to keep them warm.
The reason that neither of those are a good excuse is because the same thing happens when it's warm and sunny too!!
The last thing that was pretty cool - It was starting to get dark and the muzzle flash was pretty freakin' Impressive!!
Check this out:
Is that an impressive picture or what!!
I videoed it with my iPhone and took a screenshot off the video.
It's be my new screen-saver for a while.
Anyway, it was dark by the time I got home.
And I relearned what a great stress reliever shooting my JHP is!!
Shooting Therapy - Doctors should prescribe it...
Thanks!! (-: